This is an archival story that predates current editorial management.
This archival content was written, edited, and published prior to LAist's acquisition by its current owner, Southern California Public Radio ("SCPR"). Content, such as language choice and subject matter, in archival articles therefore may not align with SCPR's current editorial standards. To learn more about those standards and why we make this distinction, please click here.
A Majority Of Californians Now Support Equal Transgender Bathroom Laws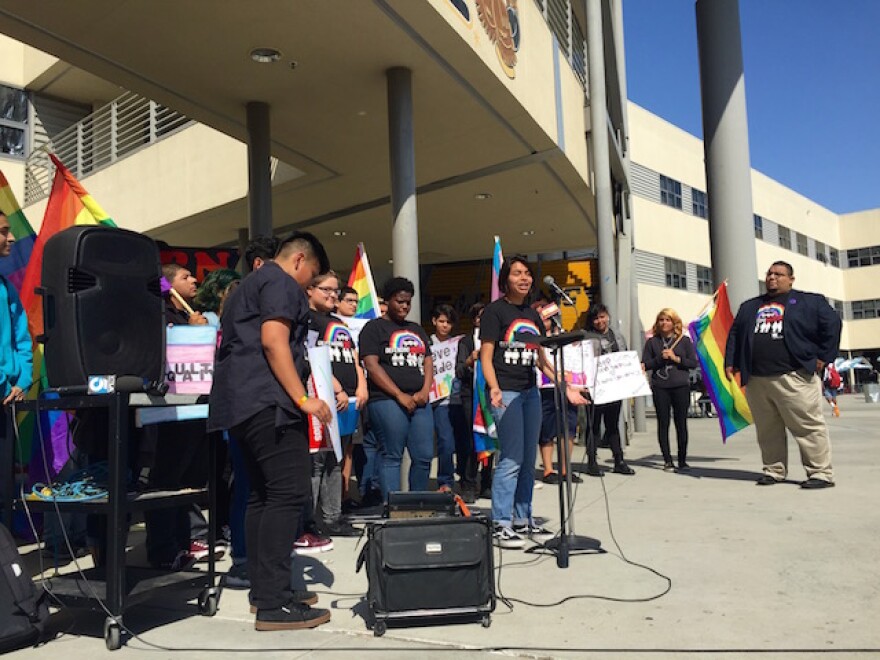 We need to hear from you.
Today during our spring member drive, put a dollar value on the trustworthy reporting you rely on all year long. The local news you read here every day is crafted for you, but right now, we need your help to keep it going. In these uncertain times, your support is even more important. We can't hold those in power accountable and uplift voices from the community without your partnership. Thank you.
A new poll conducted by USC reveals that most Californians are now in favor of a 2013 law that allows transgender students to use the bathroom of the gender they identify with in public schools. Three years ago, a majority of Californians opposed such a law, reports KPCC.
Assembly Bill 1255 was passed back in August of 2013, and gives transgender students the legal right to determine their own status in sex-segregated school programs and activities, like athletic teams, as well as use the school facilities that are "consistent with his or her gender identity, irrespective of the gender listed on the pupil's records."
The bill was passed by the state legislature, despite the fact that only 43 percent of polled Californians supported the legislation. 46 percent opposed it. The poll USC just conducted is relevant because it marks a relatively significant amount of public opinion change in just three years.
"Unlike economic issues or even foreign policy issues, when we poll on cultural and social matters, we find that people's minds tend to change fairly slowly and gradually," said study author Dan Schnur to KPCC. "But along with the issue of marriage equality, these issues of transgender equality have shown a remarkably fast shift in public opinion."
In this sense, California is simply miles ahead of other parts of the country. We knew this, though.
Related: L.A. Aims To Expand Park Restroom Access To Transgender People
It's been many, many years since we saw this much snow in our mountains. Going up there right now isn't safe, but here are some places where you can enjoy the view and snap a pic.

April Valentine died at Centinela Hospital. Her daughter was born by emergency C-section. She'd gone into the pregnancy with a plan, knowing Black mothers like herself were at higher risk.

A look at years past when snows creeped into our citified neighborhoods, away from the mountains and foothills.

In the face of a drier future, that iconic piece of Americana is on its way out in Southern California.

Bob Gregory, 62, went missing the same day as Sands. His body was recovered near Mount Islip.