This is an archival story that predates current editorial management.
This archival content was written, edited, and published prior to LAist's acquisition by its current owner, Southern California Public Radio ("SCPR"). Content, such as language choice and subject matter, in archival articles therefore may not align with SCPR's current editorial standards. To learn more about those standards and why we make this distinction, please click here.
A Litte Football Roundup
Our June member drive is live: protect this resource!
Right now, we need your help during our short June member drive to keep the local news you read here every day going. This has been a challenging year, but with your help, we can get one step closer to closing our budget gap. Today, put a dollar value on the trustworthy reporting you rely on all year long. We can't hold those in power accountable and uplift voices from the community without your partnership.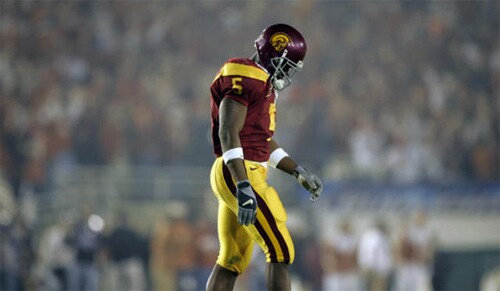 Reggie Bush is the New Kobe Bryant
In terms of scandal. An eight month investigation has led "investigators" to the conclusion that Reggie and his family accepted over $100,000 in itemized bribes from prospective agents while he was in college. Now look, I may be a Bruin, and I may love Bruin football and despise Trojan football with all my heart and soul - but you gotta' love Reggie. Reggie Bush is and will be one of the greatest running backs in football history, with the exception of Vince who is like his kryptonite. Watching him pull that 24-yard touchdown that finished with a somersault last year almost made up for the fact that UCLA was getting destroyed. So what, some prospective agent took his family out to dinner one too many times, and bought them limousine rides and air tickets to Reggie's games. How can you blame them? It's like having a friend who happens to buy you free shit all the time, but is doing it for reasons you don't care to think of. It's like my dad always used to say, "you can take the candy from the stranger son, just don't get in his car." You can call Reggie an opportunist but he's the one with the candy in his hand, not you.
Linebackers Now Have Wings - Stay off the Streets
Fans have noticed carts full of Red Bull being escorted into locker rooms before Panther and Eagle football games. Many claim that players are now using Red Bull as the new edge in performance before games. Smart, right? Wrong. During an Eagles/Panthers game, defensive end Mike Ruckers felt his heart beatboxing faster than Timberlake in a popcorn machine. Mike freaked out and got pulled off the field; the doctors then advised him to stop trippin' on energy drinks before games. He went on to say in the post-game conference that Red Bull is ok if "sit at a desk job" but "not smart to drink it before you play football". I can't really take Mike's advise. Me, personally, if I start downing Red Bull's at my desk I might start acting out like Terry Tate.
Peyton Beats Up his Little Brother
Maybe you didn't catch the Colts' season opener against New York, but if you did, you got to watch an overhyped family feud finally take stage. Peyton was being a nice older sibling by letting his little brother Eli think he had a chance at first, but in the end he had to also teach Eli about how this is a cruel world with no mercy. The Mannings helped show us that brotherly love is simply about asserting who was born first. I don't know what's worse about being a younger brother, getting Osh Kosh hand-me-downs, or getting owned in a nationally televised football game. Younger siblings always hate standing in the shadow of older ones. With that said, let me put it in perspective for Eli: "Eli you really blew it with 4 minutes left to a win. You know, Peyton wouldn't have choked like that with a win in sight!"...unless it was the Superbowl...oooh burn.
Photo: K.C. Alfred / Union Tribune
Cruise off the highway and hit locally-known spots for some tasty bites.

Fentanyl and other drugs fuel record deaths among people experiencing homelessness in L.A. County. From 2019 to 2021, deaths jumped 70% to more than 2,200 in a single year.

This fungi isn't a "fun guy." Here's what to do if you spot or suspect mold in your home.

Donald Trump was a fading TV presence when the WGA strike put a dent in network schedules.

Edward Bronstein died in March 2020 while officers were forcibly taking a blood sample after his detention.

A hike can be a beautiful backdrop as you build your connection with someone.