This is an archival story that predates current editorial management.
This archival content was written, edited, and published prior to LAist's acquisition by its current owner, Southern California Public Radio ("SCPR"). Content, such as language choice and subject matter, in archival articles therefore may not align with SCPR's current editorial standards. To learn more about those standards and why we make this distinction, please click here.
Your Ultimate Guide To December: 16 Fun Events Happening In Los Angeles
Support your source for local news!
The local news you read here every day is crafted for you, but right now, we need your help to keep it going. In these uncertain times, your support is even more important. Today, put a dollar value on the trustworthy reporting you rely on all year long. We can't hold those in power accountable and uplift voices from the community without your partnership. Thank you.
The holidays are in full swing now that we've stuffed ourselves silly with Thanksgiving food. Try not to hibernate this season, though, as there are a lot of events this month to keep you busy through December. We're here to help you plan your social calendar with picks of our favorite events from fireworks shows to twisted circuses and Ugly Sweater Runs.

Manhattan Beach pier (Photo by Neil Kremer via the Creative Commons on Flickr)
Friday, December 6
MUSIC: The Grammy Nominations Concert takes place at the Nokia Theatre for a one-hour live television special that features a live one-hour TV special with past Grammy winners or nominees. LL Cool J returns to host performers like Drake, Macklemore & Ryan Lewis, Keith Urban, among others. After the telecast, there's an exclusive concert by Robin Thicke. 7 pm. $65-$85.
FILM: Get a chance to see celebrated French New Wave filmmaker Agnès Varda's films on the big screen at LACMA from Dec. 6 to Dec. 14 for the museum's "The Cinema According to Agnès Varda" series. Gems such as Cléo From 5 to 7 and Vagabond will be screened. More info on the full schedule and how to purchase tickets on the website.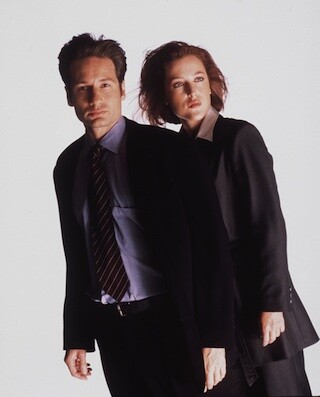 (Photo by FOX/Liaison)
ART: Miss Mulder and Scully? Revisit your favorite FBI duo 20 years later with Nerdmelt's exhibit, "The Truth is Out There: An Artistic Exploration of the X-Files." The opening night runs from 7 pm to 10 pm and will have themed cocktails, a photobooth, and "extraterrestrial pastries," according to the website. The free exhibit will run through Dec. 12.Saturday, December 7
ART: Experience art on its smallest medium—on Post-It Notes. Giant Robot opens Post It Show 9 with an opening reception from 6-10 pm, and the works will remain on view through Dec. 15. The show is expected to feature more than 250 artists and 2,500 works on Post-it Notes each going for $25.
Sunday, December 8
ART: Outpost@Armory presents the Monster Drawing Rally Holiday Art Sale from noon to 3 pm. The sale features a large selection of unique drawings by artists such as Mark Allen (Machine Project), Joe Biel, Adria Julia, Alice Könitz, Amitis Motevalli, Christine Nguyen, Gina Osterloh and Bari Ziperstein. All drawings are priced at $50, which doesn't take a huge dent out of the holiday shopping budget.
FIREWORKS: Why wait until the 4th of July to get your dose of fireworks shows when you can get it in the wintertime? Manhattan Beach will be hosting its 25th annual Holiday Fireworks Festival at the pier. It's a family-friendly event with a full day of activities (including a snow park opening and a "12 Days of Christmas" singalong) from 3:30 p.m. to the fireworks launching show at 7 p.m. rain or shine.
Tuesday, December 10
LIT: Vroman's Bookstore presents Amy Tan, who discusses and signs her latest novel The Valley of Amazement at 7 pm at UCLA Freud Playhouse (not at Vroman's in Pasadena). Tan's latest work is an "evocative epic of two women's intertwined fates and their search for identity that moves from the lavish parlors of Shanghai courtesans to the fog-shrouded mountains of a remote Chinese village. The Valley of Amazement spans more than forty years and two continents, telling the story of the profound connections between mothers and daughters." Tickets are $35 per person and include a copy of The Valley of Amazement.
Thursday, December 12
MUSIC: You have four chances to catch L.A. Philharmonic conductor Gustavo Dudamel for The Nutcracker concerts at the Walt Disney Concert Hall, from Dec. 12 to Dec. 15. The L.A. Children's Chorus will be lending their angelic voices to the Tchaikovsky classic tunes.
FILM + FOOD: The Grand Central Market Downtown will be open for dinner until 8 p.m. to pair with the screening of classic Jack Nicholson flick Chinatown at the Million Dollar Theatre in the former Metropolitan Water District Building. The movie starts at 7:30 p.m. and tickets are $12.
Friday, December 13
ART: Subliminal Projects presents Sid: Superman is Dead, a collaborative exhibition by Dennis Morris and Shepard Fairey. The collection of works features paintings, prints and photos of Sid Vicious as well as a life-size replica of a hotel Vicious destroyed in 1977. The opening reception is being held on Dec. 13 from 8-11 pm with music by Steve Jones, Billy Idol, Clem Burke and Leigh Gorman Playing 1977 era punk classics as Ritchie Love. The show runs through Jan. 11, 2014. $10 suggested donation at the door.
Saturday, December 14
ART: The Los Angeles Art Association (LAAA) presents the 2013 Open Show, an exhibition featuring the very best in emerging art. The exhibit debuts at Gallery 825 and runs through Jan. 10, 2014. The show is juried by Jenny Gheith, assistant curator, San Francisco Museum of Modern Art.
FILM: The 9th Annual Los Angeles International Children's Film Festival will take place at LACMA from Dec. 14 to Dec. 15. The free event will showcase 100 full length and short films from around the world, even including documentary and live action films, with Q&As with filmmakers and actors afterwards. Just make sure to get your free tickets that day starting at 10 a.m. there. More info on the full schedule and ticket pick-up on LACMA's website.
Sunday, December 15
MUSIC: To celebrate the Christmas season, the Los Angeles Master Chorale presents Handel's Messiah at Walt Disney Concert Hall. "The Baroque masterpiece is set to the libretto by Charles Jennens, who drew texts from the King James and Great Bibles." Wherever it's from, the Messiah is usually a rousing experience. Tickets range from $29 - $119. It's also being performed on Dec. 22.
CIRCUS: The Mental Head Circus, a twisted vaudevillian aerial circus takes over King King in Hollywood at 7 pm. It's the troupe's season finale and holiday spectacular before the show returns for a monthly Spring 2014 run.
Saturday, December 21
RUN: Of course, wearing sweaters and running a 5K go together... Celebrate your holiday spirit with a run at this year's Ugly Sweater Run at the L.A. Historic Park starting at 11 a.m. In addition to getting to show off your ugliest sweater, after the race, you'll get a hot chocolate and choice of beer. The website suggests you grow a mustache as well for the race.
The Ugly Sweater Run™ from Human Movement on Vimeo.
Monday, December 23
MUSIC: Woody Allen will be performing with his New Orleans Jazz Band at Royce Hall at UCLA for one night. He usually plays with his crew once a week in Manhattan, so it's a treat for Angelenos. See here for more info on tickets.
Listings compiled by Christine N. Ziemba and Jean Trinh.
Donald Trump was a fading TV presence when the WGA strike put a dent in network schedules.

Pickets are being held outside at movie and TV studios across the city

For some critics, this feels less like a momentous departure and more like a footnote.

Disneyland's famous "Fantasmic!" show came to a sudden end when its 45-foot animatronic dragon — Maleficent — burst into flames.

Leads Ali Wong and Steven Yeun issue a joint statement along with show creator Lee Sung Jin.

Every two years, Desert X presents site-specific outdoor installations throughout the Coachella Valley. Two Los Angeles artists have new work on display.