Photo: Uber Drivers Stage A Protest Asking For Tips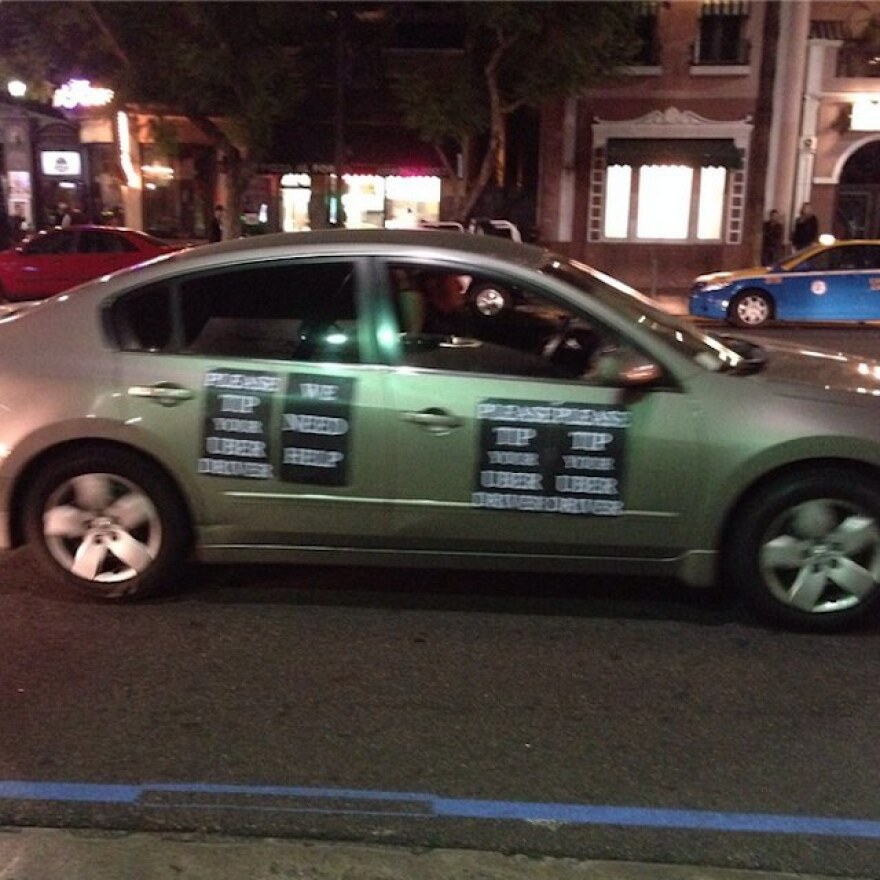 LAist relies on your reader support.
Your tax-deductible gift today powers our reporters and keeps us independent. We rely on you, our reader, not paywalls to stay funded because we believe important news and information should be freely accessible to all.
Uber drivers have been staging protests around Los Angeles asking people in the community to tip them.
LAist saw a fleet of cars last Thursday evening traveling down on Sunset Boulevard in Echo Park repeatedly honking. Alongside the cars, we could see black and white signs that read, "Please tip your Uber Driver" and "We need help."
Devin Faraci, a writer at film and entertainment website Badass Digest, posted on Instagram a photo of the same protest in Hollywood on Friday night.
Uber claims on their website, "Being Uber means there is no need to tip drivers with any of our services."
Uber drivers protested in New York City in September against the ride-sharing app's policies. One Uber SUV driver and protester, Hilal Aissani, told Business Insider: "Uber tells the customer that their tip for the driver is included, but it isn't. Drivers never see a dollar of that tip money."
Update 11/18, 9:20 a.m.: Uber spokesperson Eva Behrend sent a statement to LAist that reads, "There is no need to tip with Uber. Drivers earn 80% of every fare. Uber takes a 20% fee."
Eds. Note: In an earlier version of this story, LAist incorrectly wrote that Uber said on its website that riders don't need to tip their drivers because "a default 20% of the metered fare will be automatically added and paid to the driver as a gratuity." That only applies to uberTAXI. LAist regrets this error.