This is an archival story that predates current editorial management.
This archival content was written, edited, and published prior to LAist's acquisition by its current owner, Southern California Public Radio ("SCPR"). Content, such as language choice and subject matter, in archival articles therefore may not align with SCPR's current editorial standards. To learn more about those standards and why we make this distinction, please click here.
The Neighborhood Project: Jewelry District
Support your source for local news!
The local news you read here every day is crafted for you, but right now, we need your help to keep it going. In these uncertain times, your support is even more important. Today, put a dollar value on the trustworthy reporting you rely on all year long. We can't hold those in power accountable and uplift voices from the community without your partnership. Thank you.
These neighborhood projects are a heck of a lot of work. All of the writing, research, fact-checking, map-making, walking around, metro-riding, photographing, uploading, downloading, sun-block wearing, and image re-sizing is not easy. Trying to maximize my lazing potential, I volunteered to document the Jewelry District figuring that the neighborhood's mere six square blocks shouldn't be too much work. I got off the Metro thinking "I've been here a million times, I know where the points of interest are, this shouldn't take long, I'lI take like 15 pictures, and I'll be out of the sun and sprawled out supine under a ceiling fan in no time." But many, many pictures and five hours later, I can safely say, damn, was I wrong. The Jewelry District is vibrant, visually engaging, and architecturally absorbing -- a neighborhood-sized vintage curiosity of antiquarian intricacies.
BOUNDARIES
The Jewelry Distirct is tiny! The neighborhood runs from West 5th Street to West 8th Street, and from South Broadway to South Olive Street. The Jewelry District is part of the larger Historic Core, a designation that is shares with Skid Row to the east (more recently and blandly called Central City East).
GETTING THERE
For me, the fastest way to get to the Jewelry District is to take the Metro Red or Purple Lines to Pershing Square Station (500 S. Hill Street at W. 5th Street), but there are many, many Metro bus lines that go to the Jewelry District as well. If a bike is your preferred mode of transportation, several streets near and within the Jewelry District have Class III Bike Route designations, with bike racks and lockers located at the Pershing Square Metro Station. For complete details on how to reach the Jewelry District via subway, bus, or bicycle, visit the LA County Metropolitan Transportation Authority's Metro website.
Pershing Square Metro by Fire Monkey Fish Flickr.
If you must use a car, you can access the Jewelry District from the 110 Freeway's 6th Street exit. Stay on 6th Street (a one-way street) for six blocks until you reach 6th and Hill Streets and you'll find yourself in the thick of the neighborhood. If you are coming from someplace that does not have direct access to the 110, follow these directions to the 110 Freeway: If using the 405 Freeway North (from the Torrance area), take the 110 Freeway North exit, stay on the 110 for about 13 miles, then take the 110's 6th Street exit. From the San Fernando Valley or Encino areas, go East/South on the 101 Freeway to the 110 Freeway South, stay on the 110 for about half of a mile, then take the 6th Street off-ramp. If you are coming from the Santa Monica area, take the 10 Freeway East to the 110 Freeway North, exit at 6h Street. From the North Hollywood area, you can take the 101 South to the 110 South, or just take the 110 South to the 6th Street exit. If you are coming from the Santa Clarita area, take the 5 South, then the 110 South. Stay on the 110 South for about two miles, exit at 6th Street. From the San Bernardino, Pomona, and West Covina areas, take the 10 Freeway West to the 101 Freeway North to the 110 South (toward San Pedro). Take the 6th Street exit. If you are coming from Riverside, Chino, and East LA, take the 60 Freeway West to the 10 Freeway West, to the 110 North. Exit on Sixth Street. From the South Orange County, Anaheim, and Norwalk areas, take the 5 Freeway North to the 10 Freeway West. Stay on the 10 West for about three miles, and then take the 110 North. Take the 6th Street exit. From the Long Beach area, take the 710 North to the 5 North to the 10 West to the 110 North. Take the 6th Street exit.
Once there, you should have no trouble finding parking granted you are willing to spend five to ten dollars. During weekday business hours, street parking is hard to find, but you might have some luck finding a meter on the weekend.
Park and art on Hill Street between 7th and 8th Streets.
PARK SPACE
Pershing Square is the only park within Jewelry District boundaries, but it has everything an urban oasis should have -- trees, art, grass, sunshine, free concerts, fierce pigeons, a fountain, plenty of seating, a worm's eye view of the cityscape, and like the rest of the Jewelry District, a long history. Some Angelenos will refer to Pershing Square as "Skid Row Park" as the spot has been somewhat stigmatized over the years -- but from what I have seen on my many visits to Pershing Square, the park is pleasantly clean, well-maintained, and relaxing.
View of Pershing Square from the Metro Station.
The space occupied by Pershing Square, the block bound by 5th, 6th, Olive, and Hill Streets, was originally designated as a park in 1866. At the time it was called La Plaza Abaja and was for the private use of Mayor Cristobal Aguilar (see "Pershing Square History"). Since then, the park has undergone several major changes. In 1870, La Plaza Abaja was renamed Los Angeles Park. In 1880, Los Angeles Park was renamed the 6th Street Park. And in 1890, the 6th Street Park was renamed yet again and called Central Park, at which point it was finally opened to the public. Central Park was used by soapboxing windjammers as a public speaking forum for political debate from the 1890s through the end of World War II. Eighteen years later, the park was dubbed Pershing Square in honor of General John Pershing, famous for fighting in the Spanish-American War and World War I (see "Pershing Square: Historic Background"). The park is also a significant part of Los Angeles Gay history. During the early 1900s the park became well known as a spot for Gay men to find potential lovers and remained as a famous cruising spot until the early 1980s (see "Ride 'em, Cowboy: 1850-1910").
Central Park (Pershing Square) in 1890. Photo from the Los Angeles County Library Photo Collection.
This Pershing Square statue of Charlie Hammond, a Spanish-American War soldier, is credited as the oldest work of public art in Los Angeles. Photo by ax2groin via Flickr.
Juxtaposing tropical flora (palms, banana plants, and birds of paradise) against the urban landscape has been a part of Pershing Square since the early 1920s and 1930s when art deco style trends called for the marriage of the exotic with the industrial.
Pershing Square was a much loved community center, a true "downtown" gathering spot for many years, but unfortunately the post-war flight to the suburbs via automobile put an end to all of that. Shortly after World War II, the park fell into disfavor and was no longer a popular recreation area. Predictably, the park was torn down in 1952 to make room for an underground parking structure. After its reopening in 1954, Pershing Square gradually became a rodent-and-trash-infested place to pass out for folks who were too drunk to make it home (Rasmusen B2).
This little guy had to tend to his battle wounds after having it out with the other Pershing Square Pigeons at the concrete waterfall.
Pershing Square got a facelift and its current design in 1994. Architect Ricardo Legoretta and landscapist Laurie Olin created a park space that seems to have a time-and-space theme -- there are mementos of the park's past interspersed within an abstract solar system (see "Pershing Square History").
Pershing Square's concrete solar system, waterfall, and bell tower. Photo by Mr. Pi via Flickr.
One of several constellation maps on the ground in Pershing Square.
There are several telescopes in Pershing Square, although I can't imagine that they are any good for viewing stars with all of the surrounding light pollution...but they are good for spying on the folks at the Millennium Biltmore. Photo by ax2groin via Flickr.
Pershing Square has free outdoor concerts and programs for children many times each week. You can see who is playing on the Pershing Square Concert Schedule.
Pershing Square Concert Stage.
Beethoven in Pershing Square -- A good representation of the park's political past and musical aspirations.
During the "Winter" months, you can go ice skating in Pershing Square. In a tee shirt and shorts. Amongst the palm trees. Don't forget your sunblock. Photo by Greg Headley via Flickr.
ELECTED OFFICIALS
Here is a list of the Jewelry District's current elected and appointed officials. Click on their names for a link to their government websites. I have included links to any available Smart-Vote biographies as well. (The Smart-Vote site can be much more informative and faster to use than the .gov sites.) Also, for news and current events relevant to the Jewelry District and downtown Los Angeles, check out the Los Angeles Downtown News.
Neighborhood Council
Downtown Los Angeles Neighborhood Council (DLANC)
City Council
Strangely enough, as small as the Jewelry District is, it is split in half by two council districts.
Council District 9, Jan Perry
Council District 14, Ed Reyes
Congressional Representative (US House District 34):
Lucille Roybal-Allard
Lucille Roybal-Allard's Smart-Vote bio
State Assembly Representative (Assembly District 46):
Fabian Nunez
Fabian Nunez's Smart-Vote bio
State Senator (State Senate District 22):
Gilbert Cedillo
Gilbert Cedillo's Smart-Vote bio
WHERE TO SHOP
There is bargain-priced jewelry to be had everywhere in the Jewelry District, but there are other commdities here too. Like bargain CDs. And bargain porn. And bi-lingual anti-torture gear. The Jewelry District's proximity to the Fashion District means that there are plenty of clothing shops here too.
Number of Official 99¢ Stores:
Zero. The Jewelry District does not have any official 99¢ stores to speak of, but I do recommend checking out the 99¢ music selection from the Latin CD Warehouse at 781 S. Broadway (between W. 7th and W. 8th Streets).
Founded in 1987 and staffed by volunteers, Libros Revolucion at 312 W. 8th Street (between S. Broadway and S. Hill Street) is a communist book store cum community center with its own political history befitting of the neighborhood. In addition to many intriguing titles in Spanish and English, Libros Revolucion also hosts guest speakers, film screenings, and open-to-the-public bi-lingual discussion forums. It is almost as if the soapbox windjammers of Pershing Square's political heyday have just moved a few blocks down the street.
I bought this reusable grocery bag at Libros Revolucion.
(The Bush Administration...Wanted for War Crimes and Crimes Against Humanity.)
In some ways, the Jewelry District is like the tail-end of the Fashion District, but it is less crowded and has cooler architecture.
A dress shop's petticoat hanging from a converted theater on S. Broadway.
A Jewelry District fashionista extraordinaire.
Red Zzone (629 S. Broadway between W. 6th and W. 7th Streets) is a decent low-key sneaker store. Don't be fooled by the danger-flames.
This statue makes porn seem somehow rather dignified. Dignified two-for-the-price-of-one porn-traders can be found all over S. Broadway between W. 5th and W. 8th Streets.
WHERE TO EAT
Clifton's Cafeteria (648 S. Broadway between W. 6th and W. 7th Streets):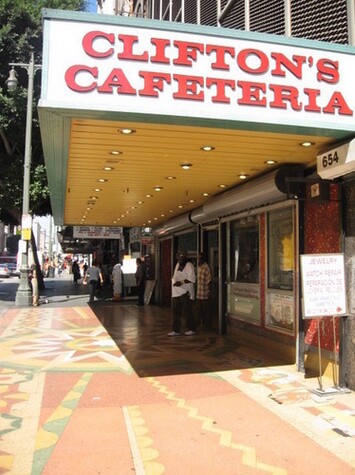 I don't actually like the food served at Clifton's Cafeteria. It reminds me of middle-school cafeteria lunch. But that doesn't mean that you shouldn't visit Clifton's at least once because it is a one-of-a-kind depression-era dining-spectacle and a Los Angeles vintage institution.
Wall carving at Clifton's Cafeteria. Photo by 7-how-7 via Flickr.
I'm not quite sure if it was the shredded cheese flavored gelatin or the creepy, neglected and faded, thrown to the Twilight Zone archives, wholesome family-fun amusement attraction of yesteryear-esque feeling that surrounds that place, but my first visit to Clifton's left me at such a loss for words that I am forced to resort to the words of someone else.
Jell-O Row at Clifton's Cafeteria. Photo by Ned Raggett via Flickr.
This review from "Linda R." on Yelp.com perfectly sums up Clifton's: "Clifton's Cafeteria is a demented two-story cafeteria all tricked out to look like a redwood forest inside. A seedy, slightly dilapidated redwood forest. I nearly lost my shit when a motorized raccoon poked its head up out of a tree stump...The clientele is the usual host of rambling weirdos and old cranks on a budget...I was privy to a shouting match between two elderly ladies...Stick with stuff that couldn't possibly be f'd up by being cooked in bulk and left sitting in a steamer tray all day. I got a turkey leg and was quite happy. Anything requiring any craft whatsoever is bound to disappoint...I recommend visiting this place at least once. Better still, go there on acid; you can groove on the weirdness..."
Clifton's Cafeteria has 600 seats, but only the lucky few will get to sit under the watchful eye of the taxidermied moose. Photo by Flying Enchilada via Flickr.
Cicada at 617 S. Olive Street (between W. 6th and W. 7th Streets):
Cicada is the polar opposite of Clifton's. That should just about cover it. I'm sure I don't need to say more. The interior is decorated in gracefully resplendent art deco golden sparkliness. It is overwhelmingly pretty. Which is important because the food itself is good, but not great. While I have not been to their "Cicada Club" on Sunday nights, it does sound dreamy -- Cicada becomes a vintage nightclub with speakeasy-style drinks, patrons dressed in period attire, and live music from the 1920s.
Naked lady with a thing for feral dogs on Cicada's exterior.
For casual, fast meals without the exhausting decor, also try:
Gil's Super Burger at 730 S. Hill Street (between W.7th and W. 8th Streets) for hamburgers and burrito stand fare.
Kiku Teriyaki at 725 S. Hill Street (between W. 7th and W. 8th Streets) which is housed in an out-of-place blue hut in the center of several parking lots.
Wow Bowl/Wow Bento and Roll at 712 S. Hill Street (between W. 7th and W. 8th Streets). Wow Bowl is clean, fast, and inexpensive. And all of their menu items have the word "wow" attached to them, like their "Kung Pao Wow". They also serve kosher and organic Wow.
Just remember that most restaurants in the Jewelry District cater to the suit-and-tie crowd which means that they are generally open only during regular business hours. If you try to find food in the Jewelry District on a Sunday, you might very well starve lest you can splurge on a meal at Cicada.
FORGET THE JEWELRY! IT'S ALL ABOUT THE ARCHITECTURE
The Jewelry District harbors all sorts of gems, frippery, and pretty little things; but the actual physical neighborhood itself is brimming with aesthetic eye-candy. The Department of Geography at University of Southern California (USC) has a good online self-guided walking tour of downtown Los Angeles (including the Jewelry District) to help you become more intimately acquainted with the neighborhood. This is what I found...
Little faces peek out of building exteriors all over the jewelry district. I found this one on Olive Street. The Biltmore has some nasty-looking imperialists (Christopher Columbus et al.) but, I prefer the little cherubula heads and naked ladies riding feral dogs (see above).
These bitter/irked/annoyed/affronted-looking eagles are also on Olive street.
The International Jewelry Center at 550 S. Hill (at the corner of W. 6th Street).
The walkway at the International Jewelry Center reminds me of the inside of the Death Star.
An impressive arch on S. Broadway between W. 5th and W. 6th Streets. This picture doesn't do this arch enough visual justice -- you have to see it in person.
There are several roof-top radio towers on S. Broadway. This one is between W. 5th and W. 6th Streets.
Even the ground is pretty in the Jewelry District.
The sidewalk in front of Clifton's Cafeteria has the history of Los Angeles laid out on a stone patchwork timeline.
There are just too many sidewalk mosaics to count in this neighborhood.
The Sassony Arcade at 724 S. Broadway (between W. 7th and W. 8th Streets) is campy enough to make even Tommy Walker proud.
A little bit of baroque on Broadway (corner of S. Broadway and W. 8th Street).
The we-are-trying-way-too-hard-to-be-cool atmosphere at the 740 Club makes me queasy, but much of the Globe Theater's original red and gold and gorgeous interior has been preserved, so it might just be worth the self-debasement to go. The Globe has an interesting history -- it was originally opened in 1913 as a play house; was later converted into a mecca for World War II newsreel-watching; and during the late 1950s the theater housed a Mexican wax museum (see "Cinema Treasures: Globe Theatre").
A multi-tasking marquee is at 744 S. Broadway (between W. 7th and W. 8th Streets).
There are many historic theaters and movie houses located on S. Broadway. The Los Angeles Conservancy offers a walking tour of the Broadway Theater Row and sponsors vaudeville shows and film screenings in the historic theaters through their Last Remaining Seats program.
The un-separation of church and state at the State Theater at 703 S. Broadway (on the corner of S. Broadway and W. 7th Street).
And speaking of WWII, the Jewelry District still has its air raid sirens...
Air raid siren in front of Kiku Teriyaki, near 725 S. Hill Street (between W. 7th and W. 8th Streets). Photo by waltarrrrr via Flickr.
I'm pissed at the person who tagged this ornate baroque dome on top of the Warner Bros. building, but I can't say that I'm not impressed by the daringness of their defacement. How the hell did they get up there? It is at least 10 stories above the ground!
OKAY, OKAY, IF YOU INSIST ON JEWELRY
Jewelry reminds me of conflict diamonds and conflict diamonds remind me of continental Africa and continental Africa reminds me of starvation and catastrophic climate change and buying gems and precious metals that serve no practical purpose in light of all of the starvation and violence makes me not give a fuck about procuring jewelry. That said, if you really want some wholesale-priced jewels, go to any block in the jewelry district and you'll find it. Jewelry is literally everywhere. You can't escape or avoid it. LA Jewelry District.com has a more detailed guide to buying jewelry in the Jewelry District, including a vendor map.
Hip-Hop Jewelry at 500 S. Hill Street (between W. 5th and W. 6th Streets)...I wonder if they sell dental grillz?
Armored Vehicles delivering the goods to the International Jewelry Center.
This diamond store at 401 W. 7th Street (at the corner of W. 7th and S. Hill Streets) used to be the Warner Bros. Theater in 1920 (see "Los Angeles Movie Palaces").
Make-your-own-bling supply store A to Z Jewelry Tools and Supplies at 414 W. 6th Street (between S. Hill and S. Olive Streets).
Man making jewelry in what used to be the Ville de Paris Department Store in 1916 at 712 S. Olive Street, near the corner of W. 7th Street (see "You Are Here: Ville de Paris Department Store").
Gold and the "golden arches." Is it just me or is there some sort of history of the new world order past and present message in this?
I was so impressed by this store's display or varying light bulbs that I forgot to take a picture of their jewels.
Additional References
Rasmussen, Cecilia. "LA Then and Now: The (D)evolution of a Downtown Landmark." Los Angeles Times 19 August 2007: B2.
Photos by Mialka Bonadonna for LAist unless otherwise noted.
Cruise off the highway and hit locally-known spots for some tasty bites.

Fentanyl and other drugs fuel record deaths among people experiencing homelessness in L.A. County. From 2019 to 2021, deaths jumped 70% to more than 2,200 in a single year.

This fungi isn't a "fun guy." Here's what to do if you spot or suspect mold in your home.

Donald Trump was a fading TV presence when the WGA strike put a dent in network schedules.

Edward Bronstein died in March 2020 while officers were forcibly taking a blood sample after his detention.

A hike can be a beautiful backdrop as you build your connection with someone.