The Neighborhood Project: Burbank
Stories like these are only possible with your help!
You have the power to keep local news strong for the coming months. Your financial support today keeps our reporters ready to meet the needs of our city. Thank you for investing in your community.
Beautiful downtown Burbank was the butt of many a Johnny Carson joke. Sometimes one does get the sense that Burbank is a little podunk town, caught in a time warp. It's like living in Mayberry. People in the higher tax-brackets live in the hills, and around the The Equestrian Center. This post is going to focus on the flats, particularly around the neighborhood called "Magnolia Park" by Real Estate agents trying to make it look more attractive.
(Experience the glory that is Burbank after the jump!)
Burbank "is bordered by Glendale to the east, Toluca Lake on the west, and Griffith Park to the South. Hollywood is easily accessible from Burbank by driving down Barham Blvd. (past Warner Bros. Studios & Universal Studios) to Cahuenga Blvd., formerly known as the Cahuenga Pass"*
Freeway Access: The 5 and the 134
Subway stops: None. But plenty of trains. Both Metro and Amtrak.
Parks: There are 22 parks. They are everywhere. Even the streets look like parks.
Mayor: Marsha Ramos or Bob Kramer. Both names are on different pages of theofficial city website.
State Assembly etc: There are at least five districts represented.
Legislature: Local Representative: Edward J. Gonzalez
Usually considered: The studio backlot.
People who front say they live in: Toluca Lake
Burbank History: There were some farms, then Lockheed came, then the studios came. There was a big union riot at Warner Brothers called Black Friday. Then Burbank became a city in 1911 and built an airport that has been renamed a number of times. And there are rumors sometimes of people finding cannonballs in their front yard, but I don't know why.
Most scandalous little-known fact: "The murder of Burbank police officer Matthew Pavelka by a local gang known as the Vineland Boys resulted in the arrest of a number of gang members and other citizens. Among those arrested was Burbank city councilwoman Stacey Murphy, implicated in trading guns in exchange for drugs."+
My favorite little-known fact: We have the only Der Weinerschnitzel in the country that serves beer. Right across from NBC studios. So there, Johnny Carson.
There are really two faces of Burbank. The city is anchored by two giant shopping complexes – The downtown area, with the Burbank Town Center, IKEA, and The Media City Mall, as well as The Empire Center, which is anchored by Target Greatland and the Great Indoors. These behemoths draw in huge crowds from outlying communities.
But the heart of Burbank is a land of well-tended lawns and law-abiding citizens. The freakishly clean streets are seemingly run by the same people who run Disneyland (evidenced by things like traffic switch boxes cleverly hidden in bus benches that open up like car hoods, and abandoned railroad tracks converted into the Chandler bike path).
The city's public access television is downright surreal. One commercial in particular caught my eye. This guy said something like, "My name is John Johnson, and I used to be mayor of Burbank. Now I'm the head of public works. If you see a pothole, call me at 555-5555. I want to fix YOUR potholes."
Sometimes it reminds me of the opening of Blue Velvet and I expect to see an old fire truck pass by carrying a fireman waving in slow motion.
The town is mostly inhabited by a holdout contingent of senior citizens, as well as blue collar workers from the studios. This older population supports a large array of mediocre coffee shops. The studio workers guarantee that Burbank always has the best Halloween decorations. Every October special effects wizards use real movie props to create homemade haunted houses in their yards.
The Chandler bike path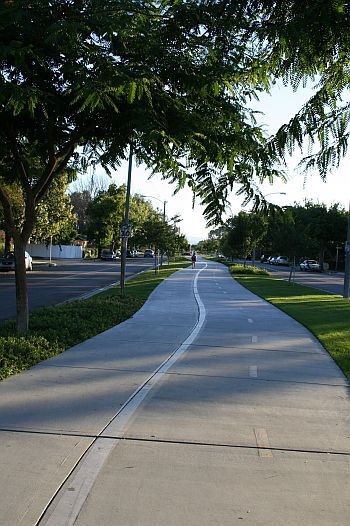 This is an ALLEY.
I have heard there are more police per capita in Burbank than any other US city, but I can't find the stats. I do know the only time I've ever been pulled over, the cop knew where I was coming from and where I was going before I even got out my license. They are very intense about law and order, and things like zoning and noise ordinances. And now you can't smoke anywhere.
Cool Things in Burbank:
The Bob Hope Airport makes surprisingly little noise, and flights stop around 11pm. Read LAists post on Why Bob Hope rules.
The Boot Car on Verdugo West of Hollywood:
Safari Inn
Safari Inn, a favorite of studio location shooting has one of the coolest signs anywhere. This is where George Sibley's (James Cromwell) troubled son was living on Six Feet Under. Location scouts also love the big balcony for party scenes. I probably can't recommend staying there considering the high number of CSI murders that take place at this motel.
Googie Signage
"The googie style, typified by arrows, starbursts, boomerangs, atomic symbols and geometric shapes, explored the use of curves and angles in a new way. The undeniable appeal of its shiny steel, bright colors and modern typestyles is timeless, although googie's charm has seen a recent resurgance in popularity. Hopefully that wave of nostalgia will guarantee that these signs will be valued enough to remain part of the urban landscape for many years to come."#
Googie signage in Burbank:
Lakeside Carwash 3700 W. Riverside Drive
Bob's Big Boy 4211 Riverside Drive
Samuel's Florist 921 W. Olive Avenue
Safari Inn 1911 West Olive
Gilbert's Quality Cleaners 409 N Glenoaks
Monte Carlo Deli and Pinochio's 3103 W Magnolia
Car Wash on Magnolia West of Victory:
Topiary Sea Serpents at the corner of Hollywood and Magnolia
These trippy houses:
The Garages:
Where to Shop:
Hyena. Functioning both as an art gallery and as a retail store, Hyena sells a combination of Wacko-like kitsch and creepy stuff with a strong serial killer theme. 1928 West Olive Ave. Burbank CA 91506
It's a Wrap Studio wardrobe resale. Good deals on some up-to-date fashions and cool vintage – especially if you are a size 2 or 4. 3315 W. Magnolia Boulevard, Burbank, CA. (818) 567-7366
Atomic Records For the true collector. These guys know everything about everything. Once to get them to part with something from their really rare personal collection hidden in the back, I had to demonstrate my seriousness with a trivia challenge. 3812 W Magnolia Blvd Burbank, CA 91505 818-848-7090
Magnolia's antique row West of Buena Vista, there are more thrift stores and antique shops on Magnolia than you could ever cover in a single day.
Where to Get Your Hair Done:
Frenchy's The hairdressers are sometimes pretty young and fresh out of hairdressing school, but they can tread the thin line of making you look cool enough for the clubs without getting you fired from your day job. If you ever decide you want an authentic beehive or the bluest hair in town, this is your place. Plus they give you a hand massage and serve you Aveda tea while your hair processes. 2403 W Magnolia Blvd Burbank, CA 91506 (818)845-7545
Where to Get a Massage:
Burbank Spa and Garden The big, strong Nordic women can be as gentle or as rough as your sore muscles can take. A soothing, if sometimes not-so-quiet atmosphere, friendly and cheerful service and low weekday specials will keep you coming back. Burbank Spa recently opened a large nail spa/salon in an attached space. 2115 W Magnolia Blvd Burbank, CA 91506 (818) 845-1251
Where to Eat:
Urban Eats
Kuru Kuru Sushi 521 N. Hollywood Way Ste B4 Burbank, CA 91505-3406 (818) 846-6552
Bahia Corporales 3821 W. Magnolia Blvd Burbank, CA 91505
Poquito Mas 2635 W Olive Ave Burbank, CA 91505 (818) 563-2252
Best Baked Goods:
Where to Drink
Here is a link to my Burbank bar post
Or you could always go to Porn-star Karaoke.
24-Hour Party People:
Milt and Edie's 24-hour dry cleaners They have a 24-hour turn-around time, and if you tear your suit right before that big presentation, their tailors show up at 6:30am. 4021 West Alameda Burbank CA 91505 (818) 846-4734
Coral Café: Decent sandwiches, fried food and soups. Avoid the seafood, hot wings, and anything with gravy. 3321 W Burbank Blvd Burbank, CA 91505 (818) 566-9725
Frank's: on San Fernando (Not to be confused with Frank's Steakhouse on Olive which is not open 24-hours) A nice, kitschy place for late-night coffee. Other patrons look like they just stabbed someone, and their fruit pie is sometimes a week old. But it's open.
IHOP The only good thing they make is chocolate chip pancakes. They are basically big soft cookies disguised as food. But if you have such good judgement, what are you doing wandering around Burbank at 4am? 913 N San Fernando Blvd Burbank, CA 91504 (818) 842-8622
CVS on Verdugo and Hollywood: It was cooler before the entire universe was conquered and by CVS. 511 N Hollywood Way, Burbank, CA 91505 (818) 953-9257
Vons on Pass: The freshest produce and most tempting bakery of any grocery store in town. 301 N Pass Ave Burbank, CA 91505 (818) 848-9542
Ralphs on San Fernando: Well stocked with non-grocery items. So if you remember your anniversary at 3am you can select from a variety of cards, flowers, balloons, books, plus the appropriate gift wrap. 25 E Alameda Ave Burbank, CA 91502 (818) 556-1558
Signing off from beautiful downtown Burbank!!!
Previous LAist posts on Burbank:
Burbank Nimby's vs. Whole Foods
Burbank says Neigh to Whole Foods
Chain Linked Dining in Burbank
Sources
# Kiki Maraschino (My personal blog)
Map of Burbank from Yahoo Maps
All Photos by Elise Thompson