This is an archival story that predates current editorial management.
This archival content was written, edited, and published prior to LAist's acquisition by its current owner, Southern California Public Radio ("SCPR"). Content, such as language choice and subject matter, in archival articles therefore may not align with SCPR's current editorial standards. To learn more about those standards and why we make this distinction, please click here.
The Waiting List For Section 8 Vouchers In L.A. Is 11 Years Long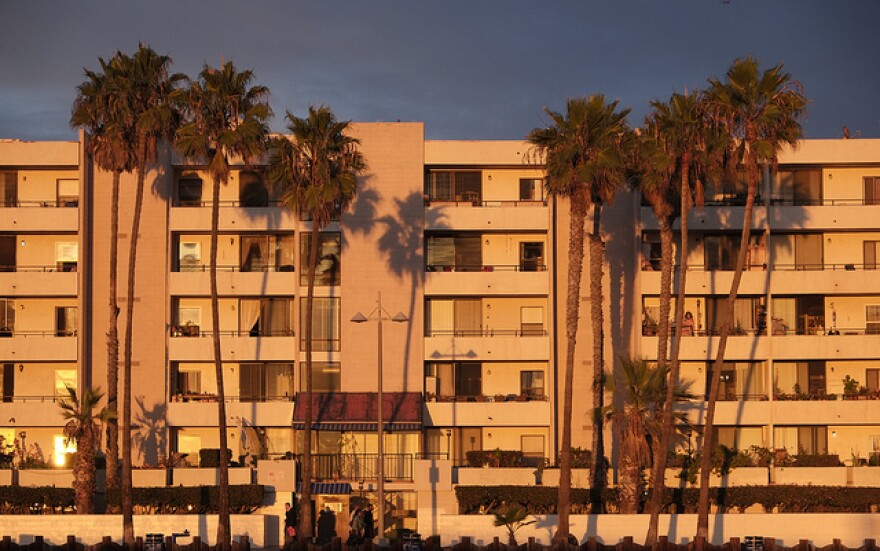 We need to hear from you.
Today during our spring member drive, put a dollar value on the trustworthy reporting you rely on all year long. The local news you read here every day is crafted for you, but right now, we need your help to keep it going. In these uncertain times, your support is even more important. We can't hold those in power accountable and uplift voices from the community without your partnership. Thank you.
Low-income families struggling to pay their rent in Los Angeles who seek Section 8 housing assistance will have to wait for more than a decade for help. The county waiting list for the voucher program is estimated to have an 11-year wait time, and there are about 40,000 Angelenos currently on the waiting list, which has been closed to new names since 2009.
"Based on our current policy and our ability to pull names from our wait list, it's an 11-year wait time," Margarita Lares, director of the Housing Authority of Los Angeles County's Assisted Housing Division, told LAist. Attention was first drawn to the lengthy waiting list last week, when HACoLA deputy executive director Emilio Salas presented an update to the Los Angeles County Board of Supervisors on Tuesday. About 1,000 people out of the 40,000 on the waiting list received housing vouchers last year, according to the Daily News.
"We need more vouchers," Lares said. "The Section 8 program is federally funded, and we have a finite number of vouchers."
The Section 8 Housing Choice Voucher Program, as it's formally known, is a federal program that's administered by state public housing agencies. On the county level,
the Housing Authority of the County of Los Angeles is responsible for running our local Section 8 program.
Section 8 vouchers are designed to help provide housing to those who would otherwise be unable to afford it by offering rental subsidies that can be used on the private market (individuals pay a portion of the cost beyond what the voucher covers). The Section 8 housing voucher program has, in some form, provided Americans with tenant-based rental assistance since 1937 (the program's name is a shortened reference to its origins in Section 8 of the Housing Act of 1937).
The county's public housing program, which is also managed by the housing authority, serves individuals who meet similar qualifications, but the fundamental difference is that public housing is owned by HACoLA, as opposed to a voucher system that operates on the private market. Section 8 vouchers also allow individuals the opportunity to live where they want, meeting personal and family needs. There are currently 23,000 families on the waitlist for public housing. It's more difficult to estimate corresponding wait time frames for public housing because each of the properties have their own wait list and some turn over faster than others.
Very low-income families, the elderly, the disabled and veterans can all qualify for Section 8 vouchers. "Most of the folks on my waitlist are extremely low-income, with an average income of $7,000," Lares told LAist. "I don't know how people on $7,000 a year can actually afford to pay rent in L.A."
"It's a matter of choice [with Section 8], and that really is the value of the program," Lares said. "The government or agency isn't telling people where to live. Without having this rental subsidy, most individuals would not be able to live independently, or have a choice of living in a community of their desire."
Individuals are drawn from the waiting list four or five times a year, according to Lares, who said that the last time they pulled from the waiting list, many of those people had been waiting five years.
The lengthy wait times are at least partially due to L.A.'s homelessness crisis, which has led to a shift in HACoLA's priorities amidst the need to provide immediate help for the county's surging homeless population. According to Lares, during this fiscal year the program is currently offering 35% of new vouchers to homeless individuals being referred to the agency from the Los Angeles Homeless Services Authority, with the remaining 65% of assistance going to individuals from their own waiting list who qualify as homeless. However, starting in July 2017, 50% of voucher assistance will go to homeless individuals referred to the agency by LAHSA, and the remaining 50% will go to individuals on the waiting list who can also qualify as homeless.
And as for voucher assistance for very low-income families who haven't yet fallen into homelessness? "Between this year and the next two fiscal years, that's not going to happen," Lares said.
"Unfortunately, there's a huge gap between individuals' income and price of housing," Lares said. "If we want to not only resolve the homelessness issue but also prevent more individuals from falling into homelessness, we need to find alternate programs."
The situation will likely get worse before it gets better, at least if the federal budget goes through as proposed. President Trump's initial budget plan proposed a $6 billion decrease in funding to the U.S Department of Housing and Urban Development, and the Washington Post reports that city and state agencies that provide subsidized housing and vouchers to local residents "would be among the hardest hit."
It's been many, many years since we saw this much snow in our mountains. Going up there right now isn't safe, but here are some places where you can enjoy the view and snap a pic.

April Valentine died at Centinela Hospital. Her daughter was born by emergency C-section. She'd gone into the pregnancy with a plan, knowing Black mothers like herself were at higher risk.

A look at years past when snows creeped into our citified neighborhoods, away from the mountains and foothills.

In the face of a drier future, that iconic piece of Americana is on its way out in Southern California.

Bob Gregory, 62, went missing the same day as Sands. His body was recovered near Mount Islip.