This is an archival story that predates current editorial management.
This archival content was written, edited, and published prior to LAist's acquisition by its current owner, Southern California Public Radio ("SCPR"). Content, such as language choice and subject matter, in archival articles therefore may not align with SCPR's current editorial standards. To learn more about those standards and why we make this distinction, please click here.
Santa Monica Police Get More Community Oriented
Before you read more...
Dear reader, we're asking you to help us keep local news available for all. Your financial support keeps our stories free to read, instead of hidden behind paywalls. We believe when reliable local reporting is widely available, the entire community benefits. Thank you for investing in your neighborhood.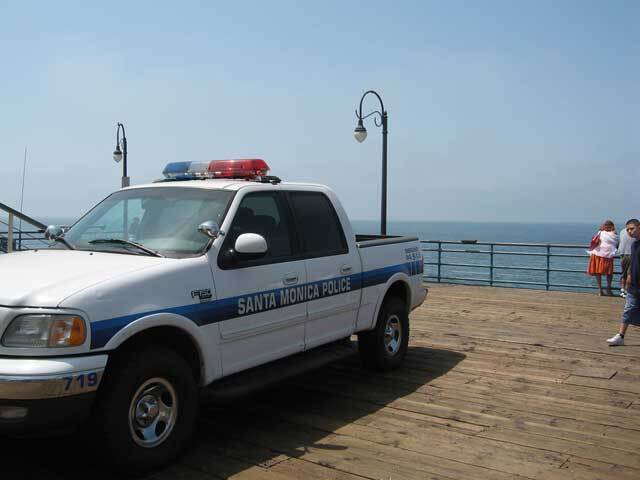 Yesterday marked the first day for a new approach of policing in Santa Monica. A community patrol model has been adapted, as told by the LA Times. For those who live in Los Angeles, the Senior Lead Officer (SLO) program comes to mind.
In Santa Monica, this is how it will work:
Under the plan, the 8.5-square-mile city of about 88,000 has been divided into eight areas with nine or 10 officers assigned to each, said Lt. Clinton Muir, the program's manager. Officers were calling it the "Andy Griffith" approach, in reference to the popular 1960s TV show depicting small-town policing in Mayberry, N.C., where "everyone knew everyone," as Muir put it. "In the past, an officer might be working one beat on Monday and a different one on Tuesday, and that makes it hard to really get to know a community..."

The newly drawn areas will be patrolled 24 hours a day, seven days a week, and each will have assigned to it a neighborhood resource officer, a veteran whom Muir described as the "sheriff" of the beat. Resource officers will be assigned to a beat for a minimum of two years, and the officers who serve under them will be assigned for at least six months.[LA Times].


In Los Angeles, this is how it works: Each LAPD police division is divided into small reporting districts. Groups of those districts are taken by a
Senior Lead Officer, often referred to as SLO
, and a
Basic Car
(Ex. Basic Car 9A89 Patrols East Sherman Oaks: this is the car ID number that regularly patrols these smaller reporting districts). The SLO is like a mini chief of police for that area, getting to know community members, crime trends, requesting specialized units, showing up to neighborhood watch meetings in resident's living rooms and working with SLOs in adjoining areas.
If you don't know your SLO, you should, they're a great resource and good people to know. Although, sometimes the hardest part is tracking down your SLO for the first "hello," something that needs to be drastically improved on within the LAPD communications structure (we're talking especially to you Hollywood Division). Additionally, many street officers do not know the SLO in charge of the area they are patrolling. Nevertheless, it's a good program in need of some fine-tuning and more city hall support.