Fight Breaks Out at House of Blues, Woman Trampled
LAist relies on your reader support, not paywalls.
Freely accessible local news is vital. Please power our reporters and help keep us independent with a donation today.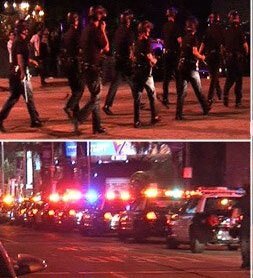 How the hell did a fight break out last night after Three 6 Mafia's show at the House of Blues in West Hollywood? The brawl led to the crowd fleeing the building with one woman getting trampled. Have you been to this venue? Going through their security is tougher than the airport and sometimes lasts just as long.
A woman was trampled and hospitalized for a leg injury, possibly a fracture, when the fight broke out involving HOB's own security team. The fight continued outside before West Hollywood Sheriff's arrived with additional support from the LAPD and Beverly Hills Police Department.
Police arrested two men: one for public drunkenness and one with an outstanding warrant. It is not clear if they were involved in the fight or not. TMZ has a video showing a lot of police in force.
Photos via TMZ