This is an archival story that predates current editorial management.
This archival content was written, edited, and published prior to LAist's acquisition by its current owner, Southern California Public Radio ("SCPR"). Content, such as language choice and subject matter, in archival articles therefore may not align with SCPR's current editorial standards. To learn more about those standards and why we make this distinction, please click here.
Ojos de Brujo Plays for FREE Downtown Tonight + CD Review
Support your source for local news!
Today, put a dollar value on the trustworthy reporting you rely on all year long. The local news you read here every day is crafted for you, but right now, we need your help to keep it going. In these uncertain times, your support is even more important. We can't hold those in power accountable and uplift voices from the community without your partnership. Thank you.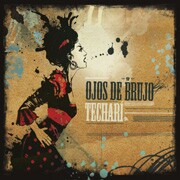 Show Date: Tonight, Friday June 22nd, 2007
Venue: Grand Performances, California Plaza, 350 South Grand Avenue
$0 @ 8:00 p.m.
Artist:Ojo de Brujo
Album: Techari+ Techari Remixes
Label: Six Degrees Records
Barcelona-based flamenco-fusion-epxerimentalists Ojo de Brujo kick off their North American tour tonight in Los Angeles with a FREE concert at Grand Performances, California Plaza, 350 South Grand Avenue. This band of gypsy instrumentalists and DJs is touring in support of their most recent release, Techari as well as a supporting set of Techari remixes.
Beyond some of the vocals it would be difficult to call this flamenco music, what with the turntable scratching, didjeridoo, Indian tablas drums, but it sounds like a lot of folks making a lot of good noises. I can only imagine what they will be like at this live show.
The tunes on Techari that a real standouts are the opener, 'Color', the central Asian tinged 'Todo Tiende', and the almost rhythmically manic 'Feedback'.
With all the songs in Spanish and plenty of strumming guitars this is definitely Latin music appropriate for Calfornia Plaza and is consistent with programming of Grand Performances.
While I'm not incredibly familiar with Ojos De Brujo, the collection of remixes does emphasize some of the innovations in Techari: lots of Cuban piano, horns, palmas, and some differences in their percussion and groove instrumentation. There's even some Middle Eastern-style violin work and the remixes are definitely more chillout than they are dance-oriented.
At any rate - to miss their free show would be a shame and is probably the best introduction to some truly new sounds - inspiration enough to pick up this CD or download the remixes. Below are a couple tracks off of Techari: 'Tondo Tiende' and 'Piedras vs Tanques':
It's been many, many years since we saw this much snow in our mountains. Going up there right now isn't safe, but here are some places where you can enjoy the view and snap a pic.

April Valentine died at Centinela Hospital. Her daughter was born by emergency C-section. She'd gone into the pregnancy with a plan, knowing Black mothers like herself were at higher risk.

A look at years past when snows creeped into our citified neighborhoods, away from the mountains and foothills.

In the face of a drier future, that iconic piece of Americana is on its way out in Southern California.

Bob Gregory, 62, went missing the same day as Sands. His body was recovered near Mount Islip.