The State of Outdoor Ads in Hollywood Today, aka OMG
Stories like these are only possible with your help!
You have the power to keep local news strong for the coming months. Your financial support today keeps our reporters ready to meet the needs of our city. Thank you for investing in your community.
Yes it's a material world, and we are material girls. But look what they've done to our great record store.
Is that really necessary?
Isn't there a law against defacing a tomb?
The state of outdoor ads in Hollywood is a sorry one.
People should say sorry.
West Hollywood has always been known for its outdoor ads, particularly on the Sunset Strip.
If you wanna know what HBO is hyping, look no further than the side of a building as you weave your way down Sunset.
Be careful because some of the traffic that you will be driving next to, might also be just another form of advertisement.
And because Hollywood is so... lets say... open-minded, when ads contain sexy images, they're not always of hot babes in short skirts.
But who are we kidding, Hollywood has always been a place to go if you wanna see a guy with his shirt off or his pants missing.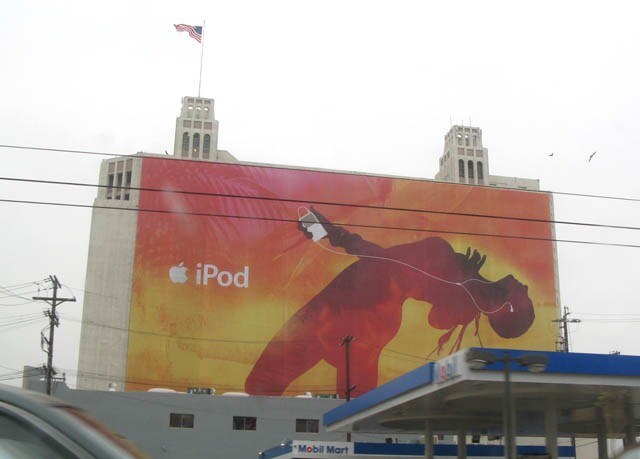 And Hollywood has always been able to pull off some very well-received outdoor advertising, that one could probably say has been effective.
That Apple ad has been so good, that the storage place at Highland and Santa Monica Blvd. sold their blank facade to "Beowolf". Whatevs.
One of the signs of the times is the fact that CBS no longer advertises for Extra on their former studios on Sunset near Roscoe's.
Adios Pat O'Brien, don't forget to call!
But the worst is what they've done to the former Tower Records. Couldn't they just sell Christmas trees in that lot or pumpkins or something?
When the White Stripes took it over, they played there, they broadcasted from there. They did something special that was respectful for what the building is known for.
Even Dustin Hoffman should apologize.
Further East on Sunset they were erecting a new billboard. One of those new electronic jobbers where you don't need a couple guys to climb the pole and paint or string up an ad. All you have to do is send the image to the billboard and there it is.
Progress.
Everyone wins.
How many guys does it take to put up a billboard anyways?
Only thing they should worry about with those new billboards, though, is hackers.
Andre does have a posse, you know.
Never forget.
photos by Sonny I. LaVista / LAist