This is an archival story that predates current editorial management.
This archival content was written, edited, and published prior to LAist's acquisition by its current owner, Southern California Public Radio ("SCPR"). Content, such as language choice and subject matter, in archival articles therefore may not align with SCPR's current editorial standards. To learn more about those standards and why we make this distinction, please click here.
Neighborhood Project: Miracle Mile
Before you read more...
Dear reader, we're asking you to help us keep local news available for all. Your financial support keeps our stories free to read, instead of hidden behind paywalls. We believe when reliable local reporting is widely available, the entire community benefits. Thank you for investing in your neighborhood.
Known to some as La Brea Park and dubbed "America's Champs Elysee," Miracle Mile has put up a long fight to become one of the most visited neighborhoods in Los Angeles. Despite the area's slight congestion, Miracle Mile is a great place for culture, business, and happy living.
Boundaries:
Miracle Mile is situated on the major streets of Wilshire Blvd., Olympic Blvd., La Brea Ave., and Fairfax Ave. The boundaries are roughly 3rd Street on the north, Highland Avenue on the east, San Vicente Boulevard on the south and Fairfax Avenue on the west. Bordering neighborhoods are Fairfax District on the north, Hancock Park on the northeast, Mid-City on the southeast, West Pico on the south, and Carthay on the southwest.
It's all about the politics
Miracle Mile is represented by the following politicians:
City Council: 4th District – Tom Labonge
County District: 2nd District – Yvonne B. Burke and 3rd District – Zev Yaroslavsky
State Senate: 23rd District – Sheila Kuehl and 26th District – Mark Ridley
State Assembly: 42nd District – Mike Feuer and 47th District – Karen Bass
US Congress: 30th District – Henry Waxman and 33rd District – Diane E. Watson
Public Transportation
Miracle Mile has a ban on tunneling (although there are proposals to change that), but the area is still accessible by:
Metro Rapid line 720
Bus lines 20 and 28/328
Metro Transitway Wilshire Rapid Express
With a little walk outside of the Mile, you can jump on the Red and Purple lines. (A proposal to extend the Purple line to Fairfax Avenue to help alleviate traffic is underway.)
Automobile Access
The I-10 runs East/West, with freeway access not to far away.
A Short History Lesson
If you've ever seen the La Brea Tar Pits, it's not hard to imagine why Miracle Mile was originally deemed uninhabitable. The land sat barren with only a few oil rigs to make up its skyline, until a man named A.W. Ross came along. Ross purchased the land in 1920, with a vision of a lively banking industry to help the mile get out of its slump. The legendary Desmond Building kick-started the Mile, as it was the first business and retail complex brought to the area.
You can hang out with a sculpture of Ross at 5700 Wilshire Blvd. Below the bust reads the inscription "A. W. Ross, founder and developer of the Miracle Mile. Vision to see, wisdom to know, courage to do."
Ross jumped on top of the architectural advancements that were popularized by the Chicago's World Fair, bringing revolutionary construction techniques to every building situated on his stretch of land. The area became home to styles that are now known as Art Deco, Streamline Moderne, and Spanish Colonial Revival Architecture.
Ross' efforts paid off, as the area quickly became a haven for business and the arts. Boutiques and department stores lined the streets and businessmen and families gladly showcased the area's prosperity, and the area became a landmark in Angeleno culture.
As Black Monday hit, the Mile came crashing down as Angelenos fled from the city. Ross quickly saw the ill-perceived end to his vision. Stores closed and the streets were again barren, but the Mile would prove to be a miracle again.
The tenacious 1934 rebuilding efforts resurrected the Mile, bringing jobs and money back to the city by way of the moneymen of the Mile. The men brought civic projects to the city, a lot of which were headquartered on the Mile. These efforts helped to rebuild the area – not to mention the city – and has helped Miracle Mile stay one top of the world, so-to-speak, ever since. The area continues to live up to its hype, and it truly is the "Miracle" mile.
Cool Cultural Outings:
The area is perhaps best known for Museum Row; the cluster of museums that lie on three blocks of Wilshire Boulevard:
California Craft & Folk Art Museum (5814 Wilshire Boulevard)
George C. Page Museum/La Brea Tar Pits (5801 Wilshire Boulevard)
The Los Angeles County Museum of Art (5905 Wilshire Boulevard)
Petersen Automotive Museum (6060 Wilshire Boulevard) is definitely not camera shy, in the museum's and LACMA's 1997 destruction scene in the movie Volcano. The museum also received lots of notice on March 9, 1997, in the murder of rapper Notorious B.I.G. After a party at the museum, Biggie jumped into his SUV, only to be murdered by an unknown gunman at a nearby red light. Rest in peace homie.
Architecture and Design Museum(5900 Wilshire Blvd.)
The Mile also hosts a number of galleries, complementing a fair share of artistic tastes. Each gallery brings a different contrast to the area, and is a great way to see the Mile if you want avoid the "touristy" Museum Row. The galleries include Ace Gallery (5514 Wilshire Blvd), The Carl Berg Gallery (6018 Wilshire Boulevard),Double Vision Gallery (5820 Wilshire Blvd. #100), Jack Gallery (6333 W 3rd St, Los Angeles), and Lemon Sky Projects (5367 Wilshire Blvd).
Another addition to the Mile's cultural showcases are the Pavilion for Japanese Art and Korea Center.
Sitting at the tip of the Mile is the Farmers Market on the corner of Fairfax Avenue and 3rd Street (neighboring The Grove), standing complete with history, shopping, and autumn fun every October. The market came around during the beginning of LA's reconstruction after the Depression, and offers more than 100 places to shop, eat, and an effortless way to enjoy the surrounding neighborhoods.

Like all of LA, the Mile has a number of venues offering live performances for locals and art enthusiast alike. Busby's East (formerly the Conga Room) offers a full bar, front row seats to televised sport events, games, dancing, screenings, and live performances. Two other popular destination are the El Rey and Level One, with live performances most nights of the week. For a really unique experience, head over to Pasquale Shoe Repair & Café (5616 San Vicente Blvd.) for customized shoes and accessories, shoe repairs, great breakfast choices and imported Italian cakes, and live music.
Johnie's Coffee Shop (6101 Wilshire Boulevard) is one of the last googie coffee shops in Los Angeles, with an extraordinary history that starts with the location's 1919 origins as Mercury Aviation Company owned by director Cecil B. DeMill and actor Sydney Chaplin. From 1935 until the 1950s, the land thrived as a drive-in restaurant. The restaurant then undertook its googie transformation and was renamed Johnie's Coffee Shop in 1966. Johnie's closed its doors in 2000, and is now owned by 99 Cents Only Stores and is used as a film location.
Notable Company Hideouts
Although Miracle Mile is not known as a mega celeb-sighting area, a lot of VIPs can be found hanging around.
The Mile plays home to a few of the entertainment industry's head business honchos, such as E! Entertainment Television, The Screen Actors Guild, Spelling Productions, and Variety Magazine. Also on the Mile are Goldenvoice and AEG, the companies that takes on the awesome task of putting on and promoting Coachella.
Several independent record labels, publications, and other low-key companies harvest their artistic and business endeavors along Mile.
Ruben Pedro, an elevator operator at the Wilshire Tower Building for 32 years.
Good eats and drinks:
Miracle Mile has a decent selection of restaurants and bars that add to the uniqueness of the area. There are more artistic based eateries, such as Back Door Boba (5484 Wilshire Blvd.), which includes great vegetarian options, checkerboards, artwork from local artists, and even an (very) interesting staff made up of artists and musicians.
Other well-known restaurants include El Toro Cantina (5364 Wilshire Blvd.), which, although it can be a bit pricy, boasts about its 40 types of tacos and is a nice treat if you like Mexican cuisine. If you like cheap repetitiveness, the Mile hosts a sizeable selection of fast-food franchises (and may I add, the greatest and friendliest Quizno's Subs staff I've ever come across). Otherwise, it's a nice to check out some cool local restaurants:
Busby's East (5364 Wilshire Blvd.)
Campanile (624 S. La Brea Ave.)
Little Bar (757 S. La Brea Ave.)
Maggiano's Little Italy (189 The Grove Dr.)
The Whisper lounge (189 The Grove Dr #F-90B)
Molly Malone's Irish Pub (575 S. Fairfax Ave.)
Tom Bergin's Tavern (840 S. Fairfax Ave.)
Kibbitz Room at Canter's (419 N. Fairfax Ave)
Marie Callender's Grill (5773 Wilshire Blvd)
Take a voyage around Miracle Mile through song and picture with Loudon Wainwright III's "Choppers" and photos by Julie Wolfson:
Up there over Wilshire
The whirly birds zoom
Above the El Rey
And circling the Conga Room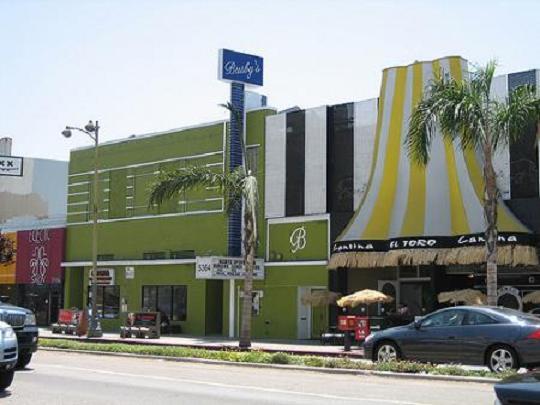 They turn on the lights
Pull out the stoppers
Get off the streets now
Here come the choppers
Here come the choppers
Just when we thought
We were safe in our houses
And we couldn't get caught
The choppers are back
They were gone for awhile
We're under attack
In the Miracle Mile
We're together alone
And there's no where to go
We live in a war zone
On Museum Row
No this is no game
Of robbers and coppers
Hide under your lemon trees
Here come the choppers
Read us our rights
In our criminal faction
Hit by the lights
And caught in the action
Our entire performance
Is captured on tape
Knocking over our garbage
As we try to escape
They're strafing Ralph's
Attention shoppers
Get our of the store now
Here come the choppers
Don't bother with paper
Take a black plastic bag
They're buzzing Koo Koo Roo Chicken
Hovering over signs
Just when you hope
That they might call it quits
The choppers turn towards
The La Brea Tar Pits
A saber tooth snarls at the sky
The mammoth made of stone
Seems ready to die
So many sorties look out below
Staples Blockbuster and
Office Depot
Their sights set on Sav-on
Surveying Rite Aid
Mo Better Meaty Meat burgers
Be very afraid
North to the Grove
West of Fairfax
Dupar's duck and cover
Here come the attacks
The inspectors found nothing
That's just not right
Whole Foods and Kmart
Are targets tonight
The Meridian Health Club
Has it's machines
Of torture it will be blown
To smithereens
Some will be maimed
Most will be killed
A smart bomb
Takes out the whole Writer's Guild
A tramp kept on Curson
Lives in his dream
From his Ralph's shopping cart
He heads his regime
But his days are numbered
For in a short while
His ouster takes place from the Miracle Mile.
Now it's getting quiet
Can you feel the calm
Remembering those movies they made about Nam
Can this be the end
Can this lay us to (task?)
And I hear the choppers
Here come the choppers
I hear the choppers
They're not coming back
Special thanks to Julie Wolfson for all the photos and for transcribing the lyrics