This is an archival story that predates current editorial management.
This archival content was written, edited, and published prior to LAist's acquisition by its current owner, Southern California Public Radio ("SCPR"). Content, such as language choice and subject matter, in archival articles therefore may not align with SCPR's current editorial standards. To learn more about those standards and why we make this distinction, please click here.
7 Things You Can Do to Celebrate National Garden Month
Stories like these are only possible with your help!
You have the power to keep local news strong for the coming months. Your financial support today keeps our reporters ready to meet the needs of our city. Thank you for investing in your community.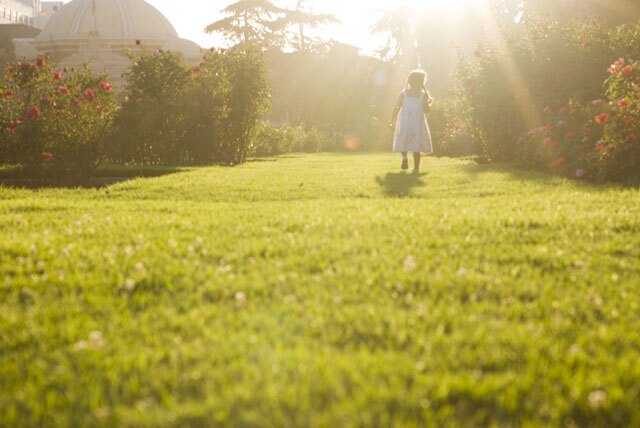 Photo by playonthefreeway via the LAist Featured Photos pool on Flickr
April, among other things, happens to be National Garden Month. And what an ideal time--it's spring, and it's the right time to get your planting done for the months ahead of garden goodness. But this isn't just about people with yards to dig up, or with seasoned green thumbs. The great thing about gardening is that you don't have to be a pro to give it a go, or even do the gardening where you live! In fact, you can celebrate National Garden Month, we say, without even setting foot in a garden. Here are 7 things you can do.
1. Start Gardening
Never gardened before? Not a problem. Have some space in your yard? Great. If not, have a balcony, windowsill, patio, deck, wall, or an outdoor spot you've got the okay to use? Great. Now: Start a garden.
Consider the space you're using, the direction your new garden faces, how much sunlight per day the space receives, how much time you can invest, and what you would like to grow. If you've got lots of sun and some space for raised beds or big pots, consider growing some produce. Our climate is great for all sorts of stuff, like tomatoes, peppers, leafy greens, carrots, eggplants, and more. And more, and more, and more. Like the pretty, colorful, often sweet-smelling stuff? Excellent. Pick out some flowers to try. Low maintenance kind of person? Try some succulents. For supplies, it's pretty basic: Dirt, Water, Food. Maybe some containers if you can't get into the ground. A trowel is mighty handy, as is a watering can. Do your best to buy seedlings that are started locally, so you can help support our local microclimate. Keep your eye out online for plant sales at local gardens like Descanso, or community and school gardens where your purchases go to support their work.
Follow some gardening folks on Twitter who can give you some wisdom. Don't be upset if you kill some plants in the process...it's all about trial and error--even the pros will agree. Relax. Get some exercise and sunshine. Enjoy.

At Saturn Elementary (Lindsay William-Ross/LAist)
2. Support a School Garden
If you know of a school that already has a garden, get in touch with the folks in charge and find out when their next work day is and arrange to be a volunteer. Believe me, they have them, and there's always a need for an extra pair of hands. Some schools have long-established garden programs, and some are just starting out, so you can either tend to land that's already growing, or you can get on board with a school who is just starting out. Or, if there's a school that you think should have a garden, why not be the force to get one going? Sometimes all it takes is a group of motivated parents, community members, and supporters (and some bucks) to get one started.
School gardens enhance students' learning in and out of the classroom, promote physical fitness, give them an outlet for their attention and energy, and can sometimes change their lives. If you or your company happen to be sitting on a pile of cash and would like to make a donation, your contribution could grow into something quite wonderful, too.
School Gardens on LAist
3. Get involved with community gardening
It's true that many community gardens have a waiting list for vacant plots. But you can't let that dissuade you. Find some land and some fellow community members, and look into starting one of your own. Another way to garden in your community is to take part in yard sharing, which is when people with yard space allow others to work their land. You can also engage your community by swapping plants or seeds with your neighbors, or just sharing the bounty of your harvest. Give your neighbor a bouquet of flowers!
Community gardening on LAist
4. Read some great books about gardening
You don't actually have to get dirty to celebrate gardening. If you're in the contemplation stage, and might want to learn a bit before you dig in, pick up the Californian gardener's bible: The Sunset Western Garden Book. Learn what zone you're in, what works well, and mark off some things you might want to try growing. Or you can read any number of books about particular kinds of gardening (permaculture, roses, organic, etc.). Michael Pollan has several great books about food and the growing process, including Second Nature: A Gardener's Education, and Food Rules.
5. Plant a Row for the Hungry
This is a project from the Garden Writers Association that connects local gardeners with organizations like churches and food banks who could use extra produce as donation. So you would arrange to plant a row of what that local organization needed and grow it for them in your garden.

Photo by faria! via the LAist Featured Photos pool on Flickr
6. Take a gardening class
From intensive workshop series to an afternoon learning floral arrangement, find a class that you'd like to check out about gardening. Try Earth Matters, Silver Lake Farms, Descanso Gardens, or the Pacific Horticulture Society.
7. Talk to the people who grow the produce you buy at farmers' markets
Okay, so maybe their gardens are more farm-sized...but they are growing the food you're eating. Talk to them about what they do, why and how they do it. Find out what's in season, what's coming into season, and discover new things to try and taste.
Farmers' markets on LAist
Some great resources for local gardening:
LA County Common Ground Program
LA County Arboretum
Los Angeles Guerrilla Gardening
California School Garden Network
Los Angeles Community Garden Council