This is an archival story that predates current editorial management.
This archival content was written, edited, and published prior to LAist's acquisition by its current owner, Southern California Public Radio ("SCPR"). Content, such as language choice and subject matter, in archival articles therefore may not align with SCPR's current editorial standards. To learn more about those standards and why we make this distinction, please click here.
Mark Your Calendars: LADOT To Hold Meetings About Bus Service Cuts
Support your source for local news!
Today, put a dollar value on the trustworthy reporting you rely on all year long. The local news you read here every day is crafted for you, but right now, we need your help to keep it going. In these uncertain times, your support is even more important. We can't hold those in power accountable and uplift voices from the community without your partnership. Thank you.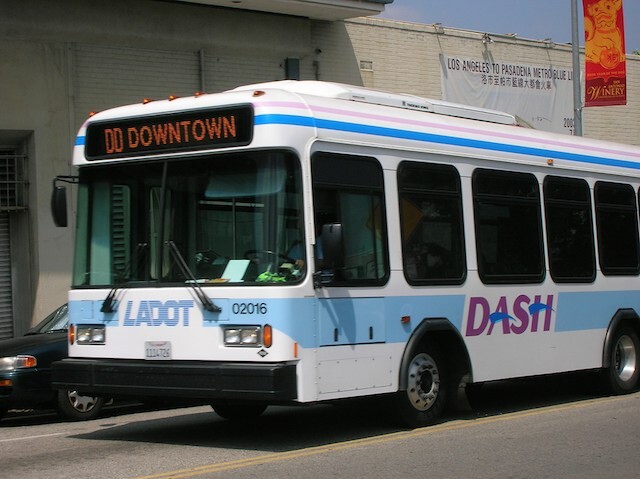 Photo by fredcamino via Flickr
Earlier this week, it was learned that, faced with steep budget cuts, the Los Angeles Department of Transportation is planning dramatic cuts to its transit service programs. Under consideration is jettisoning 11 bus lines from the DASH and Commuter Express services, doubling the quarter-fare to fifty-cents and other cuts to Cityride and charter buses.
The agency expects to see a $350 million budget shortfall over the next decade. "The analysis focused on underperforming Commuter Express and DASH routes with low ridership and those services that may be duplicative of other services provided by Metro and other carriers," a department release explained. "While the analysis identified cost
savings through improved efficiencies, these savings will not yield the amount necessary to completely offset the shortfall and LADOT is proposing increasing fares on all its services."
LADOT is seeking public comment through a series of six meetings and via phone, mail and e-mail submission (all info listed below). Once the comment period ends on March 3rd, LADOT staff will finalize a plan and submit it to the City Council for approval. Changes will go into effect on July 1st.
The public hearings will be held at the following six locations and times:
West Los Angeles: Tuesday, February 16, 2010, 5:00 p.m. - 7:00 p.m.
Henry Medina West L.A. Parking Enforcement Facility, Second Floor, Roll Call Room
11214 W. Exposition Boulevard, Los Angeles, CA 90064
South Los Angeles: Wednesday, February 17, 2010, 5:00 p.m. - 7:00 p.m.
South Los Angeles Activity Center, Multipurpose Room
7020 South Figueroa Street, Los Angeles, CA 90003
Central Los Angeles: Tuesday, February 23, 2010, 3:00 p.m. - 5:00 p.m.
Caltrans Bldg., Community Center Conference Room
100 South Main St. Los Angeles, CA 90012
North & South Valley: Wednesday February 24, 2010, 5:00 p.m. - 7:00 p.m.
Marvin Braude Constituent Service Center, Room 1B
6262 Van Nuys Boulevard, Van Nuys, CA 91401
Harbor: Thursday February 25, 2010, 5:00 p.m. - 7:00 p.m.
Cabrillo-Marina Community Center, Community Room
224 Whalers Walk, San Pedro, CA 90731
East: Wednesday, March 3, 2010, 5:00 p.m. - 7:00 p.m.
Ramona Hall Community Center, Community Room
4580 North Figueroa St., Los Angeles, CA 90065
Written and oral comments will be taken at the public hearings for consideration. Persons unable to attend one of the public hearings may still submit testimony, comments or suggestions until March 3, 2010 in one of the following ways:
By internet: ladotlbl.tmdinc.net
By telephone message: 213-455-0880
By mail:
Philip Aker, Hearing Officer
LADOT
201 North Los Angeles St., #18B
Los Angeles, CA 90012
By email: hearingofficer@store.ladottransit.com
It's been many, many years since we saw this much snow in our mountains. Going up there right now isn't safe, but here are some places where you can enjoy the view and snap a pic.

April Valentine died at Centinela Hospital. Her daughter was born by emergency C-section. She'd gone into the pregnancy with a plan, knowing Black mothers like herself were at higher risk.

A look at years past when snows creeped into our citified neighborhoods, away from the mountains and foothills.

In the face of a drier future, that iconic piece of Americana is on its way out in Southern California.

Bob Gregory, 62, went missing the same day as Sands. His body was recovered near Mount Islip.