L.A. Live is Not Times Square--Not Yet, At Least. But Do We Like It?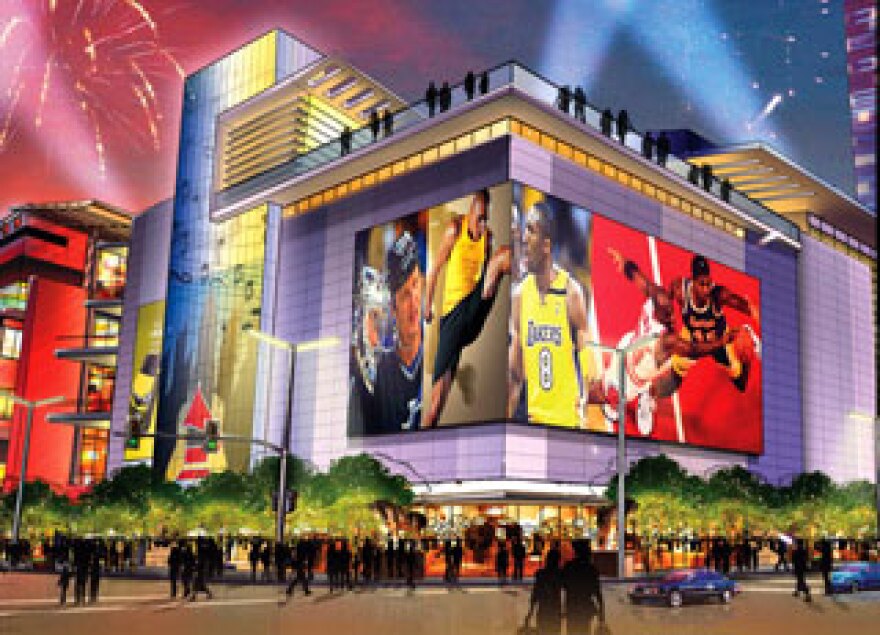 LAist relies on your reader support.
Your tax-deductible gift today powers our reporters and keeps us independent. We rely on you, our reader, not paywalls to stay funded because we believe important news and information should be freely accessible to all.
Starting late last year, the Downtown "destination" LA Live began to host all sorts of events, including a Grand Opening celebration, a Christmas tree lighting ceremony starring Britney Spears and the Mayor, a big screen broadcast of Obama's inaguration, and the openings of specific "on campus" spots like the Conga Room and the ESPN Zone. Touting itself firmly as LA's answer to Times Square (a promo video shown to some invited bloggers last year at the Ritz Carlton sales office declared as such), the LA Live-ers asserted that the development joining Staples Center, the Nokia Theatres, Club Nokia, and the Convention Center would be both a destination and a pit stop for locals and tourists alike. LA Observed points us to a post on the Amateur Enthusiast, who tackles the whole Times Square redux in LA issue head on--well, as LAO says, "he calls b.s. on that whole Times Square nonsense." Now, the AE also manages to find the oh-so-very corporate LA Live enclave redeeming: " Yes, LA Live is corporate. Yes, all the restaurants are chains of one size or another. Yes, there isn't what one would call "personality", unless you count glaring signs and weird climbing tree lights."
What's to like? Well, its "reluctant charms" include that it's easy (parking, finding, welcoming), non-threatening (as in you know what you're getting into when you go into the Yard House, because you've probably been in one somewhere else before), and it is full of options. Adds the AE: "The problem is that AEG tried to hard to market LA Live as 'LA's Times Square.' It's not. Those things have to develop organically and, maybe, at some point it will be." Err, well, some of us also happen to deliberately avoid Times Square when we visit NYC... Just sayin'.