This is an archival story that predates current editorial management.
This archival content was written, edited, and published prior to LAist's acquisition by its current owner, Southern California Public Radio ("SCPR"). Content, such as language choice and subject matter, in archival articles therefore may not align with SCPR's current editorial standards. To learn more about those standards and why we make this distinction, please click here.
Weekend Chinese: New Capital
We need to hear from you.
Today during our spring member drive, put a dollar value on the trustworthy reporting you rely on all year long. The local news you read here every day is crafted for you, but right now, we need your help to keep it going. In these uncertain times, your support is even more important. We can't hold those in power accountable and uplift voices from the community without your partnership. Thank you.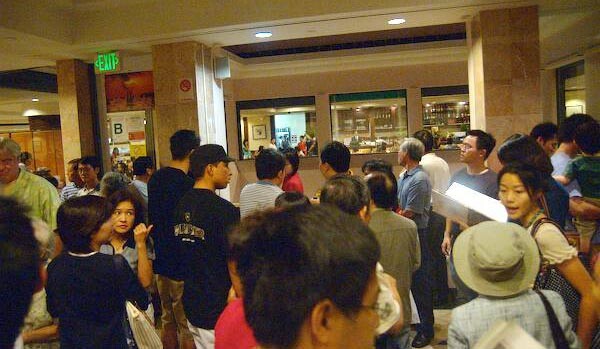 I barely squeezed in with my foodie crew for the night into the small, glass-walled elevator. The door shuts. I slowly and carefully turn around to face the door, the elevator is crammed six people deep, but I managed to shift my camera bag to hang behind me to protect it from what I know is to come.
"Brace yourselves." I said under my breath to the my friends behind me, seconds later, the elevator door opened to the waiting area. TO THIS.
New Capital is popular because of a number of things. It's authentic, the menu is eclectic and offers some serious Chinese food. It's also very reasonably priced, and right now, they're giving away 3 pounds of lobster whenever you order over $40.
Yeah, free lobster, you can stop reading now, go. Or you can keep reading to find out what you should order to hit that magical $40 mark...
We sat down and immediately went to work. The menu is a huge photo book and everything looked good. It was a hectic 10 minutes of everyone at the table going: "Oh, can we get this? and this? oh, that sounds good, oh, let's get that..." At the end we settled on Peking Duck, Kobe Beef, Black bean clams, Sauteed prawns, Taro pork pot, Chinese broccoli with oyster sauce, house special fried rice, and of course, the 3 pounds of free lobster. 8 dishes for four people.
The lobster came out first, we ordered it standard Cantonese style: Stir-fried with ginger and green onions. It's all chopped up for you so it's pretty easy to get to the meat. 3 pounds of lobster sounds like a lot, but we blew through this pretty quickly.
All the dishes came very quickly and our table got smaller and smaller, we had to focus our attack. The next to go was the black bean clams, this was delicious and looked to be a good size, but most of the clams looked empty and we had to pick up most of the meat from the bottom of the dish. We easily went through this and handed the plate full of shells back to our waiter.
Sauteed Crystal prawns, they didn't pull punches here, it's a full plate of big, meaty shrimp sauteed in a light sauce.
On the Chinese side of the menu this was branded as "Kobe beef," but not on the English side. Was it Kobe? Nah, but this was the Most. Tender. Beef. Ever. Sauteed with a slightly sweet sauce and served over Chinese broccoli. I loved it, it was excellent and like most other dishes, generously portioned.
I called for this pot of pork and taro. Caitlin asked me "What kind of meat is this?" and I said "It's really just fat." And no kidding, it's some pretty fatty pork that comes sizzling in a pot with big chunks of taro in a brown sauce. This was delicious but definitely not for those scheduled for open heart surgery anytime soon.
Peking Duck. As per usual, the deliciously crispy skin comes with some Chinese bread, shredded scallions and the mighty peking duck sauce. The skin is beautiful and the flavor is off-the-hook addictive.
All the duck meat comes on the other plate with a slightly sweet sauce for dipping. Can you believe these two big plates of incredible duck was just $20? I'm so coming back for this.
It's a good thing we had two teenagers with us, they can put things away like no other. We had a total of 8 dishes for $100, including the free lobster. Somehow we managed to wipe the table out in half an hour.
There's a long wait and the place is filled to the brim with loud, happy Chinese people. There's something to be said about the efficiency of this place, though. The food came like a tsunami and once we flagged down a busy waiter, our requests got handled pretty quickly.
New Capital Seafood
250 W Valley Blvd
San Gabriel, CA. 91776
Newcomers to San Gabriel might get a little lost. To clarify, it's in Focus Plaza, at the South West Corner of Del Mar and Valley Blvd. It's on the top floor of the building.
Photos by Kevin Cheng for LAist.
How to get the best eggs in town without leaving your yard.

Beautiful views aren't the only thing drawing Angelenos to the region

Gab Chabrán reflects on growing up in L.A. in a Latino home that doesn't celebrate Thanksgiving and the traditions they formed instead.

Oklahoma-style smash burgers and Georgian dumplings make for some excellent cheap bites in Glendale

Husband and wife Felix Agyei and Hazel Rojas combine food from their heritages, creating a marriage of West African and Filipino cooking

Baby Yoda cocktails. Boozy Dole Whips. Volcanic tiki drinks. If you can dream it, they're probably mixing it somewhere on property.