This is an archival story that predates current editorial management.
This archival content was written, edited, and published prior to LAist's acquisition by its current owner, Southern California Public Radio ("SCPR"). Content, such as language choice and subject matter, in archival articles therefore may not align with SCPR's current editorial standards. To learn more about those standards and why we make this distinction, please click here.
Video: Joey Chestnut Out-Eaten at World Gyoza Eating Championship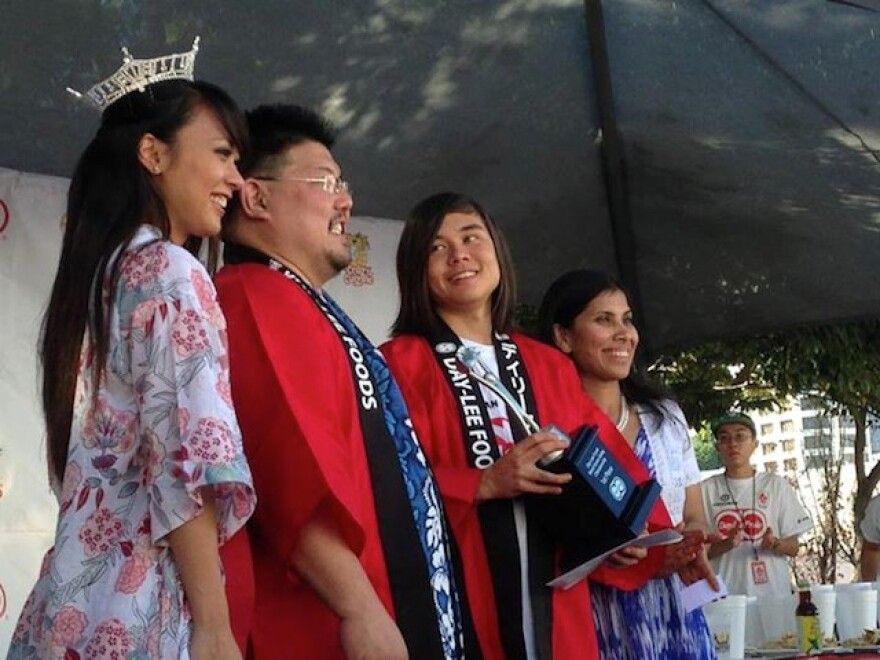 Support your source for local news!
The local news you read here every day is crafted for you, but right now, we need your help to keep it going. In these uncertain times, your support is even more important. Today, put a dollar value on the trustworthy reporting you rely on all year long. We can't hold those in power accountable and uplift voices from the community without your partnership. Thank you.
When it comes to eating a hell of a lot of potstickers in the name of healthy competition, the world's most well-known champion eater is now stuck in second place.
Joey Chestnut surrendered his top ranking title this weekend at the World Gyoza Eating Championships to an upstart 21-year-old kid who bested him by 17 bites.
"120-pound Matt Stonie, from San Jose, toppled the previous record held by the 230-pound Chestnut, currently ranked the top professional eater, and finished first with 268," reports the Daily News. Chestnut's mere 251 gyoza was nothing like the 266 he chowed down on last year to set the record.
Here's Stonie in a "training video" for the big chow down:
As TMZ puns, Chestnut found himself tasting defeat at the end of the annual event at the Japanese American Cultural & Community Center in Little Tokyo. Their Sports division (yep) brings us this video from the gut busting event:
Joey Chestnut TASTES DEFEAT -- Out-Eaten In World Gyoza Championships
- Watch More
Celebrity Videos
or
Subscribe
And forget Disneyland; now that he's won, Stonie's big plans for this week are to "fart a lot." For his part, Chestnut vows to get the title back next year.
Cruise off the highway and hit locally-known spots for some tasty bites.

Los Angeles-based restaurant owners rejoice as a new ordinance makes its way to the city council.

The new season of LAist Studios' WILD podcast is a fictional rom-com set in Southeast L.A. Diners play a big role in fostering conversation between the shows' two hosts this season. Here are host Erick Galindo's must-visit L.A. diners — whether you like breakfast or not.

The new season of LAist Studios' WILD podcast is a fictional rom-com set in Southeast L.A. Donuts play a big role in episode two of the show. Here are some of our favorite, wildly creative, and iconic donut shops in Los Angeles.

Cheap Fast Eats visits one of L.A.'s most distinctive neighborhoods for some nighttime bites.

How to get the best eggs in town without leaving your yard.