Video: Joey Chestnut Out-Eaten at World Gyoza Eating Championship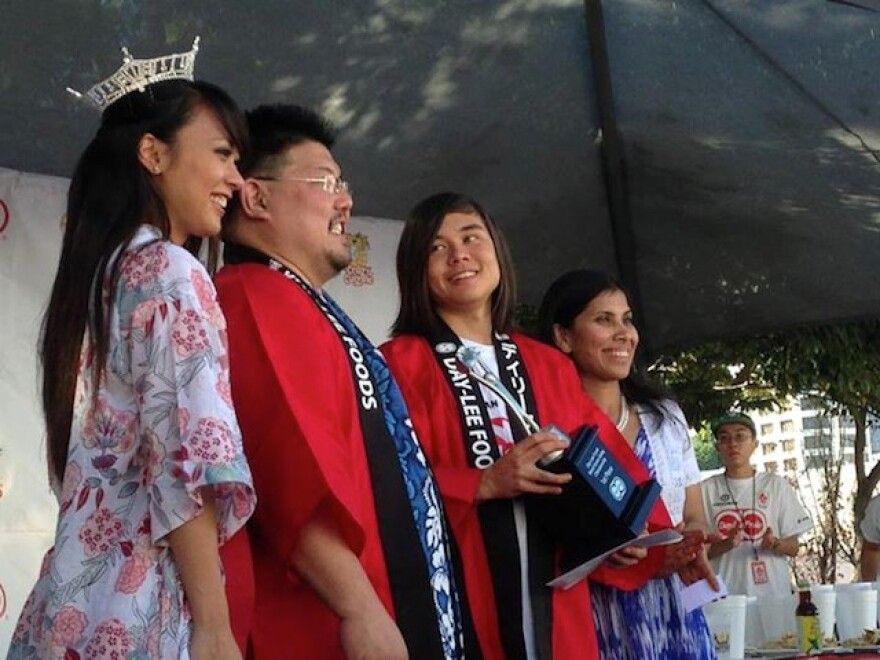 Stories like these are only possible with your help!
Your donation today keeps LAist independent, ready to meet the needs of our city, and paywall free. Thank you for your partnership, we can't do this without you.
When it comes to eating a hell of a lot of potstickers in the name of healthy competition, the world's most well-known champion eater is now stuck in second place.
Joey Chestnut surrendered his top ranking title this weekend at the World Gyoza Eating Championships to an upstart 21-year-old kid who bested him by 17 bites.
"120-pound Matt Stonie, from San Jose, toppled the previous record held by the 230-pound Chestnut, currently ranked the top professional eater, and finished first with 268," reports the Daily News. Chestnut's mere 251 gyoza was nothing like the 266 he chowed down on last year to set the record.
Here's Stonie in a "training video" for the big chow down:
As TMZ puns, Chestnut found himself tasting defeat at the end of the annual event at the Japanese American Cultural & Community Center in Little Tokyo. Their Sports division (yep) brings us this video from the gut busting event:
Joey Chestnut TASTES DEFEAT -- Out-Eaten In World Gyoza Championships
- Watch More
Celebrity Videos
or
Subscribe
And forget Disneyland; now that he's won, Stonie's big plans for this week are to "fart a lot." For his part, Chestnut vows to get the title back next year.