This is an archival story that predates current editorial management.
This archival content was written, edited, and published prior to LAist's acquisition by its current owner, Southern California Public Radio ("SCPR"). Content, such as language choice and subject matter, in archival articles therefore may not align with SCPR's current editorial standards. To learn more about those standards and why we make this distinction, please click here.
State Shuts Down Jewish Ritual Chicken Slaughter Operations On Pico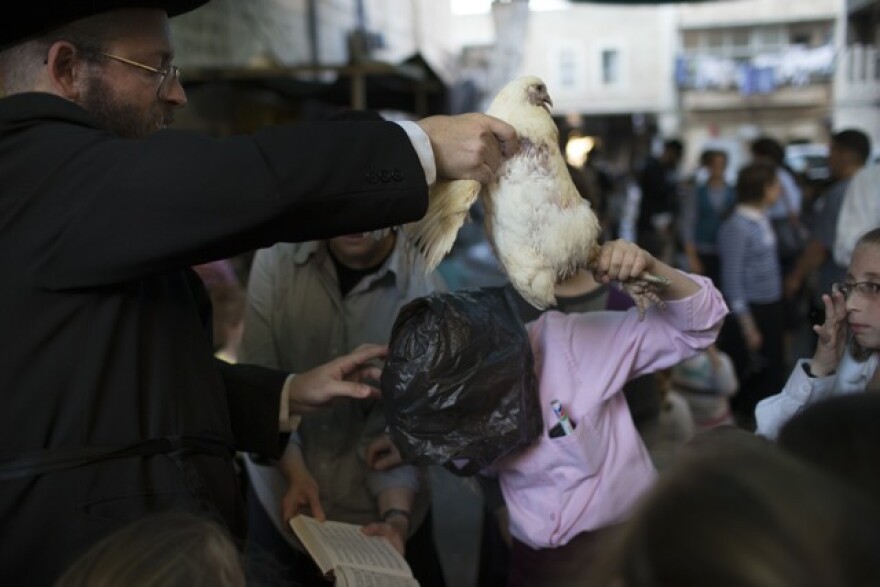 We need to hear from you.
Today, put a dollar value on the trustworthy reporting you rely on all year long. The local news you read here every day is crafted for you, but right now, we need your help to keep it going. In these uncertain times, your support is even more important. We can't hold those in power accountable and uplift voices from the community without your partnership. Thank you.
Leading up to Yom Kippur, some ultra-Orthodox Jewish communities follow the tradition of "kaparos/kaparot," which is the ritual killing of chickens. And in Los Angeles, it's been an event attracting both Orthodox Jews and protesters. Now, the California Department of Food and Agriculture has shut down two kaparot groups.
Participants usually swing the chicken (sometimes by the wings) around a person three times while reading a prayer, during which time, tradition has it, the person's sins are transferred to the chicken. (Yom Kippur is the Jewish Day of Atonement.) Then the chicken's neck is slit with a knife and the its blood is drained. Here's a video from 2005:
CDFA investigator Rhett Dunn told the LA Times, "I told [Bait Aaron, a Sephardic Orthodox outreach organization, and Ohel Moshe, a synagogue,] what they're doing is against state law. They have to be properly registered." Both groups had been conducting kaparot on Pico Boulevard.
Protesters contend the chickens are being treated inhumanely. One told the paper that he got involved when he saw this five years ago, "I've been to Vietnam, I worked in packinghouses, but this was particularly shocking. I told them, and I remember what I said, 'You've got to stop this. This is wrong,' They laughed at me." Also, while some kaparot-observing groups claim that they donate the chickens to charity, last year the Jewish Journal reported, "On or around Yom Kippur of 2012, department trucks picked up a recorded 19,685 pounds of dead chickens from 'two pickup locations in the Pico-Robertson area and one in the La Brea-Melrose area.'"
Dunn said both groups cooperated, "I provided them with information so that if they want to do it next year they can go through channels."
How to get the best eggs in town without leaving your yard.

Beautiful views aren't the only thing drawing Angelenos to the region

Gab Chabrán reflects on growing up in L.A. in a Latino home that doesn't celebrate Thanksgiving and the traditions they formed instead.

Oklahoma-style smash burgers and Georgian dumplings make for some excellent cheap bites in Glendale

Husband and wife Felix Agyei and Hazel Rojas combine food from their heritages, creating a marriage of West African and Filipino cooking

Baby Yoda cocktails. Boozy Dole Whips. Volcanic tiki drinks. If you can dream it, they're probably mixing it somewhere on property.