This is an archival story that predates current editorial management.
This archival content was written, edited, and published prior to LAist's acquisition by its current owner, Southern California Public Radio ("SCPR"). Content, such as language choice and subject matter, in archival articles therefore may not align with SCPR's current editorial standards. To learn more about those standards and why we make this distinction, please click here.
Seasonal Eats: Crunch Into Sweet Corn!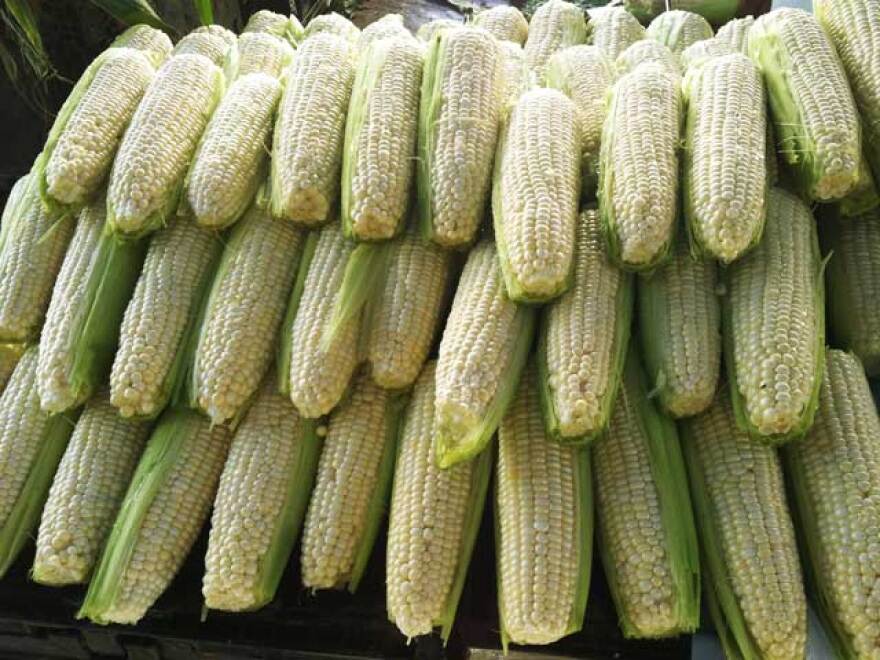 Support your source for local news!
Today, put a dollar value on the trustworthy reporting you rely on all year long. The local news you read here every day is crafted for you, but right now, we need your help to keep it going. In these uncertain times, your support is even more important. We can't hold those in power accountable and uplift voices from the community without your partnership. Thank you.
The other day, while shopping at the Farmers' Market, I saw a sweet corn vendor chopping up ears of raw corn into sample-sized bites and encouraging passers to taste them. I hadn't actually tried raw corn, so I took one and was pleasantly surprised to find it's tender, delicious and refreshing right off the table. I'll admit, I haven't eaten much corn in my life, mostly due to thinking it required a lot of cooking. A recent radio show I heard featured a story on corn, and the suggestion that the best way to have it was just heated through on the grill, with your favorite seasoning. And now that I tasted it raw, I knew it was true.
Corn, or Maize, has a rich history as a grain, domesticated in meso-america in prehistoric times. The kernels can be used fresh as a vegetable, or dried as a grain. Since drying allows for storage, for seasonal uses, we'll only be looking at fresh corn recipes today. Raw sweet corn is a good source of dietary fiber, Vitamin C, Thiamin, folate, Magnesium and Phosphorous, and has a glycemic load of 11.
If you choose to eat fresh sweet corn raw, you can eat it right off the cob, or cut it from the cob and include it in salads, soups or salsas. This quinoa and black bean salad, which uses 2 cups of grilled corn kernels has been a favorite of mine for years. If you prefer a minimal grilling, remove all the husks and place it on the grill, turning every few minutes, either to warm it through, or to get just a bit of browning on all sides. Traditionally, I had bought corn in the husk, soaked it in water and grilled it until it charred on all sides, but this technique is more of a steaming technique, and cooks the corn much more. Try it each way and see what you like. Typically, cooked and grilled corn is eaten with butter, but you can make any number of dressings for your corn. This grilled corn with lime-cilantro butter sounds great!
For starters and side dishes, how about a good old southern succotash of fresh corn, lima beans, tomatoes and onions? Or look into this spicy southwestern corn, chili and cumin sauté. If you're grilling, how about grilled scallops and nectarines with corn and tomato salad, or if you can find nopales at your local market, try out grilled cactus and corn salad. Some Italian dishes include tagliatelle with fresh corn pesto, or these delicious-looking corn cakes with mozzarella and anchovy butter. Start any savory meal off right with corn scallion pancakes, or see if you can deal with corn and bacon pancakes for breakfast!
Corn is a favorite in soups, and after collecting this list, i see i have some soup-making to do! Make yourself a summer minestrone or go for a summer spin on tortilla soup (with or without tortillas). For the full corn flavor, try out fresh corn soup topped with roasted corn guacamole, or go for some corn chowders: corn chowder with roasted jalapeño and parsley puree or poblano corn chowder with shrimp. Finally, if you make exceptions for things like coconut milk, get down with calabaza corn and coconut soup.
With corn's history in the Americas, Mexican food has become a modern-day showcase of a delicious food staple. Add corn to your favorite taco filling, or try these: mushroom rajas and corn taco with queso fresco, or charred corn and zucchini tacos, or even grilled skirt steak tacos with corn relish. Use corn as a stuffing for tamales, as in corn, cheese and chili tamales with tomatillo avocado salsa. Get comfy with green chile hominy casserole with chorizo or try out this strip steak with black beans corn and cilantro.
I was pleased to find some interesting desserts using corn, namely Indian corn pudding, and if you ever wanted to try sweet corn ice cream, now is your chance! A great many desserts can be modified to use corn flower and meals. Working with cornmeal is an entire article of its own though, just know they're out there!

Light-Grilled Corn with Balsamic Garlic Drizzle (Heather Parlato/LAist)
Light-Grilled Corn with Balsamic Garlic Drizzle
4 ears sweet corn, husked
2 tb olive oil
2 tb balsamic vinegar
2 cloves garlic, crushed
I used a charcoal grill and some soaked mesquite chips for flavor (smoke 'em if you got 'em). Place corn ears on the grill and rotate every few minutes to grill all sides. I preferred to get a light brown color going on the outside of the kernels, so I just watched mine.
Add oil, balsamic vinegar and garlic to a dressing bottle and shake well to mix. When the corn is ready, cut as desired, outfit with corn holders, place on a serving plate and drizzle the dressing over the top. Rotate the corn on the plate to coat all sides.
How to get the best eggs in town without leaving your yard.

Beautiful views aren't the only thing drawing Angelenos to the region

Gab Chabrán reflects on growing up in L.A. in a Latino home that doesn't celebrate Thanksgiving and the traditions they formed instead.

Oklahoma-style smash burgers and Georgian dumplings make for some excellent cheap bites in Glendale

Husband and wife Felix Agyei and Hazel Rojas combine food from their heritages, creating a marriage of West African and Filipino cooking

Baby Yoda cocktails. Boozy Dole Whips. Volcanic tiki drinks. If you can dream it, they're probably mixing it somewhere on property.