This is an archival story that predates current editorial management.
This archival content was written, edited, and published prior to LAist's acquisition by its current owner, Southern California Public Radio ("SCPR"). Content, such as language choice and subject matter, in archival articles therefore may not align with SCPR's current editorial standards. To learn more about those standards and why we make this distinction, please click here.
RIBS RIBS RIBS!!! - Mr. Cecil's California Ribs
Stories like these are only possible with your help!
You have the power to keep local news strong for the coming months. Your financial support today keeps our reporters ready to meet the needs of our city. Thank you for investing in your community.
Surprisingly, the West Side has quite a few impressive barbecue joints, which are hole-in-the-walls. One of these is Mr. Cecil's California Ribs. We found it on Pico Blvd., one block west of Bundy Ave. The restaurant sits in this unique, little, round building. The tables are few, but the place is very cozy. The menu feels slightly limited, but maybe our eyes skipped some parts of it because we knew exactly what we wanted...RIBS RIBS RIBS!!! So, we ordered some baby backs and beef ribs, along with a 10oz. smoked tri-tip steak.
Not surprisingly, the Tri-Tip wasn't the best thing we ordered tonight. It was a bit too well cooked and on the dry side, flavorful, but lacks the tenderness that it ought to have. Thank goodness I had ordered the awesome beef ribs. These had just the right balance of tenderness / chewiness to them, have a good amount of tasty beef fat around the meat, and have a great flavor that is further helped along by the spicy and sweet house barbecue sauce. I'm very pleased with the beef ribs, I think it's better than the baby backs.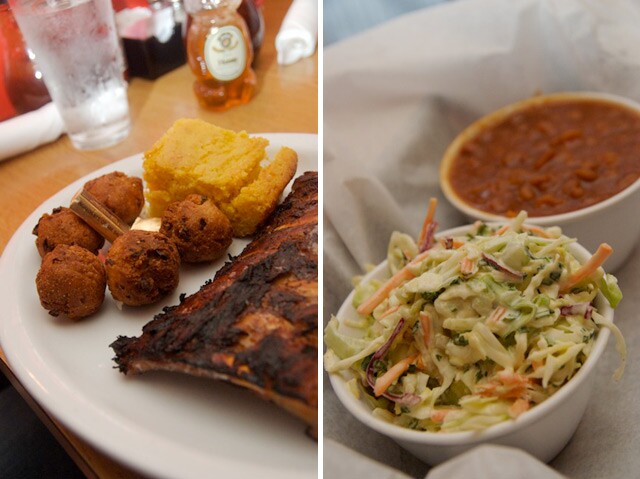 As for the sides, we managed to order the standards: Hush puppies, corn bread, baked beans, and cole slaw. The hush puppies were great -- a bit crunchy outside, and a little of the taste of herbs inside. The cornbread was wholesome and fluffy. The baked beans had BACON IN IT!!! It was a bit sweet with the barbecue sauce flavor, and it had BACON!!! Awesome, 6 out of 5 stars. Game over. The cole slaw was chunky and felt very homemade, fresh and not overloaded with mayo.
Service was friendly and non-intrusive, the atmosphere was relaxed and cozy, it's a small place, so it could get a little loud if the crowd is rowdy. The parking lot is tiny but street parking is pretty easy to find. This is a perfect place for a casual get-together over some good barbecue.
If you're hungry for ribs in the San Fernando Valley, worry not, for our co-editor Lindsay had covered the Sherman Oaks location previously.
Photos by Kevin Cheng for LAist.com
Mr. Cecil's California Ribs
12244 West Pico Boulevard
Los Angeles, CA
(310) 442-1550