Quick Bite: LA Mill's Butternut Squash Polenta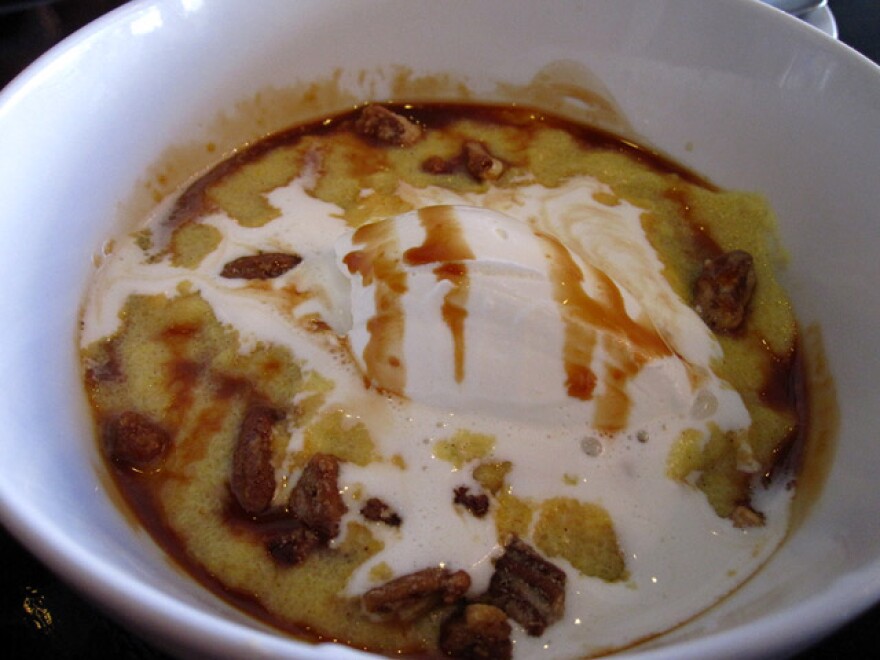 Stories like these are only possible with your help!
You have the power to keep local news strong for the coming months. Your financial support today keeps our reporters ready to meet the needs of our city. Thank you for investing in your community.
We've done breakfast at LA Mill before, and the menu has remained generally the same, which means if you know what you like there, chances are you'll be able to get it. And even though our LA "cold snap" is already a distant memory and we're back to watching the palm trees nod in the sunny breezes, our ingredients still have seasonality, which is why LA Mill's Butternut Squash Polenta made for the perfect December breakfast the other day when we stopped by the Silver Lake coffee boutique to pick up some gift beans (yes, we take our own advice).
The polenta is smooth and creamy with the earthy, robust notes of butternut squash, and its hearty heat is tempered by the decadent canele of mascarpone resting gently--and melting rapidly--on the polenta's quivering surface. To balance the texture the dish is dotted with candied pecans and a trace of maple syrup, which gives the wintry polenta a sweet and crunchy kick. Now, this isn't a bargain meal--the polenta is a $9 dish, which means it's best enjoyed when you have some time to sit down and savor it. But if you time it right, say late morning, it is substantial enough to keep you satisfied through lunch and towards the evening, without leaving you feeling like you've overdone it.