This is an archival story that predates current editorial management.
This archival content was written, edited, and published prior to LAist's acquisition by its current owner, Southern California Public Radio ("SCPR"). Content, such as language choice and subject matter, in archival articles therefore may not align with SCPR's current editorial standards. To learn more about those standards and why we make this distinction, please click here.
Holiday Gift Guide: For the L.A. Foodie
We need to hear from you.
Today during our spring member drive, put a dollar value on the trustworthy reporting you rely on all year long. The local news you read here every day is crafted for you, but right now, we need your help to keep it going. In these uncertain times, your support is even more important. We can't hold those in power accountable and uplift voices from the community without your partnership. Thank you.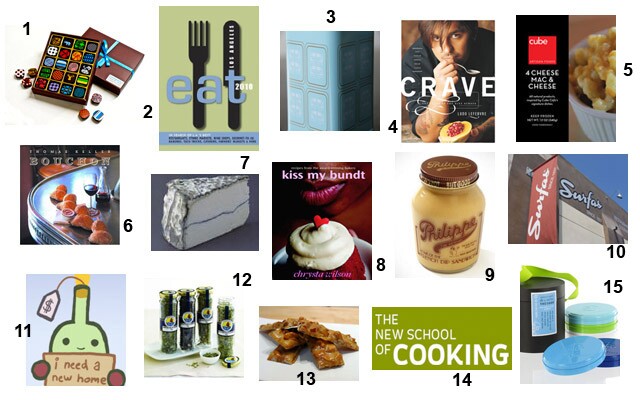 15 L.A. Gifts for the Foodie on Your Shopping List
Shopping for a food enthusiast for the holidays? Whether they like to be in the kitchen, stock their larder with gourmet goodies, or go out to eat, we've compiled this list of gift items found in and about Los Angeles.
1. For the Chocoholic
Assemble a box of truffles from Compartes Chocolatier in Brentwood for the chocolate lover on your list. This beloved boutique makes beautiful artisan truffles with in delightful flavors like Mexican Hot Chocolate, Honey Peanut Butter Sea Salt, and Caramelized Pineapple. They've just launched an online shop , but if you can, pop into the shop and take a peek at where the truffles are made, and assemble your gift box(es) in person.
2. For the Dining Out Guru
One of our favorite city guides is the food-centric Eat 2010 Los Angeles: The Food Lover's Guide to Los Angeles. Just released, this updated tome breaks down the city by meal and genre, so you can follow the tabbed chapters to find Gourmet-to-Go eats, Coffee, Tea, & Juices, Food That's Fast, and of course Restaurants (broken down by area). It's portable enough to be a permanent fixture in your glove box or bike bag if you're a foodie on the go. [ Amazon ]
3. For the Coffee Lover
Coffee is the gift that keeps on giving because it's not something you're likely to devour in one sitting, and for people who MUST. HAVE. MORNING. JOE. it's, well, akin to water in the needs department. Forget the plastic bag sameness of Starbucks, and head to LA Mill in Silver Lake. They have a variety of roasts sure to please the coffee lover. They are sold in shapely, reusable tins which makes for easier wrapping to boot (pictured is the blue hot cocoa tin, we know, we know, the coffee tins are black, but, hey, their cocoa is a great gift too!).
4. For the Ludo-phile
Between this year's Top Chef Masters and the two pop-ups of LudoBites, we understand if the foodie you're shopping for has a thing for the handsome, coq-y French chef who cooks with a complete devotion to the senses. Since you won't be able to dine at LudoBites at Royal/T after 12/22, give them Ludovic Lefebvre's book Crave, which is a stunning cookbook/food porn combo that will first please the eyes, and then the palate once you put the recipes to work. [ Amazon ]
5. For the At-Home Gourmet
Cube Marketplace has all sorts of gourmet eats, housewares, and prep gear for the foodie who loves to have a taste of gourmet at home. You can go all out with a big-budget basket, or go for one of their more affordable options. Their website's Holiday Gifts section is really extensive and well-organized, but head to La Brea to the shop proper to put together your purchase in person. Bonus: Grab a bite at the Cafe.
6. For the Thomas Keller/Bouchon Devotee
Could your favorite foodie score a res at Bouchon Beverly Hills? Console them if they didn't, or help them relive their meal if they did with Thomas Keller's Bouchon cookbook. Now, this is a couple of years old, and Keller is indeed behind a new release, Ad Hoc at Home, but since Bouchon finally came to L.A. last month, if you've got Bouchon on the brain, as so many do, this volume may seem more fitting. [ Amazon ]
7. For the Cheese Lover
Okay, unless you're on your way to deliver a bundle of holiday cheer right then and there, shopping for a whole bunch of cheese might not be the smartest idea (I mean, obvs you can't wrap it and let it sit under the tree for days on end). But you can have the Cheese Store of Silver Lake put together a basket you can bring to someone, or get a gift cert so your cheese-loving loved one can go in themselves and go wild.
8. For the Baker
Local bakeshop Kiss My Bundt now has a cookbook that will help you make their delicious sweet treats at home. "Kiss My Bundt: Recipes from the award-winning bakery" is by Chrysta Wilson, who is the owner and founder of Kiss My Bundt. The book features over 60 recipes and professional tips to help the home baker make a perfect product. Order online , or visit their shop (and get some goodies while you're there!).
9. For the Old School Sandwich Enthusiast
C'mon, Phillipe's is quintessential old Los Angeles foodie culture, right? As a stocking stuffer or zingy little extra, grab a jar of their legendary hot mustard . This one is much-treasured by Angelenos exiled to other parts of the country who love a good foodie care-package.
10. For the Cooking Gear Junkie
Los Angeles cooks and bakers swear by Surfas , which is easy to do, since their aisles are full of utensils, gear, goodies, and other paraphernalia that makes cooking and baking fun. If you don't know precisely what items your recipient is after, the gift certificate is of course the way to go. They've got their online business running via Culinary District , so to get the whole Surfas experience visit them in Culver City. Grab a treat for yourself in their delish cafe when you're there.
11. For the Wine Lover
Shopping for wine for a gift can be hard because unless you really know wine, and the recipient's preferences, picking out the right bottle can be really tough. Domaine LA is a new wine shop on Melrose near Hancock Park where you can get snob-free advice from owner Jill Bernheimer, who loves wine and knows it well and can help guide your purchase. The shop is sectioned off in categories explained on cheeky chalkboard signs, and if you're shopping on a budget--not a problem. It's easy to get a great bottle at a great price. Pick up a bottle for yourself, too--and if you're hungry, consider having a meal at Susan Feniger's STREET (just a hop and a skip down Highland). Tell Jill that's where you're headed and she'll put a special sticker on your bottle that gets you free corkage. Score!
12. For the Indulgent Gourmet
PetrossianWeHo would love to help you figure out what to get for your favorite foodie friend. Cruise their website for high-end gourmet gift ideas (caviar and champagne, anyone?) or visit their West Hollywood boutique for some hands on help. If you can afford it, it's worth it--their delicacies are delicious. Pictured is their Armenian Spice Gift Set .
13. For the Nutty Sweet Tooth
When I was a kid I remember relatives putting together a big holiday box of homemade snacks, and it always included peanut brittle. So brittle is a favorite holiday treat, and Morning Glory Confections makes a series of intriguing nut-and-spice combos that turn the traditional stuff on its ear. They've got two sizes of gift sets ($40 Petite gift box or $70 Grand Collection) that you can order online, but the artisan brittle in flavors like Fleur de Sel & Peanut, Indian Curry & Pistachio, Cocoa Nib, and Coffee Bean & Pecan are sold in several retail locations in the L.A. area. Sometimes they have exclusive flavors they sell at the Farmers' Market on Melrose, like the pictured Niman Ranch Bacon Brittle w/ Spanish Paprika and Cashews. Check their website for their schedule.
14. For the Budding Chef
When times get a little tight our own budget cuts often come right out of the going out column, which is why there's been a trend lately in folks flocking to cooking schools to get the skills they need to make the most out of eating in. Culver City's New School of Cooking is a personal favorite (proud grad of the Pro I series) because they have small classes in a hands-on environment taught by industry pros. You can go all out and do a Professional series, or take a smaller mini-series, or just a single class. In any case, you get time in the kitchen, and you get to eat what you make--of course you also get valuable know-how to make you home cooking a whole lot easier.
15. For the Tea Lover
Jin Patisserie on Abbot Kinney in Venice offers a lovely tea service, and also offers up gift sets of their delicious teas you might want to get for the tea lover on your list. If you're in the shop, you might find it hard to resist their gorgeous, colorful, tasty macaroons, which beckon from the display case and can be sold in sets.
How to get the best eggs in town without leaving your yard.

Beautiful views aren't the only thing drawing Angelenos to the region

Gab Chabrán reflects on growing up in L.A. in a Latino home that doesn't celebrate Thanksgiving and the traditions they formed instead.

Oklahoma-style smash burgers and Georgian dumplings make for some excellent cheap bites in Glendale

Husband and wife Felix Agyei and Hazel Rojas combine food from their heritages, creating a marriage of West African and Filipino cooking

Baby Yoda cocktails. Boozy Dole Whips. Volcanic tiki drinks. If you can dream it, they're probably mixing it somewhere on property.