Cuisine Rapide at Pinot Bistro: Bloody Great Idea
Stories like these are only possible with your help!
You have the power to keep local news strong for the coming months. Your financial support today keeps our reporters ready to meet the needs of our city. Thank you for investing in your community.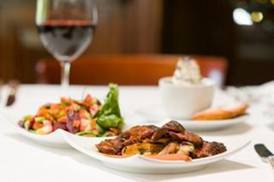 The latest thing in great restaurant ideas? Pinot Bistro in Studio City has announced a new service for busy worker bees: Cuisine Rapide, a $20 lunch menu guaranteed to get you in and out of the restaurant in 45 minutes.
The menu will change week to week, but expect to enjoy apps and entrees like beef tartare, onion soup with Comté cheese, steamed mussels with French fries, frisée spinach salad, and tarte tatin. This idea is the brainchild of new chef Hugo Veltman; each of the three courses is served all at once to cut down on time. Of course, if you have time to spare, you can still enjoy Pinot Bistro's many other offerings, like escargots, crab cakes, croque monsieurs, and steak frites. There's also a "spa menu" option for $24 -- two courses that clock in at only 500 calories!
I wish that more restaurants would offer this kind of convenience -- but sadly, in Los Angeles, most servers are too busy checking their reflections and tapping out text messages to actually offer fast, friendly service to lunching patrons. For those of us whose bosses keep track of our lunch hour down to the minute, this comes as a godsend -- I just wish Pinot Bistro was closer to my own workplace!
Photo courtesy of Pinot Bistro.