A Bukowski-Inspired Wine And Beer Bar May Stumble Into Los Feliz Soon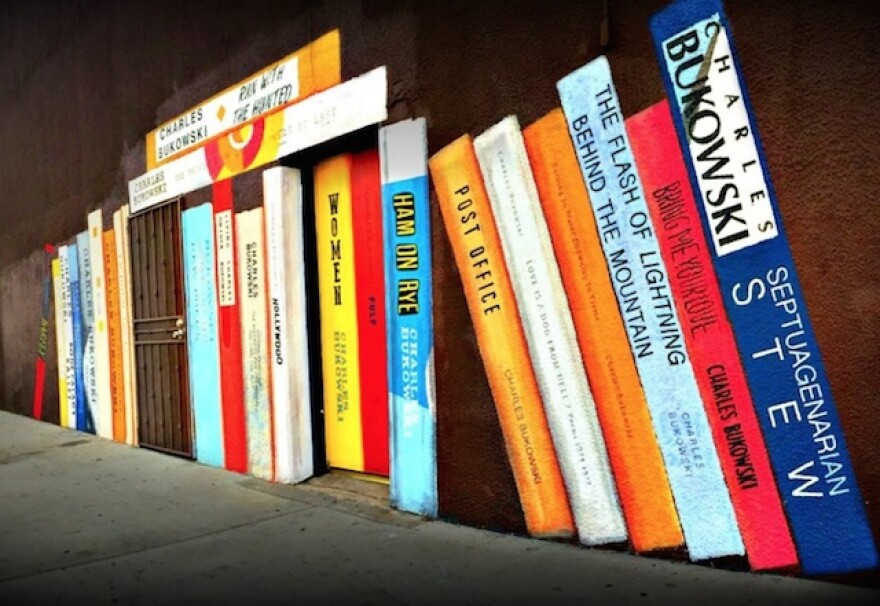 Stories like these are only possible with your help!
Your donation today keeps LAist independent, ready to meet the needs of our city, and paywall free. Thank you for your partnership, we can't do this without you.

Plans are underway for a new Los Feliz bar inspired by famed author and drinker Charles Bukowski who once lived not far from the neighborhood. Bukowksi's, the proposed craft beer and wine destination, aims to serve as an "intellectual's dive bar" and is designed to serve not only as a watering hole, but also as a community hub for writers and artists, according to the Los Feliz Ledger. The 900 square-foot 23-seat bar, if approved by the city, would open its doors on Kingswell Ave., just off bustling Vermont Ave. The location would also feature periodic poetry readings and live acoustic music.
The bar comes from Marci Siegel, who owns the retail boutique Co-Op 28 next door to the planned space. Siegel tells the Ledger that the bar is a labor of love and hopes that it will earn the support of the neighborhood and provide a space for the community.
"My goal is to have a really fun place to go that physically feels really comfortable like it's been there forever," Siegel tells LAist. She also plans to have "some interesting food on the menu [including] a few specialized desserts from a local baker."
Siegel goes on to tell us about the inspiration for opening Bukowski's:
My love for Bukowski stems back to the 90s right after he died. My whole family was in the book business and I was very close with my father who passed away. His friend Red was around the corner at Baroque Books and knew Bukowski and had a lot of of his early works and limited editions. My background was movie and rock memorabilia and collectibles, and I read the book Erections, Ejaculations, Exhibitions, and Tales of Ordinary Madness, which is a poetry book. And I can't stand poetry, but I fell in love with the way that he wrote just so honest and raw. I started to collect limited editions and all that stuff, so there's multiple meanings in there for me.
Siegel tells us that the interior designs for the bar remain under wraps, but there are plenty of fun, creative ideas in store for the space.
"The space is uniquely intimate in both size and design, so it's a great place for fun-loving folks to go who want to escape the environment of a larger more boisterous bar," explains Allison Flanagan, who has collaborated with Siegel on many of the creative components of Bukowski's and also does graphic design and web development for Co-Op 28.
As far as the exterior goes, they recently held a contest for artists and Bukowski fans to design the mural outside of the space. The design from artist Nathan Anderson was ultimately chosen, which features a large versions of the writer's works adorning the entryway (seen above), as well as a portrait of Bukowski along with the oft-quoted line from the poem How Is Your Heart, "What matters most is how well you walk through the fire."
Our pals over at Ruff Cutz DTLA caught a shot of the completed mural recently:

At a meeting in mid-March, the Los Feliz Neighborhood Council voted 14-1 in favor of a beer and wine license and a zoning change for the location. The next step is to obtain a conditional use permit from L.A.'s Department of City Planning—which is expected to go up for a vote April 10—after which they can apply for the beer and wine license.
"We are bursting at the seams to open Bukowski Los Feliz's doors to the public," Flanagan tells LAist. "We love our community and have designed it with Los Feliz in mind. We cannot wait to introduce the community to their new home away from home."
Bukowski himself once lived not far from the planned bar at 5124 De Longpre Ave. in East Hollywood, where he lived from 1963 to 1972 and penned his first novel Post Office, along with other early works. The bungalow was nearly torn down in 2007, but historical preservationists helped save the building which is now protected under the Cultural Heritage Commission and a stop on Esotouric's Bukowski tour. We suspect he'd stop by for a tipple or two were he still around today.

Bukowksi's will be located at 4650 Kingswell Ave., Los Feliz.