This is an archival story that predates current editorial management.
This archival content was written, edited, and published prior to LAist's acquisition by its current owner, Southern California Public Radio ("SCPR"). Content, such as language choice and subject matter, in archival articles therefore may not align with SCPR's current editorial standards. To learn more about those standards and why we make this distinction, please click here.
At Sante La Brea, Try the Vegan Pizza
Our June member drive is live: protect this resource!
Right now, we need your help during our short June member drive to keep the local news you read here every day going. This has been a challenging year, but with your help, we can get one step closer to closing our budget gap. Today, put a dollar value on the trustworthy reporting you rely on all year long. We can't hold those in power accountable and uplift voices from the community without your partnership.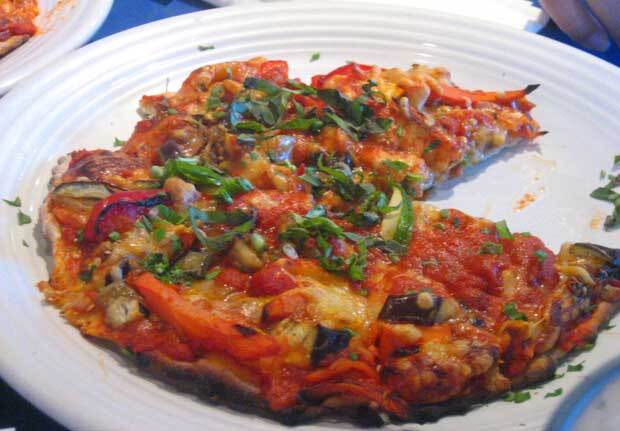 The goal of Sante La Brea is not to compromise taste over the absence of dairy and fat. And they do that extremely well, except for the falafel which is just ok because the taste got up and left. Sante is not a purely vegan joint, they serve dishes with chicken, turkey sausage, salmon, ahi tuna, sword fish and whatever the catch of the day may be.
For meat eaters or veggies, the pizza served with vegan cheese is a must. Made on a choice of homemade crust or wheat-less spelt crust, it is one of the freshest pizzas we've ever had. And for it being vegan cheese, the issue of it tasting different was very little.
Sante is one of those places you go with a group of friends to explore the menu and share your dishes. Ranging from quesadillas that include hummus, spinach or pizza sauce to risottos, pastas, wraps, Mexican entrees and filet platters, the experience is rich and diverse. It delivers.
Sante La Brea
345 N. La Brea
Los Angeles, CA 90036
Cruise off the highway and hit locally-known spots for some tasty bites.

Los Angeles-based restaurant owners rejoice as a new ordinance makes its way to the city council.

The new season of LAist Studios' WILD podcast is a fictional rom-com set in Southeast L.A. Diners play a big role in fostering conversation between the shows' two hosts this season. Here are host Erick Galindo's must-visit L.A. diners — whether you like breakfast or not.

The new season of LAist Studios' WILD podcast is a fictional rom-com set in Southeast L.A. Donuts play a big role in episode two of the show. Here are some of our favorite, wildly creative, and iconic donut shops in Los Angeles.

Cheap Fast Eats visits one of L.A.'s most distinctive neighborhoods for some nighttime bites.

How to get the best eggs in town without leaving your yard.