At Sante La Brea, Try the Vegan Pizza
LAist relies on your reader support.
Your tax-deductible gift today powers our reporters and keeps us independent. We rely on you, our reader, not paywalls to stay funded because we believe important news and information should be freely accessible to all.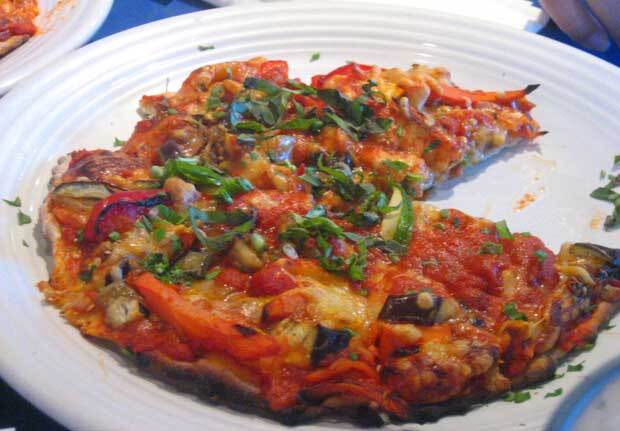 The goal of Sante La Brea is not to compromise taste over the absence of dairy and fat. And they do that extremely well, except for the falafel which is just ok because the taste got up and left. Sante is not a purely vegan joint, they serve dishes with chicken, turkey sausage, salmon, ahi tuna, sword fish and whatever the catch of the day may be.
For meat eaters or veggies, the pizza served with vegan cheese is a must. Made on a choice of homemade crust or wheat-less spelt crust, it is one of the freshest pizzas we've ever had. And for it being vegan cheese, the issue of it tasting different was very little.
Sante is one of those places you go with a group of friends to explore the menu and share your dishes. Ranging from quesadillas that include hummus, spinach or pizza sauce to risottos, pastas, wraps, Mexican entrees and filet platters, the experience is rich and diverse. It delivers.
Sante La Brea
345 N. La Brea
Los Angeles, CA 90036