Weekend Movie Guide: He's back...
LAist relies on your reader support.
Your tax-deductible gift today powers our reporters and keeps us independent. We rely on you, our reader, not paywalls to stay funded because we believe important news and information should be freely accessible to all.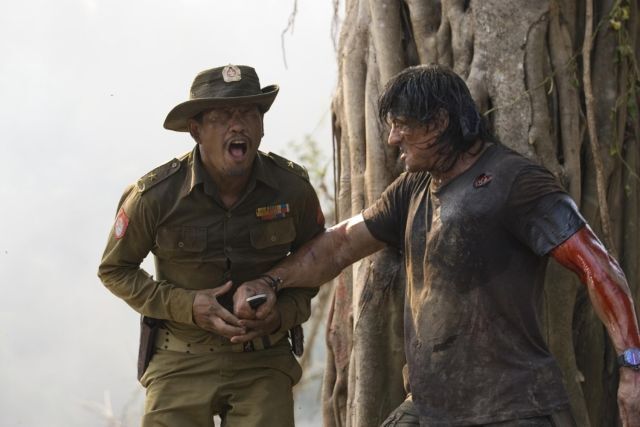 Photo courtesy of Lionsgate
After successfully resuscitating his Rocky franchise last year, Sylvestor Stallone tempts fate again today by bringing the world a new Rambo movie titled, er, Rambo. Something tells me it may be tougher sledding this time around since John Rambo is hardly a beloved character in the same vein as Rocky Balboa. Personally, I think the franchises should be fused: Rambo versus a Drago/Clubber Lang hydra in a fight to the death.
Fresh off a raft of Oscar nominations, Michael Clayton is back in theaters for a second run. If you missed it the first time around, correct that mistake this weekend. Ace screenwriter Tony Gilroy makes an auspicious directorial debut and George Clooney, Tom Wilkinson and Tilda Swinton are all solid in this expertly-crafted corporate thriller. Studios should make more movies like this. Encourage them to do so by buying a ticket.
Untraceable is the latest Hollywood cyber-crime picture that will probably make true techies laugh at the utter improbability of it all (see Firewall, The Net). Still, Untraceable might be worth a look since Diane Lane is always a reliable lead and Billy Burke was the best thing in an otherwise forgettable Feast of Love. I'm 51/49 on whether I see this one since I'm fairly sure I know how it's going to end (e.g. Lane survives, finds love).