This is an archival story that predates current editorial management.
This archival content was written, edited, and published prior to LAist's acquisition by its current owner, Southern California Public Radio ("SCPR"). Content, such as language choice and subject matter, in archival articles therefore may not align with SCPR's current editorial standards. To learn more about those standards and why we make this distinction, please click here.
Weekend Movie Guide: He's back...
Before you read more...
Dear reader, we're asking you to help us keep local news available for all. Your financial support keeps our stories free to read, instead of hidden behind paywalls. We believe when reliable local reporting is widely available, the entire community benefits. Thank you for investing in your neighborhood.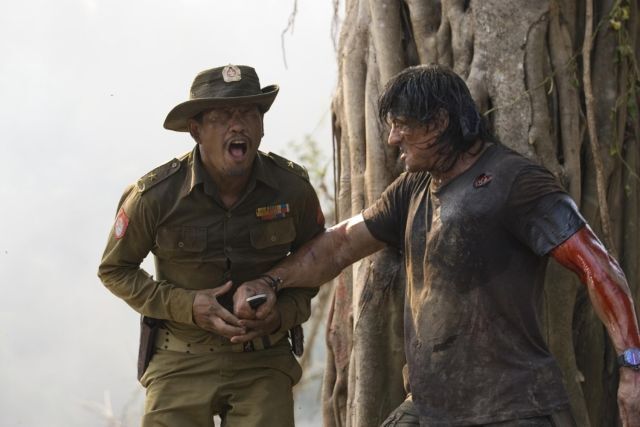 Photo courtesy of Lionsgate
After successfully resuscitating his Rocky franchise last year, Sylvestor Stallone tempts fate again today by bringing the world a new Rambo movie titled, er, Rambo. Something tells me it may be tougher sledding this time around since John Rambo is hardly a beloved character in the same vein as Rocky Balboa. Personally, I think the franchises should be fused: Rambo versus a Drago/Clubber Lang hydra in a fight to the death.
Fresh off a raft of Oscar nominations, Michael Clayton is back in theaters for a second run. If you missed it the first time around, correct that mistake this weekend. Ace screenwriter Tony Gilroy makes an auspicious directorial debut and George Clooney, Tom Wilkinson and Tilda Swinton are all solid in this expertly-crafted corporate thriller. Studios should make more movies like this. Encourage them to do so by buying a ticket.
Untraceable is the latest Hollywood cyber-crime picture that will probably make true techies laugh at the utter improbability of it all (see Firewall, The Net). Still, Untraceable might be worth a look since Diane Lane is always a reliable lead and Billy Burke was the best thing in an otherwise forgettable Feast of Love. I'm 51/49 on whether I see this one since I'm fairly sure I know how it's going to end (e.g. Lane survives, finds love).
Photo courtesy of National Geographic Cinema Ventures
U2 3D screened to rapturous applause last Saturday at the Sundance Film Festival. If you've never seen them in concert before, this may be the closet you'll get. In fact, considering the access the film crew got it may be even better than the real thing. Beowulf made me a convert to the new 3-D so I'm definitely excited by this one.
Carla Ribas gives one of the finer performances of the year in Alice's House, an import from Brazil that has been winning awards all across South America. It's a simple film, but one that is richly realized by director Chico Teixeira. His documentary background serves him well in this intimately observed film about family, sex and life.
The Air I Breathe is an episodic film based on the Chinese proverb which states that life is broken down into four parts: happiness, pleasure, sorrow and love. The premise sounds interesting and the cast is loaded (Gellar, Bacon, Fraser, Whitaker, Garcia, Hirsch, Delpy). The critics, however, have been brutal.
Do we really need another crappy movie like Meet the Spartans? Honestly, how is it any different from Epic Movie? Sure the jokes are different, but it's the same damn movie, people! I wonder if the Zucker brothers and Jim Abrahams ever get depressed about the sorry state of the genre they pioneered.
How She Move is the latest dance movie to hit the screens. Has anyone else noticed how many dance movies have been released lately? I had no idea there was such a demand. How She Move will probably play best to teen audiences so buyer beware, adults: predictable plot alert!
Tickets & Showtimes
Rambo
Michael Clayton
Untraceable
U2 3D
Alice's House
The Air I Breathe
Meet the Spartans
How She Move
Reviews
Rambo
Michael Clayton
Untraceable
U2 3D
Alice's House
The Air I Breathe
Meet the Spartans
How She Move
Previews
Rambo
Michael Clayton
Untraceable
U2 3D
Alice's House
The Air I Breathe
Meet the Spartans
How She Move