This is an archival story that predates current editorial management.
This archival content was written, edited, and published prior to LAist's acquisition by its current owner, Southern California Public Radio ("SCPR"). Content, such as language choice and subject matter, in archival articles therefore may not align with SCPR's current editorial standards. To learn more about those standards and why we make this distinction, please click here.
Patton Oswalt: 'What The F-CK Is Happening In Our Country'; Politicians & Celebs React To Trump's Speech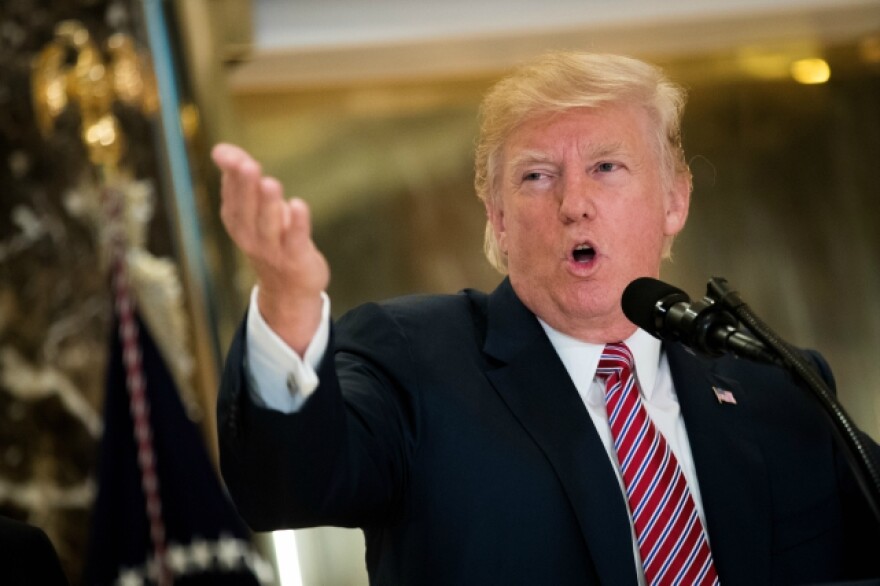 Support your source for local news!
The local news you read here every day is crafted for you, but right now, we need your help to keep it going. In these uncertain times, your support is even more important. Today, put a dollar value on the trustworthy reporting you rely on all year long. We can't hold those in power accountable and uplift voices from the community without your partnership. Thank you.
During a press conference on Tuesday at Trump Tower in Manhattan, President Donald Trump described the violence and chaos at a white supremacist rally in Charlottesville, Virginia, as a "horrible thing to watch." He then added that counterprotestors and the "alt-left" were equally responsible for the day's events.
"I think there's blame on both sides. And I have no doubt about it," the president said. "You had a group on one side that was bad and you had a group on the other side that was also very violent. ...No one wants to say that, but I'll say it right now: You had a group on the other side that came charging in without a permit and they were very, very violent."The President continued, "What about the alt-left that came charging at the alt-right — do they have any semblance of guilt? They came charging, clubs in hand, swinging clubs."
The press conference quickly drew reaction from politicians, journalists, actors, musicians, and others.
Writer/comedian Patton Oswalt's take:
Writer/Director Judd Apatow took a similar stance:
LeBron James tweeted that Trump made hate "fashionable again":
Norman Lear, who created TV series like "All In The Family" and "The Jeffersons", tweeted:
Chelsea Handler called on past presidents to step forward:
Barbra Streisand spelled out her case:
Massachusetts Senator Elizabeth Warren condemned the President's comments as "sick":
Actor George Takei directed his comments to the president directly:
Broad City co-star and co-creator Ilana Glazer underscored the connection:
Documentarian Michael Moore didn't mince words:
John Legend laughed at the president:
Marco Rubio, the Florida Senator who ran against Donald Trump in the Republican presidential primaries, took to Twitter to state that blame for the violence at Saturday's rally lies squarely on "White Supremacists":
Actor Andrew Rannells kept his comment succinct:
Westworld co-star Evan Rachel Wood highlighted the strength of slain protester Heather Heyer's father:
Vermont Senator Bernie Sanders said the President is "embarrassing our country":
Late-night TV host Jimmy Kimmel made light of the president's comments:
As did actor Will Arnett:
Here's actress Jamie Chung's response:
Gavin Newsom, California's Lieutenant Governor, said that "we cannot forget this moment":
Singer Josh Groban mocked the president's words:
Speaker of the House Paul Ryan made his views clear:
Author and essayist Roxane Gay was blunt with her response:
Novelist J.K. Rowling made her own point:
Hamilton creator Lin-Manuel Miranda called for the president's impeachment:
Captain America actor Chris Evans seemed to be in shock by the press conference:
Zoe Kazan, who co-stared in the Big Sick, personalized her message:
And Kumail Nanjiani called out the president's supporters:
Talk show host and comedian Ellen DeGeneres focused on a positive message:
And singer Lady Gaga posed her response as a question:
Donald Trump was a fading TV presence when the WGA strike put a dent in network schedules.

Pickets are being held outside at movie and TV studios across the city

For some critics, this feels less like a momentous departure and more like a footnote.

Disneyland's famous "Fantasmic!" show came to a sudden end when its 45-foot animatronic dragon — Maleficent — burst into flames.

Leads Ali Wong and Steven Yeun issue a joint statement along with show creator Lee Sung Jin.

Every two years, Desert X presents site-specific outdoor installations throughout the Coachella Valley. Two Los Angeles artists have new work on display.