On-Set: The Comic Misadventures of 'The Guild' Continue With Season Three
Stories like these are only possible with your help!
Your donation today keeps LAist independent, ready to meet the needs of our city, and paywall free. Thank you for your partnership, we can't do this without you.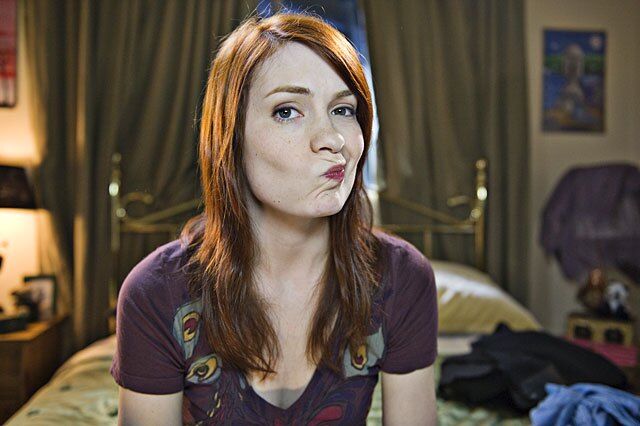 Part of an ongoing series
At a time when Hollywood has scaled back significantly on Web video productions, The Guild, an independent series focusing on Cyd Sherman, her MMO alter-ego Codex, and her dysfunctional group of gamers, has become the proverbial Little Engine That Could. Named one of "The Net's Best Serial Shows" by Rolling Stone, The Guild won Best Comedy Web Series, Best Ensemble Cast in a Web Series, and Best Female Actor in a Comedy Web Series at the inaugural edition of the Streamy Awards, and was one of Joss Whedon's inspirations for Dr. Horrible's Sing-Along Blog.
Initially available on YouTube and funded by fans via PayPal for its first season, The Guild has since renewed its exclusive distribution deal with Microsoft and sponsorship with Sprint Nextel. It's uncharted yet exciting territory for the series, which began filming of its third season last Saturday, with nearly a crew of 20 people, at a home in the San Fernando Valley. Buffy the Vampire Slayer and Dr. Horrible alumnus Felicia Day, who juggles several roles on-set as the series' creator, co-producer, screenwriter, and lead actress, kept the atmosphere light and drama-free on this particular day, with filming of all her scenes completed ahead of schedule.
While LAist is embargoed from revealing any details, The Guild tweeted that "Today the last scene of the season was the first shot. First scene will be filmed on the last day. O filmmaking why are you so confusing?"
The third season of The Guild is scheduled to return to the XBox 360 Live Marketplace, MSN, and Zune in August, with a rough cut of the first episode slated to premiere at next month's San Diego Comic-Con International. Meanwhile, catch up on the first and second seasons via DVD from Amazon.
Special thanks to Felicia Day, Kim Evey, and the crew of The Guild.
The Guild: Official Site / YouTube / MySpace / Twitter
Felicia Day: Official Site / MySpace / Twitter