This is an archival story that predates current editorial management.
This archival content was written, edited, and published prior to LAist's acquisition by its current owner, Southern California Public Radio ("SCPR"). Content, such as language choice and subject matter, in archival articles therefore may not align with SCPR's current editorial standards. To learn more about those standards and why we make this distinction, please click here.
The First Rule of Felt Club
Stories like these are only possible with your help!
You have the power to keep local news strong for the coming months. Your financial support today keeps our reporters ready to meet the needs of our city. Thank you for investing in your community.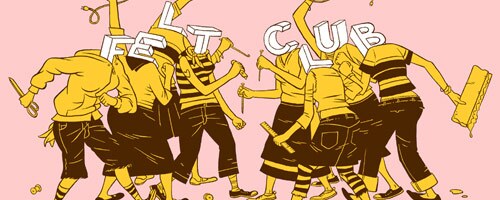 Mom wants to be hip. She's tired of silk scarves from Nordstrom's and Liz Taylor handbags. What she wants this Mother's Day is a monster-appliqué purse and a set of robot-stencilled tea towels, all made by local hipster craftspeople. Who happen to be selling iridescent cupcakes in the parking lot of a comic book store. Ok, maybe not. But you might — and you can tell yourself you're shopping for mom.
This Saturday, Felt Club will hold its first monthly mini craft fair in the backlot behind the Hollywood Meltdown Comics on 7522 Sunset Boulevard. Vendors include stationery designer boygirlparty; Susan Stars, maker of skirt patterns for the anti-McCall's set; totebags-creator Blissen and Reddingk, the cartoonist who drew the Felt Club logo of rampaging DIY-ers above.
The fair (May 13, 11 am - 6 pm) should have the kind of kooky but charming gifts that we imagine art students come up with when they're procrastinating over their year-end projects. This is how one of the organizers advertised the show on Craftster, the forum for do-it-yourselfers who insist on turning perfectly useless Nintendo controllers into belts for their boyfriends and knitting Wonder Woman headbands for their superhero selves. "We wanted to be able to sell our stuff on a regular basis," says crafter sewdarnjenny, "And none of the craft fairs currently going on seemed to be a good fit for our kind of wares. (The exception being Bizarre Bazaar, but that only happens once a year.)"
So go. Mom could use a new checkbook cozie.