Stevie Wonder's House Full of Toys @ Nokia Theater 12/13/08
Stories like these are only possible with your help!
You have the power to keep local news strong for the coming months. Your financial support today keeps our reporters ready to meet the needs of our city. Thank you for investing in your community.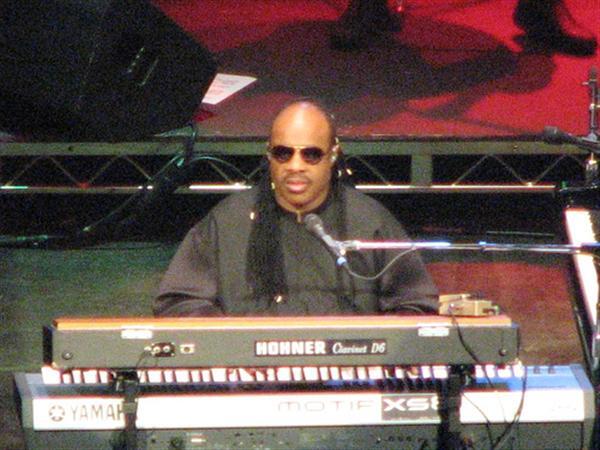 The annual House Full Of Toys benefit has been a holiday destination for folks in Los Angeles for the last thirteen years. For many of those years, it was just about the only chance anyone on earth had to see Stevie Wonder doing his incredible thing, as he'd apparently settled in to a long retirement from the road. Typically, the roster would be filled with up and coming R&B stars (I caught my first glimpse of India.Arie and Ja Rule at his 2001 show), while the man himself would do a half-hour set at the end of the night, much of it in medley form. The last two years, however, has seen him fully back in action, touring the world, playing lengthy shows that dug deep into his most classic material. When this year's benefit was advertised, no special guests were announced, which led us to speculate we might get three full hours of Stevie, doing a similar show to the one at the Greek Theater last fall which left us dumbstruck.
What we got was something in the middle, sort of a Stevie Wonder concert with ADD. There were indeed special guests, most of them new and unknown singers, some of them from Wonder's crew of sidemen. The only ones I'd heard of before were smooth jazz saxophonist Boney James and shirtless R&B pleader Tyrese, a man obsessed with one burning question: Which side of the auditorium is louder than the other, and who will stop at nothing until it has been answered to his satisfaction. In between performing his own songs, Wonder would call one of his guests out, typically for two songs, one of them Christmas-related, then he'd send them on their way and do a couple more on his own before calling out the next guest, and so forth until the end of the night.
Sometimes he jammed with his pals, and sometimes he left them alone to do their thing. None of them were bad, and some were very good, most notably bassist/ vocalist Esperanza Spalding, but none of them were Stevie Wonder either. Just as a head of steam started building up, somebody else would come out and cool it off. It was a little schizophrenic and as a result, the show never managed to build up the momentum of that ecstatic performance at the Greek.
If the pacing was problematic, Wonder's musical gifts were never in doubt. He was in great voice and seemed fully committed to every moment on stage, whether acting as harmonica accompanist for the other singers or leading the Nokia audience through the singalong parts like a choirmaster. But his solo turns at the mic were the reason we came, and he delivered on each one. Early in the program, he sat at the piano for a solo performance of the Vietnam-era "Someday At Christmas" and while the name wasn't mentioned directly, it was impossible to avoid thoughts of Barack Obama as he sang:
Someday at Christmas men won't be boys
Playing with bombs like kids play with toys
One warm December our hearts will see
A world where men are free
Obama's name came up a handful of times during the proceedings as multiple singers dedicated songs to him, even receiving a shout-out from Stevie himself in the lyrics to "Ribbon In The Sky". Toward the finale, as the crowd rose for a stomping version of "Signed, Sealed Delivered", which plowed straight into "Higher Ground", the night took on the feeling of an Obama victory march for a few minutes.
Other highlights included a warm reading of "Ave Maria", a pitch-perfect "Golden Lady" and a joyous, bouncing-off-the-walls run through "Do I Do". Most of the songs got full treatments, although "I Wish" was maddeningly cut short after the first chorus and many expected favorites - "Sir Duke", "Living For The City", "Master Blaster", "For Once In My Life", "Sunshine of My Life", "Isn't She Lovely" just for starters - were ignored all together. The man is generous with the mic to a fault, and maybe Tyrese's goofy, time-wasting "let me hear you make some no-oii-i-ise" antics wouldn't have grated so hard had we at least gotten that second verse of "I Wish." I'll still look forward to seeing him again, as he's clearly still got fuel to burn on the concert stage, and hope for a more focused presentation.
Photo by clared23 from flickr, from last year's House Full of Toys show.