This is an archival story that predates current editorial management.
This archival content was written, edited, and published prior to LAist's acquisition by its current owner, Southern California Public Radio ("SCPR"). Content, such as language choice and subject matter, in archival articles therefore may not align with SCPR's current editorial standards. To learn more about those standards and why we make this distinction, please click here.
Special Event Alert: Screamfest!
Before you read more...
Dear reader, we're asking you to help us keep local news available for all. Your financial support keeps our stories free to read, instead of hidden behind paywalls. We believe when reliable local reporting is widely available, the entire community benefits. Thank you for investing in your neighborhood.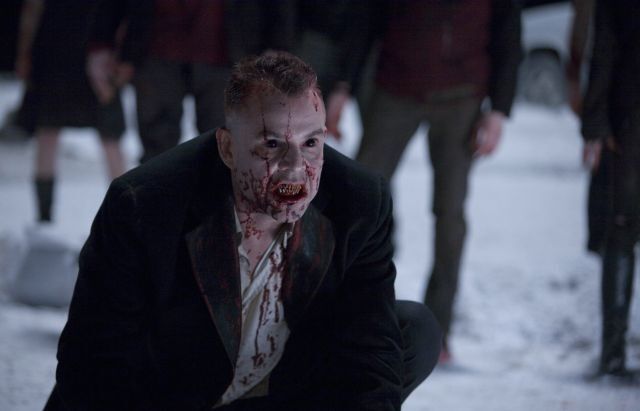 As Halloween draws ever close, what better way to spend an evening than having the shit scared out of you in a movie theater? Screamfest, in my opinion the best horror film festival out there, begins tomorrow in Hollywood. Screenings on tap include George Romero's brand new Diary of the Dead, Friday the 13th Part 3 in 3-D, the director's cut of Robert Rodriguez's Planet Terror, 30 Days of Night and the terrifically spooky The Signal. Screenings will be held at the Grauman's Chinese Mann 6 and tickets ($10) are currently on sale here.
Aside from the films listed above, there's also an assortment of independent features, shorts and special screenings. The 30 Days of Night screening will be attended by Josh Hartnett, Melissa George, Ben Foster, producers Sam Raimi and Rob Tapert, director David Slade, and Steve Niles and Ben Templesmith, authors of the graphic novel on which the film is based. There will also be a Q&A following the Saturday screening of Friday the 13th with Tracie Savage, Paul Kratka, Richard Brooker, Larry Zerner, David Katims and Harry Manfredini.
The full schedule is after the jump!
Screamfest Schedule
Friday, October 12th
7:30 pm - Diary of the Dead
Saturday, October 13th
12 pm - Student shorts
3 pm - Short film program 1
5 pm - Short film program 2
7:30 pm - Dead in 3 Days
9:30 pm - 25th Anniversary screening and reunion: Friday the 13th Part 3 in 3-D (followed by a Q&A)
11:30 pm - 25th Anniversary screening and reunion: Friday the 13th Part 3 in 3-D (with introduction by select cast members)

Sunday, October 14th
12 pm - Room 205
1:45 pm - Alone
3:30 pm - Dood Eind (Dead End)
5:30 pm - Paranormal Activity
7:30 pm - Days of Darkness
9:30 pm - Hell's Ground
Monday, October 15th
7 pm - Robert Rodriguez's Planet Terror (Director's Cut)
9:15 pm - Return to House on Haunted Hill preceded by 30 Days of Night: Blood Trails

Tuesday, October 16th
7:30 pm - Grauman's Chinese Theatre: 30 Days of Night
7:30 pm - Mann Chinese 6: Tooth and Nail
9:30 pm - Mann Chinese 6: Wasting Away
Wednesday, October 17th
7:30 pm - Suck (short will screen before the feature)
7:30 pm - Inside (À l'intérieur) followed by a party at Mood
Thursday, October 18th
5 pm - Sympathy
7 pm - Frayed
9:30 pm - The Tripper followed by a party at Garden of Eden
11 pm - Shrooms
Friday, October 19th
7:30 pm - Hallowed Ground
9:30 pm - Storm Warning
11 pm - The Rage
Saturday, October 20th
12 pm - Buried Alive
2 pm - Boogeyman 2
4:30 pm - Headless Horseman
7 pm - The Signal
9 pm - Timber Falls
Photos courtesy of Columbia Picturesand Magnolia Pictures