This is an archival story that predates current editorial management.
This archival content was written, edited, and published prior to LAist's acquisition by its current owner, Southern California Public Radio ("SCPR"). Content, such as language choice and subject matter, in archival articles therefore may not align with SCPR's current editorial standards. To learn more about those standards and why we make this distinction, please click here.
Necro @ The Knitting Factory 09/19/2007
Support your source for local news!
Today, put a dollar value on the trustworthy reporting you rely on all year long. The local news you read here every day is crafted for you, but right now, we need your help to keep it going. In these uncertain times, your support is even more important. We can't hold those in power accountable and uplift voices from the community without your partnership. Thank you.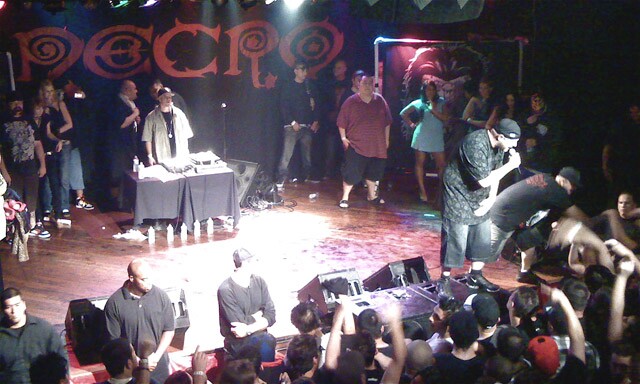 "Your chopped up in boxes / My topics are gothic / Morbitity / You can't get rid of me / The reason there's humidity: you spit to me / So kill yourself and write a note / Before the noose wraps tight around your throat / your windpipe is choked" -Necro
Necro is a psycho who degrades women, abuses drugs, raps about violence & porn, and who sold out the Knitting Factory on a Wednesday night. Collectively we were more of a demolition crew than an audience, loving every evil bloody misogynistic beer-soaked minute. Death Rap, Bitches.
After a long wait of people chanting his name Necro exploded on deck, and had his Goon Squad crew hanging out behind him and torturing the girls they lured onto the stage while he spit rhymes. Two songs deep and the girls on stage had their tops removed, and were being mercilessly groped, only to finally be thrown into the crowd. It resembled a fluffy bunny being fed to a pack of wolves. My buddy and i looked at eachother eyes bugged out like, "did that just happen?" We appreciate Necro, but not the onstage violence against women.
One of the girls slapped Necro in the face during of one of his songs. "Go girl!" This all confirmed to me that keeping my girlfriend safe at home away from these maniacs was a wise move.
Despite wondering if we should call the cops, and worrying for those poor girls' safety, Necro's show was awesome. I have never seen a crowd go that ape-shit for anyone. Nobody was "too cool" to freak out, scream, mosh, or to just go generally insane. A good time was had by all; even the girls with no tops on stage appeared to enjoy the forced stage dives, and kept coming back for more.
Join us psychos and start rocking Necro's music. It's hardcore death rap, and makes Eminem look like something on the Disney Chanel.
Photo By John Maioriello
But Yeoh is the first to publicly identify as Asian. We take a look at Oberon's complicated path in Hollywood.

His latest solo exhibition is titled "Flutterluster," showing at Los Angeles gallery Matter Studio. It features large works that incorporate what Huss describes as a "fluttering line" that he's been playing with ever since he was a child — going on 50 years.

It's set to open by mid-to-late February.

The new Orange County Museum of Art opens its doors to the public on Oct. 8.

Cosplayers will be holding court once again and taking photos with onlookers at the con.

Littlefeather recalls an "incensed" John Wayne having to be restrained from assaulting her and being threatened with arrest if she read the long speech Brando sent with her.