Necro @ The Knitting Factory 09/19/2007
Stories like these are only possible with your help!
You have the power to keep local news strong for the coming months. Your financial support today keeps our reporters ready to meet the needs of our city. Thank you for investing in your community.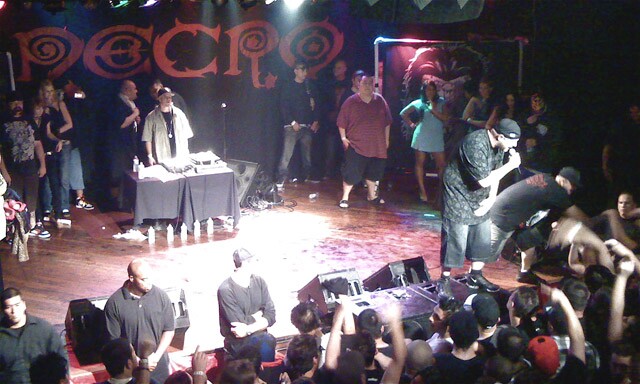 "Your chopped up in boxes / My topics are gothic / Morbitity / You can't get rid of me / The reason there's humidity: you spit to me / So kill yourself and write a note / Before the noose wraps tight around your throat / your windpipe is choked" -Necro
Necro is a psycho who degrades women, abuses drugs, raps about violence & porn, and who sold out the Knitting Factory on a Wednesday night. Collectively we were more of a demolition crew than an audience, loving every evil bloody misogynistic beer-soaked minute. Death Rap, Bitches.
After a long wait of people chanting his name Necro exploded on deck, and had his Goon Squad crew hanging out behind him and torturing the girls they lured onto the stage while he spit rhymes. Two songs deep and the girls on stage had their tops removed, and were being mercilessly groped, only to finally be thrown into the crowd. It resembled a fluffy bunny being fed to a pack of wolves. My buddy and i looked at eachother eyes bugged out like, "did that just happen?" We appreciate Necro, but not the onstage violence against women.
One of the girls slapped Necro in the face during of one of his songs. "Go girl!" This all confirmed to me that keeping my girlfriend safe at home away from these maniacs was a wise move.
Despite wondering if we should call the cops, and worrying for those poor girls' safety, Necro's show was awesome. I have never seen a crowd go that ape-shit for anyone. Nobody was "too cool" to freak out, scream, mosh, or to just go generally insane. A good time was had by all; even the girls with no tops on stage appeared to enjoy the forced stage dives, and kept coming back for more.
Join us psychos and start rocking Necro's music. It's hardcore death rap, and makes Eminem look like something on the Disney Chanel.
Photo By John Maioriello