My Love Affair With Ms. Pac-Man And Other Thoughts About "King of Kong"
LAist relies on your reader support, not paywalls.
Freely accessible local news is vital. Please power our reporters and help keep us independent with a donation today.
The unwritten rules for laundromats built before 1987 are as following:
A. A half dozen washers or dryers must have Out of Order signs B. A crazy looking person who doesn't appear to be doing laundry at all must stare randomly at people. C. A musty classic arcade game such as Ms. Pac-Man or Galaga sit in the corner for entertainment.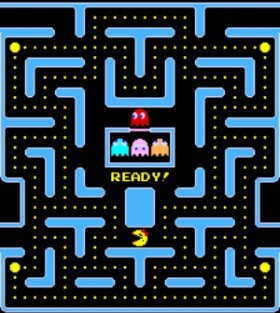 Now, I'm not a slack-jawed obsessive classic arcade gamer by any means but I try to make it a priority to drop two quarters into Ms. Pac Man's bright yellow cabinet every other laundry trip or so. After several months of this, I was dismayed to find that I still couldn't break the 100,000 point threshold. It annoyed me at first in the same slight way that hearing Kevin Federline's name or discovering that Arby's discontinued their regular french fries gets me perturbed. But that tiny annoyance grew to a gnawing feeling of mild obsession. I began to daydream of questions such as: 'Why did I suck so bad at eating ghosts?' and 'Are the Power Pellets made of Pinkberry and is that why the ghosts are so frightened?' *These questions are merely examples and I likely just made them up.
Luckily, before I crossed into the dangerous realm of bringing a single pair of dirty tighty-whiteys to the laundromat in order to have a lame excuse to guide Ms. Pac Man through another maze, I did it.