Stories like these are only possible with your help!
You have the power to keep local news strong for the coming months. Your financial support today keeps our reporters ready to meet the needs of our city. Thank you for investing in your community.
Is there anyone on the planet who doesn't love Robert Downey Jr. as an actor? | Photo courtesy of Paramount
I won't keep you in suspense a moment longer: Iron Man is a rousing start to the summer movie season. It succeeds not only as a visually dazzling popcorn movie, but as a human drama about a man forced to finally consider his former and future place in the world. Great credit must be given to two crucial players in the film: director Jon Favreau and the wildly counterintuitive choice of actor Robert Downey Jr. as the film's hero.
Favreau has constructed a film that would rather spend time revealing character and telling a story than simply clogging the screen with CGI (see Transformers). When visual effects are called for, however, they are both spectacularly imaginative and perfectly blended into the real world. A sequence where Tony Stark is fitted into his Iron Man suit by robots had our media audience hooting at the sheer detail and ingenuity on display.
As for Downey--what a brave and inspired choice. You believe him as an alcoholic Lothario; you believe him as a determined and brilliant inventor and, ultimately, you believe him as a resolute hero. And what life he injects into the role! Do you remember how you really rooted forJohn McClane in Die Hard? That's how you eventually feel about Downey's Tony Stark. He's an imperfect anti-hero who seriously rises to the challenge.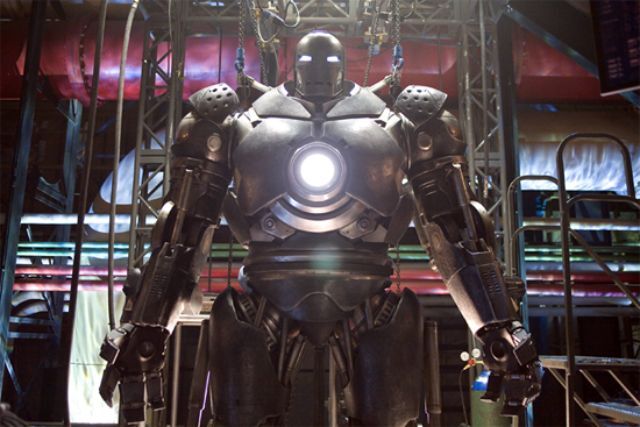 Ditto for Jeff Bridges. | Photo courtesy of Paramount
As the film opens, we join Tony Stark in Afghanistan where he is showing off his newest missile technology to the U.S. military. Trouble enters the picture, though, when Stark's motorcade is ambushed by a cell of terrorists and he is seriously injured. He's captured, thrown into a prison cell and ordered to build weapons for the terrorists. What he decides to do instead, of course, is build a mechanized suit of armor and escape.
Your typical, flimsy blockbuster would show this in a soaring montage, but Favreau decides to dial things back and spend some time with Tony and the translator who helps him. It's decisions like this which separate Iron Man from so many other comic-book movies. Favreau understands how critical it is to show Stark's vulnerability here. It's this pivotal experience which ultimately unearths and reveals his deeper character as a hero.
Once Stark does escape, we completely buy this crucial transformation from jet-setting playboy to peacemaker and it's this change which drives the engine for the rest of the movie. Realize, Stark was once the preeminent merchant of death in the entire world. Now suddenly he wants no part of it? Such men are dangerous. Even as Stark refines his Iron Man suit in his underground lab, a great enemy begins to rise against him.
Since Iron Man is an origin story, there is a good bit of focus on Tony's discovery of his new abilities. There's whimsy and there's fun, but soon there must be conflict and conflict comes to the film in the form of...oh, you don't really want to know that, do you? Let's just say that Iron Man has a good villain and the final battle between Iron Man and...the villain is nicely done. Sure, it's all CGI but you almost believe it.
As I said earlier, great credit is due Favreau and Downey. Praise must also go to Gwyneth Paltrow and Terrence Howard as, respectively, Stark's Girl Friday and his best friend. Since it is a Marvel film, there's the obligatory Stan Lee cameo and a few hints at what the future may hold (Howard admires the Iron Man suit). I've always said that X2 was the best movie ever made based on a comic. Iron Man re-opens that debate.