Movie Review: Charlie Wilson's War
Stories like these are only possible with your help!
You have the power to keep local news strong for the coming months. Your financial support today keeps our reporters ready to meet the needs of our city. Thank you for investing in your community.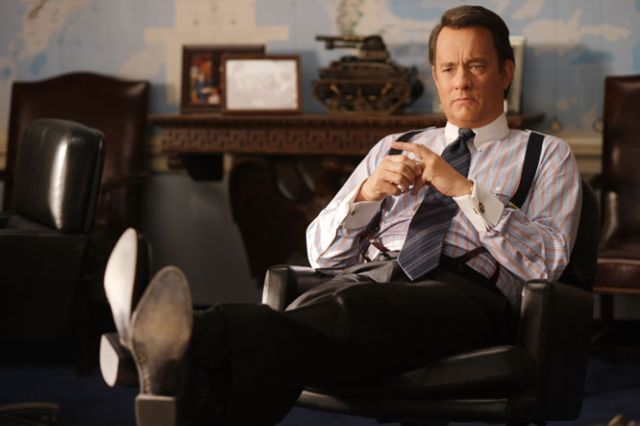 Like American Gangster earlier in the fall, Charlie Wilson's War tells a fascinating and (mostly) true story that's so improbable you wonder what's taken it so long to reach the big screen. If you don't already know, Charlie Wilson was a fairly nondescript Congressman from Texas (known more as a hedonist than a legislator) who almost single-handedly provided the money and weapons that the Afghan Mujahideen used to defeat the seemingly invincible Soviet Union. Wilson would ultimately (and secretly) funnel hundreds of millions dollars to the Afghan fighters and many credit his involvement as the turning point in the Soviet-Afghan War.
As Wilson, Tom Hanks does his best work since Cast Away. Wilson is, of course, a dream part for any actor--alternately vulgar, charming, stubborn and heroic--and Hanks fully inhabits the role, relishing in the many comic moments afforded him. As Wilson's co-conspirator Gust Avrakotos, Philip Seymour Hoffman is a perfect, gruff foil for Hanks' flamboyant Wilson. Forget Jack Bauer--Avrakotos is my kind of CIA guy. (On a side note, what a magnificent year Hoffman has had: Before the Devil Knows You're Dead, The Savages and now Charlie Wilson's War. Every role is rich and strange; each one is profoundly different--amazing work by Hoffman.)
Credit is also due to Amy Adams as Wilson's chief of staff, Om Puri as the President Zia of Pakistan and the great Ned Beatty as Congressman Doc Long. A notable false note is struck, however, by Julia Roberts in the critically important role of Joanne Herring. Historically, Herring was one of the prime motivators of Wilson's quasi-legal actions and Roberts simply lacks the toughness and zeal that Herring needed to have. She is simply (as she almost always is now) Julia Roberts. It's the same sort of affliction that seems to have stagnated the career of Jack Nicholson. You just can't see past the icon anymore.
As one would expect, the script by Aaron Sorkin is dense, deeply referenced and full of snappy one-liners. That last aspect may be its real flaw, though. It's as if Sorkin (like Joss Whedon, for instance) just can't resist the impulse to include the perfect come-back to every retort. Obviously, real people don't talk this way and while his style works perfectly for soaps like The West Wing and Studio 60 (and Firefly in Whedon's case), it can sometimes distort and undercut the mood of the film. Given the immense gravity of the situation at hand, the film would have benefited from more introspection and less repartee.
Some of the blame for that, though, must fall with director Mike Nichols. Sorkin's original script was in the 150-page territory (and far more controversial) but the film zips by in under 100 minutes. With so much history to draw from, why such a short running time? I would have been thrilled to see another thirty minutes of this story! (Then again, I guess it is a way of praising a film by saying that it should have been longer.) Charlie Wilson's War waded into Oscar season with high prospects that appear to have dimmed in recent weeks. Still, especially for the opportunity to see Hanks and Hoffman together, this is a film that I can definitely recommend.
Photos courtesy of Universal Pictures