Meet Jean-Luc Retard and Bonnie Day from the Faux French Band, Nous Non Plus
Stories like these are only possible with your help!
You have the power to keep local news strong for the coming months. Your financial support today keeps our reporters ready to meet the needs of our city. Thank you for investing in your community.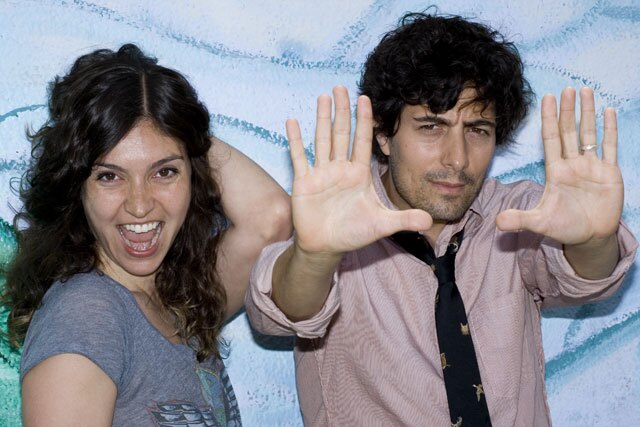 Jean-Luc Retard and Bonnie Day are ready for their close up. I Photos: Benjamin Hoste/LAist
There is no Santa. George Bush did not win the 2000 election. And Jean-Luc Retard and Bonnie Day are frauds. Inspired by 1960s French pop, these ex-Brooklynites have been spreading their cheeky, retro pop all over the world. We sat down with Jean-Luc Retard and Bonnie Day (aka Dan Crane and Emily Welsch) for brunch in Silverlake last Saturday, in order to get to our burning questions answered. How French were they? How many Skittles did Emily have to consume in the Loli video? Was it true that Dan had an alter ego that was an air guitar champion? And did they really get sued by their former band member? Here is some of what was said. For frauds, their answers were surprisingly honest.
I'm really excited that you're here. I thought you guys were a Brooklyn band.
We started out in Brooklyn, but now we're all dispersed. We're not even all in Los Angeles. Like I didn't even know that Emily was going to be here, she emailed me last week and said she was going to be in LA. One singer lives in Paris, that's Celine Dijon, and the drummer and Emily live in New York, I live here, and the guitarist lives in Austin.
How do you guys practice? That seems like it would be really difficult.
(laughs) We don't practice as often as we probably should. We all kinda practice on our own at home. I feel like we're later area Pavement because they lived all over the place.

How old were you when you first picked up an instrument?
Well, I think I started playing guitar in third grade maybe. My older brother played and I wanted to be better than him.
Are you better than him?
At guitar? Yeah. Well kinda, now he plays the banjo and the drums for this really cool bluegrass band called Go Folk Yourself in upstate New York.
That's an excellent name. So when did you decide to get serious about music?
Do you have to get serious about music? I never did. It was always a part of my life. I think my first band was in fifth grade. It was called Flower Child. We broke up for creative differences. I had bands in high school and college mostly just because I had a good name for one. In college I was in Sesame Freak and Ziplock Child. Before Nous Non Plus, I was actually in a Hawaiian band in New York. You know slide guitar, ukele, and that sort of thing. We were called the Easy Lais. We were actually pretty good.
I bet you had great t-shirts.
We actually never got that far.
Oh, man. You could have made all your money on t-shirts alone. Easy Lais Play Your Mom's House.
(laughs) The ukele player from that band was actually playing keyboards in Les Sans Culottes, which is how this whole thing started. Les Sans Culottes was the band that Nous Non Plus came out of. They needed a bass player, so I joined the band. We played a lot of parties around Brooklyn, and we were playing a lot of covers.
Who came up with the idea to start a fake French band?
It was the idea of the lead singer of Les Sans Culottes, who went by the stage name Clermont Ferrand, which is a town in France. He had been in Paris and some friends had introduced him to this kind of music. So he got people together and we formed this band.
How long was that band together?
It still exists.
Oh. What happened?
It's this whole long crazy history. Les Sans Culottes started in 1998, which was about eleven years ago, and around 2004 we decided to have a coup d'etat and overthrow Clermont Ferrand, who had become a tyrant.
A tyrant? Why?
He was just awful, terrible. It had become really clear that the only reason people came to see the band was because of Celine Dijon, our singer, and Ferrand was just kind of a drag about it. I dunno there were many problems. So we all decided to kick him out.

How does one dump someone in a band?
Through email. (laughs) You send them an email saying, "We're continuing this band without you." You know it's like any breakup these days. We didn't do it over text message at least.
Through email? That's really cold.
Don't worry he got his revenge by suing us in court.
I read your Slate article about that.
Yeah, that's where that came from. So he sued us and we eventually settled after a couple of days of going to court. He alleged trademark infringement. He had never trademarked the name, Les Sans Culottes, under his name, but he argued that he had a de facto trademark on the name because he came up with it. Which isn't even true, the guy who I was in the Hawaiian band in came up with it.
What was he suing you for? Money?
(laughs) No, there was never any money. He was just suing us for revenge basically.
That's some expensive revenge.
Well, not for him he was a lawyer and so he was representing himself, but for us, yeah it was. It was like his life's ambition to try us in court. He was a legal aid lawyer though, he had never sued anyone before. The judge totally tore him a new asshole. He was pretty rough on him. It was a pretty rough experience for everyone.
Did you win?
We didn't win. Well, I mean, nobody won. We won by default because we settled.
How quickly did you form Nous Non Plus?
Really fast. We released an album right away because we needed new material, and the rest is history.
What was the worst show you ever did?
There have been so many. (laughs) Well recently we played in Lyon, and the morning we left Paris for Lyon we got an email from the promoter saying, "Oh we didn't actually get you accommodations in Lyon, but the bass player from the opening band said that you guys could crash at his place." There were like six of us, plus two of us had girlfriends with us, so we quickly booked our own accommodations. The gig had been billed as a festival, but when we got there it was literally a high school cafeteria that they put this little stage in. It actually turned out to be a pretty good show. The people who were there got really into it. So I guess the worst actual show we did was in the basement of a college dorm in Oshkosh, WI. There were about twelve people there.
I've been to Oshkosh.
Oh, so you know. (laughs)
Has your French improved at all since joining a fake French band?
No, my French is awful. I don't speak French at all. I mean, I've picked up some words here and there, and I can now read French words and sort of pronounce them. Although recently people have been insulting my accent.
What happened?
Our video, Loli, recently got favorited on French YouTube and made it to the main page. We got like 50,000 views on the first day it debuted. But there were all these comments that said, "I like the song, but I have no idea what he's saying." The sad part was I had to get that translated too. Apparently I really butchered the words to the song.
I was going to ask you what the French think of your accent. They're usually very particular about that kind of thing.
I don't know. I've heard varying reports. No one has directly mocked me to my face. So I do get weird accent comments, but I've also heard from shows in Paris that people think that we're a French band pretending to be from New York, pretending to have a fake French band, which I think is pretty cool. Celine Dijon grew up in France, so she speaks French fluently, but there were even people on the La Fille Atomique video who commented saying, "Oh she's not French. Her accent is all wrong." They are very protective of their accent. I feel weird playing in France sometimes because after I'm finished singing, my banter is in English, but I speak with a French accent. They're probably thinking, "Why is he speaking English to us?" I don't even know if they realize I'm speaking English with a French accent. Does it sound different to them?
I don't know. Do you like playing live better or recording?
I think we're definitely a live band. That's the most fun you can have as a musician. You have that connection to the audience, and they really get into it. Everyone is sweating together. Hopefully, you're inciting people to have sex when they get home. That's not the same experience you get when you record.
So the producers don't go home and get it on?
(laughs) Yeah, well I produced both of the records…um, so I've enjoyed that process too.

The video for Loli looked like it was a lot of fun to make, but it must have taken forever. You're wearing like ten shirts in that video in one scene.
It took two long days. There was a lot of detailed planning that went into that video in advance, testing out the stuff that we were going to use. You know the part were we hold up the faces? The director knew how many frames to shoot and how many pictures we needed. It was a really complicated thing to shoot, but he had done all the math beforehand.

It looks exhausting.
It was, but it was all so precise that he just knocked it out in two days. It was pretty crazy, but fortunately everyone was having a really good time doing it. And I got to get into a pillow fight with twenty or so scantily clad girls, which was a little bit of a fantasy come true for me.
Emily Welsch joins us and orders a coffee.
We were talking about the Loli video. How much did you actually eat during that video?
Emily : The terrible thing is that we had a spit bag or a spittoon or whatever you want to call it for the shoot, but I actually didn't use it. Well, I used it once when I was eating the giant gyro, but for the most part I got to eat a lot of good stuff.
I was wondering how many takes it took. How much ice cream did you actually eat?
Emily: A lot.
Dan: The worst part for you, I think, was the Skittles that were dropped on your head.
Emily: Thankfully I got to watch Celine do her take first. The worst part of that for her was that there were all of these bits of sugar that kept falling in her eyes, so I wore my sunglasses. I thought a ten pound bag of Skittles that was going to be dropped from that elevation, which was about fifteen feet, was going to hurt a lot. Thank God I wore those sunglasses because at the end my face was peppered in red dots from where the Skittles had hit. At first I thought that I had injured myself, but they went away after an hour.
That would be the weirdest injury to explain.
Dan: I was attacked by a rainbow of fruit flavors!
The life of a rock star is not as easy as it looks. Sometimes you get Skittled in the face.
Emily: It wasn't bad enough that I was scantily clad in front of all of these people.
How did the director approach you about that?
Dan: The girls were actually totally into it. They're exhibitionists. They like to show off their hot bods.
(Emily laughs)
Fair enough.
Dan: I mean if you've got it flaunt it, that's what I say. That's why we actually had to Photoshop my dick-do, as I like to call it. That's when your stomach sticks out farther than your dick do. Yup, the director had to shave off my gut frame by frame. It's pretty sad.
Where did you write Loli?
Dan: Anything that is in French, Celine wrote. I mean, I wrote Loli in English using pieces of Lolita, the book, turned them into a poem, and then she translated them into French and made it rhyme.
Where did the inspiration for La Fille Atomique come from?
Dan: Well, Celine wrote that song, so I don't know what her inspiration was, but I think it's kind of a proto-feminist feminist song. It's kind of a, "I'm going to kick your ass. Don't fuck with me because I will eat you alive," sort of song.
Emily: Yeah, I always thought there was a little fembot influence in that song.
What was the weirdest thing you ever saw in the audience?
Emily: We had a conga line form in the audience in Germany. That was really weird. I joined it, of course. I couldn't help myself.
Dan: We had crowd surfing in Paris, which was really odd for us. Oh and the European Green Party brought us to this Polish border town for this celebration that they were having. So the audience was made up of all these government officials, including this guy who started the 1968 revolution, Danny LaRouge, which started the student protests in France. So we had this guy in our conga line too. That was weird.
Where did the Green party find you?
Emily: We had been spotted in Slovenia.
Dan: They saw us play in Slovenia. These three people from the Green party came up to us after the show and said, "We love you guys! You have to play at our seminar at the end of the summer." And we were like all right.
Did you look up their policies before agreeing to play the show? You never know who you're endorsing.
Dan: Yeah, we read up on these guys. Our drummer teaches political science at Columbia, so…
Emily: We're pretty much well informed.
Dan: We're like the most on time, over educated band ever. Like we're early for sound checks.We have two doctors in our band. We have three published authors.
How do you have time to even have a band?
Emily:That's a good question.
Dan: We kinda don't.
Dan, I heard you're a professional air guitarist. Are there any exercises that you do to practice? Are there any forms you needed to sign?
Dan: There's a release form that you need to sign before you compete because you'll probably get injured.
With what?
Dan: It's very acrobatic. We actually had a girl, Taryn, last year who lost a toe.
A toe? How?
Dan: It was at the Brooklyn competition last year. She was playing barefoot and she ran over to impress the judges, wacking her foot on the way over. Basically she separated her toe. It just popped off and was dangling to the side. She finished the song and then showed the judges her foot's bloody carcass.
Did she win?
Dan: Oh yeah. She's now known as the Nine Toed Air Guitarist. Oh and we just got this email from last year's Chicago champ, a guy called Nordic Thunder, saying he can't compete this year because he injured his back from too much air guitar and now he has to get surgery. It was really sad! It's sad that we all take this so seriously and that he has to get back surgery. It's the one thing that he lives for every year.
Are you competing this year?
Dan: No, I retired in 2005.
Why did you retire? It sounds like you had a promising career.
Dan: I competed in eleven competitions and came in second place five times. I kept just getting shut out. I won New York in 2005 and then I came in second place to the Rock Ness Monster here in LA. It was a fucking tragedy. I lost by like point one percent.
Are there rivalries in the air guitarist community?
Dan: Yeah, but mostly we all just really love each other. It's a really strange community. There is definitely an East coast West coast thing going on, very much like the hip hop world, but you know I think we've all come to respect each other. Especially after we become Hall of Famers. Yes, we have a Hall of Fame.
Where is it?
Dan: Oh it's at www.usairguitar.com. You know.
Oh so there's no actual structure?
Dan: We're hoping that the Rock 'n' Roll Hall of Fame will give us an annex. It would be so cheap. There would just be a room with guitar stands with all of our air guitars in them.
I really hope they come through for you. Well, thank you for talking to us.
Dan: Thank you.
Emily: Thanks.
Be sure to check out Nous Non Plus at the Spaceland on Saturday, May 9th. Doors open at 8:30. Tickets are $12.