This is an archival story that predates current editorial management.
This archival content was written, edited, and published prior to LAist's acquisition by its current owner, Southern California Public Radio ("SCPR"). Content, such as language choice and subject matter, in archival articles therefore may not align with SCPR's current editorial standards. To learn more about those standards and why we make this distinction, please click here.
LAist Review: Earth Sucks
Before you read more...
Dear reader, we're asking you to help us keep local news available for all. Your tax-deductible financial support keeps our stories free to read, instead of hidden behind paywalls. We believe when reliable local reporting is widely available, the entire community benefits. Thank you for investing in your neighborhood.
No insult instended, but it would be tremendously foolish not to see Eath Sucks.
Think about Earth Girls Are Easy, by way of Little Shop of Horrors, combined with Phantom of the Paradise. If you can kind of conjure up what that might be like, you're halfway to getting a sense of Earth Sucks, an hilarious* (and kinda brilliant) take on the history of Rock N Roll, America during the Bush era, and the frustrated teenage sex drive as seen through the eyes of a precocious 16 year old, and the extraterrestrial rock band she befriends in her quest to get the hell away from this boring rock we call home.
It also might be the best movie musical in 20 years (even if it can be seen only on the Stage.**)
Echo Bell (Emily Stern***) the aforementioned teenager is the only daughter of her lonely, NASA scientist Father (Christopher Fairbanks), a man who spends most of his time working on a top secret space program project, keeping depressing secrets from his daughter, and basically driving an emotional wedge between the two of them. She spends her time with her friends, piano lessons and using her father's discarded NASA technology to pick up transmission from outer space, and send some of her own.
Given the title, you can guess that Outer Space answers her fairly unambiguously, in this case with the timely arrival of a cleverly named interstellar rock band, "Citizens of Earth*****", who also just happen to be the only survivors of an Alien Apocalypse in which their homeworld was conquered by evil galactic disco-pop star Ulinia Swords (The impressively Tina Turnerish Nakia Syvonne). Ulinia just happens to have a plan to destroy the entire universe for reasons that almost make sense, and it's up to Echo and Citizens of Earth to stop her (and somehow make it alive to the thrilling and totally satisfying conclusion.) In between, national secrets are revealed, the untold history of popular music is un-untold, and Echo learns a sincerely touching lesson about getting the hell away from where you're from and somehow learning to love it anyway.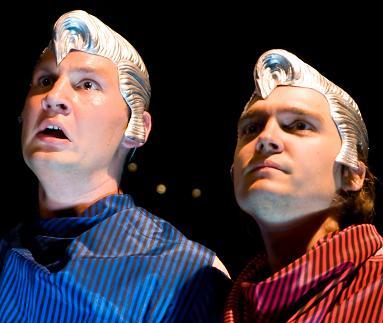 The cast is great all around, but particular praise must be given to Emily Stern, who not only has a voice well suited for the material but also manages to portray Echo Bell, strangely enough, as believably alienated and yet willing to accept the existence of extra terrestrial (and musical) life. The entire story rests on her shoulders - she's almost in every scene - and it's not an overstatement to say she deserves much of the credit for the sucess of the performance.
The bellowing, operetta-esque Scott Palmason is another standout. His performance reminds one of Meatloaf stealing the Rocky Horror out from under Tim Curry, Buddy Hackett's song and dance in The Music Man, or even Jack Black in the original Tenacious D shorts. The only flaw is that his character is excised from the story before you can memorize his song, and it will be a crime against humanity if he isn't featured prominently on the cast album.
And the songs! Citizens of Earth are also the performance's house band, (listen here!) providing a constant musical backdrop that continues even as the play ends (making the experience of seeing Earth Sucks live feel somewhat like Space Mountain meets Star tours at a version of Disneyland that doesn't suck.) Even if you hate the idea of a Science Fiction-comedy-satire, it's worth ir for the music alone.
There are also near constant hi-larious rapid fire zingers, genuinely clever science jokes, several wonderful insults aimed squarely at American culture in the post 911 era, and most importantly, a surprisingly touching coming of age story.
****Playwrite and Composer Jonas Oppenheim was nice enough to submit to the unforgiving ordeal of the e-mail interview. Here's what he had to say about music, politics, science fiction, and how to accept ingratiating praise with gravity.
LAist: Let's get the obvious question out of the way first - What Rock and or Movie musicals were you inspired by?
Jonas Oppenheim: When I decided to write this, the first thing I did was go to Samuel French (in the rain utterly heartbroken un-slept for three days due to a recent breakup but that's a different story and only vaguely present in the play) and buy the script of Rocky Horror the play, to see what musicals look like in print. I didn't watch the movie again till a few months ago, but I definitely think of it as Earth Sucks' closest relative - very rock 'n' roll, though I tried not to be so campy. I watched a few musicals when I was a kid (Sweeny Todd, West Side Story) but never really vibed with them when I started writing. I've always had the problem that for me, it breaks a character's reality to one moment be a tough Puerto Rican gangster then the next moment be singing and dancing. It's a moot point for enjoyers of musicals, but I tried to deal with it by having just about everyone in this play be a musician of some sort - former (Dad), aspiring (Echo, Swayze), current (Ulinia), or literally from a musical planet (the aliens). The inspiration came from two specific sources: hearing "Calling on Occupants of Interplanetary Spacecraft" covered by the Carpenters on KXLU, and watching the David Bowie/Ziggy Stardust concert video (Pennebaker?). The first struck me because I realized how brilliant it was to try to communicate with other worlds with music. Definitely a friendly, inspired approach. Watching Ziggy I dug the concept of "we are aliens who have come to your planet to play rock and roll." The play kind of showed up in a nice little package soon after. And I've always been into astronomy and sci fi.

...I just heard about something on the radio called "Songs for E.T." or something, a bunch of kids singing songs about aliens. And I've been enjoying the Langley School's version of "Calling on Occupants."


LAist:
The music was of a variety of different styles, all done sincerely and competently - the exception seems to be the Disco/house song that hypnotizes the galaxy, which was appropriately terrible. Ddo the songs reflect your personal tastes, or did you just immerse yourself for several months.
Jonas Oppenheim: Thanks! I definitely wanted the techno stuff to be hideous but I have to admit I kind of like those numbers now. The other stuff is a reflection of my personal taste. In addition to the stuff above, I love the Beatles and Kinks and Stevie Wonder and others who had something intelligent to say and happen to be brilliant creative musicians as well. The Weekly mentioned the Ramones and Devo, which I'm also happy about, since I love those bands and had them in mind for the alien stuff. I wrote the basics of many of the songs when I was in my old band, The What. Lucas (Fluhbluhbluh) was the lead singer/songwriter, and we had a great guitarist named Max Wolf. Lucas is my lyrical mentor and Max taught me to play guitar, so their impact on my approach was profound. I was sort of the George Harrison of the group, piling up music that we mostly didn't use. So I retooled a lot of it for this. And added some new stuff. Then, to make everything sound alien, we borrowed that great Korg 6 keyboard that has all sorts of trippy sounds and told Rawn to go nuts. Which he does.
LAist: It may be overstating, but it seems the musical as a genre has fallen on hard times - dominated by Jukebox Musicals, revivals, or wretched dreck like Wicked. Do you see Earth Sucks as an attempt to breathe some life into the genre? Do you see yourself writing more musicals in the future?
Jonas Oppenheim: Yeah, like I say, I don't see many musicals. It seems like they're trying a little harder to connect with non-tourists, from Beastly Bombing to Passing Strange or whatever, but I haven't seen any of those, so I can't be sure. When I realized this would be a musical, I wanted to make sure it would be a musical I'd like, and that would be cool to people who don't like musicals. That's really always my approach with writing. Sometimes it alienates people who really do like plays and musicals, but oh well. I've had a lot of fun writing this, but my next couple things I want to write aren't really musicals - at least not yet. But at least I'll feel confident about writing music in the future. I've written plays before, but this was the first musical.
LAist: Not to kiss up to you, but Earth Sucks is a lot of fun and the songs are really good. What stands out for me however is the barrage of snappy dialogue, especially in the first act. Care to elaborate on that? When writing, do you find yourself imagining the dialogue first and developing the plot around it, or does that come later? And what do you watch/read/listen to for inspiration?
Jonas Oppenheim: Kiss! Kiss! Thanks again. I'm glad you dug the dialogue. I felt like I wanted to have more dialogue in this play than you usually find in musicals, because it's a way to find more subtlety. It seems like usually musicals are so eager to get to the next song that nothing gets developed in between, or the bare minimum. I like writing dialogue, and it's been what's worked for me in the past, so I didn't shy away from having long scenes or scenes without songs. With this play, I had the story and many of the scenes before I started putting the songs in. I had points where I'd write "break-up song", for examply, knowing that I'd get around to it. I had most of the story done before I started on the songs, then reworked the story and added and subtracted songs as I did a few staged readings (last November and last January). For inspiration...I really had a lot of this stuff in mind before I started researching...but then I watched some Outer Limits, Plan 9 From Outer Space, Rocky Horror, Muppets in Space. Lots of cinematic stuff, more than stage musicals. The Muppets were definitely an influence in general. Hitchhiker's guide, when I was little. Star Wars, the Beatles, duh.


LAist:
About the cast: Did you write this with anyone specific in mind? Who have you worked with before?
Jonas Oppenheim: Love dis cast. I had Lucas and Ali (Jenn) and Duncan (the drummer, also alum of my old band) in mind for their roles. I'd always wanted to work with Rawn. I'd written the part of the dad for myself but then decided it would be too much. Jessica Wohlander stage managed my last play. Everyone else was a gift from the cosmos.
LAist: (finally), your work has clear political overtones, particularly (unless I'm misunderstanding you) a strong pro civil liberties bent. Even in a sci fi comedy like Earth Sucks, you managed to work in quite a few funny (if laughing through tears counts) criticisms of Bush Adminstration policies. There's also strong identification with the other and with outcasts in general. Care to elaborate on how the last 8 years have affected your work, and how those themes are expressed? And what do you think the relationship is between art and politics?
Jonas Oppenheim: Sci fi is always a commentary on the times in which it's written. Anything can be, but it seems like a hard rule of sci fi. That's why it's always prophetic - we just don't see it at the time because (to paraphrase the Onion) guns are called laser guns. My politics are way left and such (good pick-up!) and I actually feel a bit irresponsible to be writing such broad entertainment and not sticking it to the bushies a little more considering the state of the world. But I got over that because dammit I really wanted to write this. I was certainly incensed when I was living in NYC after 9/11 and the theater community was so slow to show some teeth when it came to responding to the situation. I had been working on a political comedy that was very biting toward the right and the left and the gov etc. (we crank called the white house to demand that they stop the war). 9/11 and the goverment's dark response helped me finish it very quickly - early 2002 - only to find that none of the theaters wanted to produce it so soon after the attack. So I ended up doing that play a lot (I'm not mentioning the title because we did it anonymously and I may want to do anonymous work again to expand on it) - from 2003 to 2006 we did it in 10 states. That felt like a very hands-on approach to dealing with the nightmare of Bush's America. The play really affected people, and had the fangs that I felt went missing for quite some time. I couldn't believe how theaters, those unfettered outlets of expression, were so slow to get angry at the govt. It's like the senators who voted for the war and the patriot act. Don't tell me it wasn't fucking obvious how wrong those things were - it did not take any time or analysis or caution to see it. We all had a chance to react when it was happening, and I feel lucky to have had that opportunity, glad that I was able to seize on it, and disappointed in the artists who didn't. At this point there's no excuse to not have addressed all that in your work, and many have caught up, but of course now we need to be anticipating the horrors to come - blaming it all on W lures us into letting our guard down on Obama or McCain. There is no shortage of ominous goings on in our country and outside, and it's up to the artists to connect the dots that the media don't.

My personal preference is always to deal with stuff in comedy, as preaching (like my response above) is boring and ineffective. Revolutions have to be fun - people want to change to a positive, I think. Operating from hate or excessive anger is stressful, selfish and ultimately self-defeating. We have to think as a team, finding common ground and means for change that feel good enough to actually do. We have to imagine the world as we want it to be, to help clarify and simplify our goals. Laughter seems like a good lubricant for communication. I feel encouraged when I hear about artists or activists who make the message fun - the Yippies, the Muppets, Dario Fo, etc. That's the way to go.Earth sucks is a zinger filled musical tour of the end of the Bush era, seen through the eys of a frustrated teenage girl and the posse of alien musicians she teams up with to save the world from a soul sucking, mindless corporate pop star bent on universal domination (and possibly the end of all life as we know it.) It's also the best movie musical I've seen since Little Shop of horrors and if the fact that it's a staged play makes that a dubious assertion, clearly you haven't been paying attention.


Aliens; rock music; sexual humor; musical theater; tons of science jokes; excellent dialogue. It simply isn't possible to argue with it. Cancel whatever plans you have tonight and go see it. You have until November 1st. Earth Sucks is currently showing Fridays and Saturdays at the
Artworks Theater
in Hollywood, until as just implied, November 1st.
For more information, check out the official site.

*What, you can say "an historic..." but not 'an hiliarious'? Fie! FIE I Say!
**Come on Hollywood, stop making Wicked and buy up the rights!
***daughter of Howard****, and excellent in the part, incidentally.
****Unlike everyone else, that's the one and only time we're going to mention it thank you very much.
***** too many people to fit into a parenthetical aside. Citizens of Earth, on stage, are Lucas Revolution, Rawn Erickson II, Paul Wyderka, Duncan McKay and behind the scenes, the Author of Earth Sucks, Jonas Oppenheim.