This is an archival story that predates current editorial management.
This archival content was written, edited, and published prior to LAist's acquisition by its current owner, Southern California Public Radio ("SCPR"). Content, such as language choice and subject matter, in archival articles therefore may not align with SCPR's current editorial standards. To learn more about those standards and why we make this distinction, please click here.
LAist Interview: Eric Earley of Blitzen Trapper
Before you read this story...
Dear reader, we're asking for your help to keep local reporting available for all. Your financial support keeps stories like this one free to read, instead of hidden behind paywalls. We believe when reliable local reporting is widely available, the entire community benefits. Thank you for investing in your neighborhood.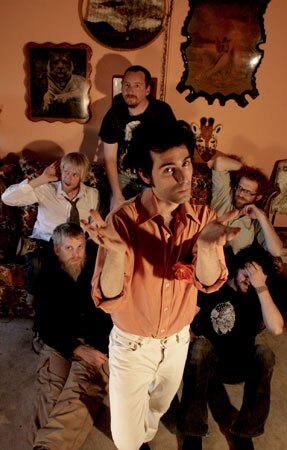 At the age of six, Eric Earley, was taught how to play the banjo by his father, who was a bluegrass musician. Music was in him from the start, so it's no wonder that he grew up to create one of the most interesting Americana bands the Northwest has seen in quite awhile. Celebrating the release of their fourth album (and first on their new label Sub Pop) Blitzen Trapper will be taking the stage at the Echo on Sunday with local LA favorites the Parson Redheads and The Henry Clay People opening. Mr. Earley was kind enough to talk to us on Sunday. Here is a snippet of what was said:
I'm confused about your name. In one interview you say it's the nickname of your grandfather who used to be called "Trapper." In another you say you're named for a kind of Winnebago. Now I've looked up the Blitzen Trapper Winnebago and it doesn't exist. What's with all the mystery?
Is that all you found? Man, I made up many more reasons than that.
Like it was the name of your bowling team?
Oh man, that team would be undefeated with a name like Blitzen Trapper.
"Furr"
So why the name Blitzen Trapper? I don't care if it's true or not.
I dunno, I just sort of made it up. I saw it on a Winnebago.
Sigh, let's move on. Where did you write Furr?
Specifically? I wrote that at the studio where I lived or more specifically a couch with poppies on it.
Why did you write about werewolves?
I didn't. The song isn't about a werewolf.
Oh, really?
Yeah, werewolves are full of evil and fear. They're monsters. Not about that.
What is about?
It's mainly about civilization. You know, the impossibility of returning to nature.
Is Texaco based on a true story?
No, no, I wrote that one nine years ago, ten years ago. I have a hard time remembering why I wrote those lyrics exactly. We had this rehearsal space in Albany in a downtown public bathroom.
You recorded that in a public bathroom?
Sure did. I remember we had the music for that song, but I believe the lyrics I just made it up on the spot. I never wrote them down.
How do you remember them?
Well, we had the recording. I just relearned them.
Not Your Lover is a gorgeous, heartbreaking song about the struggle between commitment and desire. I'm really interested in the chorus, "In my sleep I'm not your lover anymore." What inspired that lyric?
I don't know. I think it's one of those common things that you think about when you're in a relationship. You watch someone that you love sleep and wonder what they're thinking about. I'm like everyone else in relationships. There is always a desire to leave or stay depending on the day.
What is the weirdest thing you ever saw on stage?
One time in Munich there were a bunch of fans who wore monkey masks and monkey gloves to the show. At the end of the set they brought bananas and put them on stage.
What is the worst show you ever played?
I dunno. There were a lot of shows where everything sort of broke. That used to happen a lot.
What's the worst thing about touring?
Oh man, the food. Or at least in the States it's the food. In Europe it's the driving. We have no idea what their signs mean and we are constantly getting lost. Oh and the cobblestone streets are the worst thing ever.
If there was one thing about the music industry that you could change, what would it be?
I really hate CDs. They should stop making those. They always skip and scratch. Everything should be released on vinyl and eight-track.
"Gold for Bread"
How do you feel about digital music?
Digital music sounds like shit but it's easy to move around. So, I guess it's good.
What album can you not live without?
Neil Young's After the Gold Rush.
Dang, people usually need to think about that.
(laughs) Not me.
If you weren't musicians what would you be?
A herder of sheep? Maybe I'd raise horses, or become an international terrorist. Or I could smuggle people into the country from across the border.
Which border?
Whichever one was more lucrative.
So Mexico?
Probably, I mean why would Canadians ever want to live here?
This is your fourth album and your first released on a label that wasn't yours. How is Sub Pop treating you?
They help us out a lot. It's much harder to release albums on your own. Labels do everything for you. And they're pretty hands-off creatively, so that's really good.
What question do you hate answering the most?
Where did you get your name?
Damn. Oh well, I guess it's too late for that. Do you have any weird promoter stories?
Not really.
I once heard a story from a band that they were paid in apples and weed in Ashland, Oregon. Do you have a story like that?
(laughs) I'm from Oregon and let me tell you that's standard practice. I think my favorite promoter was this Swedish promoter named Kim. He loved American music and liked to dress up like a cowboy. He gave us free Swedish designer clothing when we played there. He was great. Oh hey, we're here.
Where are you calling from?
We're driving from Birmingham to Nashville. We're playing with Iron and Wine at the Grand Ole Opry tonight.
That should be an amazing show.
Eh, I'm from the West Coast. It's not really that big a deal for me.
So what would be a big deal? Do you have a list of places you want to play?
Brazil .
Brazil? Anywhere in particular?
Nope, anywhere in Brazil would be fine with me.

Well, hopefully Sub Pop can hook that up for you. And now for my final question, would you rather be burned alive or frozen to death?
Oh, frozen to death!
Why?
What do you mean why? If you freeze to death you just fall asleep. You just lose all feeling and are gone. If you burn to death you go out screaming.
How do you know? No one has survived either scenario.
Well I almost froze to death once.
What happened?
I was hiking in the mountains in Oregon and we got lost. We had to partially bury ourselves in the snow to keep warm. One of our party went off to look for help and we just tried not to freeze. You just got really tired. As soon as the sun goes down, it gets unbelievably cold in the mountains.
How old were you?
Sixteen.
Did you tell your mother?
Oh yeah, she knew. There were search parties and stuff looking for us.
Wow.
Photos were taken by the talented Jade Harris.