LAist Interview: Eric Earley of Blitzen Trapper
LAist relies on your reader support, not paywalls.
Freely accessible local news is vital. Please power our reporters and help keep us independent with a donation today.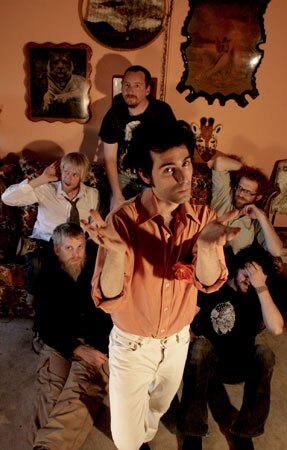 At the age of six, Eric Earley, was taught how to play the banjo by his father, who was a bluegrass musician. Music was in him from the start, so it's no wonder that he grew up to create one of the most interesting Americana bands the Northwest has seen in quite awhile. Celebrating the release of their fourth album (and first on their new label Sub Pop) Blitzen Trapper will be taking the stage at the Echo on Sunday with local LA favorites the Parson Redheads and The Henry Clay People opening. Mr. Earley was kind enough to talk to us on Sunday. Here is a snippet of what was said:
I'm confused about your name. In one interview you say it's the nickname of your grandfather who used to be called "Trapper." In another you say you're named for a kind of Winnebago. Now I've looked up the Blitzen Trapper Winnebago and it doesn't exist. What's with all the mystery?
Is that all you found? Man, I made up many more reasons than that.
Like it was the name of your bowling team?
Oh man, that team would be undefeated with a name like Blitzen Trapper.