LAist Interview: Greg Fitzsimmons
Stories like these are only possible with your help!
You have the power to keep local news strong for the coming months. Your financial support today keeps our reporters ready to meet the needs of our city. Thank you for investing in your community.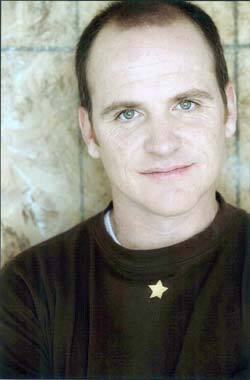 LAist had the chance to check in with comedian/radio personality/Emmy Award winning writer Greg Fitzsimmons last night as he drove to Hollywood from the San Manuel Indian Bingo & Casino where he earned a standing ovation, opening up for Artie Lange. Driving from the desert to Hollywood isn't something the Venice Beach resident does on a regular basis, luckily we had access to Google Maps serving as interviewer/navigator to Greg on his journey. The drive to Saturday's show at the Gibson Amphitheater will, fortunately, be a much shorter one for the former writer/producer of The Ellen Degeneres Show. While driving the 610 to the 10 to 101, the Bronx native shared his thoughts on the LA comedy scene, his radio show, hosting the AVN Awards and Dave Navarro.
Saturday you're performing at the Gibson Amphitheater with Artie Lange and Nick DiPaolo, do you enjoy the bigger crowds more than the comedy club crowds?
Stand up is like working out, you have to mix it up. That helps you stay sharp. I like small crowds and small clubs, your set can be like stream of conscience. When you're playing the bigger venues you have to have a more polished set. The rewards for doing the bigger venues are great though. You don't get standing ovations at clubs. When that happens like it did tonight, man it feels pretty fucking good.
You work with Artie and Nick DiPaolo quite a bit. How much do you enjoy working with those guys?
Actually, I haven't done a whole lot of shows with Artie. I'd say I've done maybe a half a dozen shows with Artie. I'm doing these two this week though. Its nice working with Artie. I do one night or two nights and I then I get to go home. Working with Artie and Nick is like hanging out friends. Artie and Nick are friends of mine. Get to actually talk to them and hang out instead of just sitting around by myself like most shows I do.
You have your own radio show on Sirius, now on Howard Stern's network. How has the show helped with you stand-up?
I love doing the show. I really benefit from the radio show, I don't have to deal with the "Fuck you bring out Artie" reaction from the crowd some openers might get. Tonight's show was Artie's crowd, but working on Howard's network has helped introduce me to his audience. The show, Howard and Sirius have been great to me. I don't think there is a better place to be on radio than Sirius.
For the most part the show is basically a radio show about comedy, with interviews with comedians. Do you think the show will evolve into something else?
I think because it's only an hour-long show I haven't really been trying to stretch myself. Right now, I'm sticking to what I know and who I know. The biggest name people I can get are comedians, because those are the people I know. Comedians are honest and intelligent, so they make for a good show. I think on my show they can be in the moment and not have to do material. I really like my guests and I know my guests, and so I am asking questions that I already know the answers to, I guess that isn't exactly the best way to interview someone. I'd like to have people that I don't know on the show. Sirius has said they can help me get big names outside of comedy, so I'm looking forward to getting some of those kinds of guests on the show. I am enjoying doing radio, my dad (Bob Fitzsimmons) was a radio personality in New York. It's funny because Howard used to shit on my dad, back then, so he wasn't the most popular person in our house. It's very ironic that I am now on Howard's network.
You hosted the AVN Awards which were shot in Las Vegas in January, and have just recently popped up Showtime. Why such a delay in getting it on TV? What's the most challenging aspect of hosting the AVNs?
I don't know why there was that much of a lag. I know Showtime didn't publicize it all. But you know people are going to watch. If you're cruising through the channels on your TV at 3am, you are definitely going to stop and watch. I really wanted to do a smart gig but these aren't exactly Rhodes Scholars in the crowd. They're porn stars. But I also wanted to play to the crowd at home. I had done the show two years ago and really liked it and the crowd was surprisingly cool. I was asked to do it again, I knew it was going to be on Showtime and it was the 25th anniversary so I really wanted to do it. Showtime has become a good place for comedy. So I went about hosting it as if I were doing an hour set on Showtime. I wanted to do a set that I'd be proud of, that just so happens to be at the porn convention.
Tell me a little more about what's up with you and Dave Navarro?
I don't know what that guy's deal is. He manages porn stars and directs or something. He was there at the AVNs hosting the red carpet show. I am on stage hosting and he is in the front row, right in front of me. There he is sitting with his ¾ length leather coat and sunglasses with arms crossed and he won't even look in my direction. I just found it really disrespectful, from one performer to another. So I went on Stern and called him a piece of shit. I called him the "Mexican Prince." I called a few other names. When he went on the Stern show a week or two later, Stern played him the clips of me talking about him. Then he said some shit about me. So ever since then I have said it on my show, on Howard's show on a few other things that I'm challenging him to a fight, boxing, mixed martial arts, whatever. We can do it on Pay Per View. I want to take out all my aggression and anger I have towards the cool LA guys, which is exactly what he is. The guys in LA are pussies, with their bleached hair and their contrived code words they use. Cool in LA is the total opposite of New York cool. Cool in New York is being open minded and being smart. Out here it's all about just conforming and going with the crowd. I'd love to fight him, but he doesn't have the balls. The only contact I've had with him since is an email from his publicist asking me to come on his Internet radio show. My response to the email was "Pass. Tell Dave to see me in the ring."
Speaking of LA, there is a lot of talk about the differences between the New York comedy scene and the LA comedy scene. As a New Yorker living in LA what do you think of the comedy scene here? When do you think is the right time for a New Yorker to make the move out here?
If you decide that you have to come out here, then I think the longer you wait - the better. This is the marketplace, so when you get out here you should have already established yourself. You're lucky in LA if you can do two sets a night. You can't work out like you do in New York. For one, the clubs are further apart so it's harder to get from club to club, that makes it harder to stay sharp out here. In New York you can get in seven sets in a night. I can't name a comic who made it, starting out here. Nothing against the comics from here, it has more to do with the obstacles I just mentioned. Also, I think a comic who started in LA will have a harder time connecting to a broader range of people because they've been preaching to the converted their whole career. I don't know if they are going to get the same laughs in the middle of the country as they would out here.
Why are a lot of the comedy shows in town run by comics who are just starting out or comics who aren't very good?
It's part of struggling as a comic. When you're starting out, comedy is a lot like running your own business. You have to be your own manager, be your own publicist, be your own agent. You have to find a way to get stage time. When I was starting out in Boston, I hosted a "Hot Legs" contest in a crack bar in Allston. Running your own comedy night is a good way to go out there and find your audience and find your voice. I recommend it. You don't want to miss out on that experience, as someone who's done it, let me tell you it's really fucking humbling. You have to go out and find your own audience. The more sets you can do the more you're going to get crowds coming in who know what you do. You're not stepping out in front of 200 complete strangers, and there's nothing harder than that. Getting out there allows you to sort of continue where you left off, rather than having to introduce yourself.
What rooms do you enjoy working here in LA?
I like doing the Improvfor trying out new material. It's a good set up and a good room. The Laugh Factory on the weekend is very high energy. You can kill there. I like doing the M Bar, I haven't done it in a while but I like it there.
Greg Fitzsimmons will be performing with Artie Lange and Nick DiPaolo tomorrow at the Gibson Amphitheater. You can hear the Greg Fitzsimmons Showon Sirius Satellite Radio's Howard 101 every Monday at 9PM. He will also be guest starring in an episode of CSI which airs April 10th.