LAist Interview: Greg Fitzsimmons
LAist relies on your reader support, not paywalls.
Freely accessible local news is vital. Please power our reporters and help keep us independent with a donation today.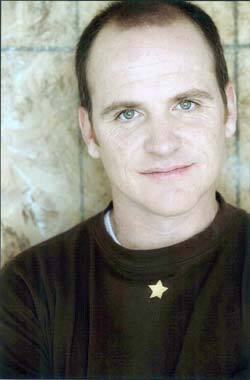 LAist had the chance to check in with comedian/radio personality/Emmy Award winning writer Greg Fitzsimmons last night as he drove to Hollywood from the San Manuel Indian Bingo & Casino where he earned a standing ovation, opening up for Artie Lange. Driving from the desert to Hollywood isn't something the Venice Beach resident does on a regular basis, luckily we had access to Google Maps serving as interviewer/navigator to Greg on his journey. The drive to Saturday's show at the Gibson Amphitheater will, fortunately, be a much shorter one for the former writer/producer of The Ellen Degeneres Show. While driving the 610 to the 10 to 101, the Bronx native shared his thoughts on the LA comedy scene, his radio show, hosting the AVN Awards and Dave Navarro.
Saturday you're performing at the Gibson Amphitheater with Artie Lange and Nick DiPaolo, do you enjoy the bigger crowds more than the comedy club crowds?
Stand up is like working out, you have to mix it up. That helps you stay sharp. I like small crowds and small clubs, your set can be like stream of conscience. When you're playing the bigger venues you have to have a more polished set. The rewards for doing the bigger venues are great though. You don't get standing ovations at clubs. When that happens like it did tonight, man it feels pretty fucking good.