This is an archival story that predates current editorial management.
This archival content was written, edited, and published prior to LAist's acquisition by its current owner, Southern California Public Radio ("SCPR"). Content, such as language choice and subject matter, in archival articles therefore may not align with SCPR's current editorial standards. To learn more about those standards and why we make this distinction, please click here.
LAist at Sundance: Day 3
Support your source for local news!
The local news you read here every day is crafted for you, but right now, we need your help to keep it going. In these uncertain times, your support is even more important. Today, put a dollar value on the trustworthy reporting you rely on all year long. We can't hold those in power accountable and uplift voices from the community without your partnership. Thank you.

Lizard King and Co. | Photo courtesy of the Sundance Film Festival
Perhaps the biggest challenge when attending the Sundance Film Festival is determining how on God's green earth you are going to do everything that you want to do. Film schedules don't always sync up, travel on the city shuttles--while free--can be slow and there is always the temptation to stay out till all hours of the night at any one of the numerous parties that dot the landscape of Park City (thus ruining the next morning). That last thing is, of course, exactly what I foolishly did on Saturday night.
After a festive dinner with all eleven of my condo mates (irrigated by far too much wine), five of us headed down to Main Street to attend a soiree thrown by Island/DefJam. The party scene in Park City is surreal. While temperatures at night range in the teens, there is no shortage of bony girls from Los Angeles hovering outside in mini skirts and heels (not good for walking on ice by the way). Thankfully, the cold is quickly flushed away as the complimentary cocktails begin to flow. By three am I figure it might be wise to head home.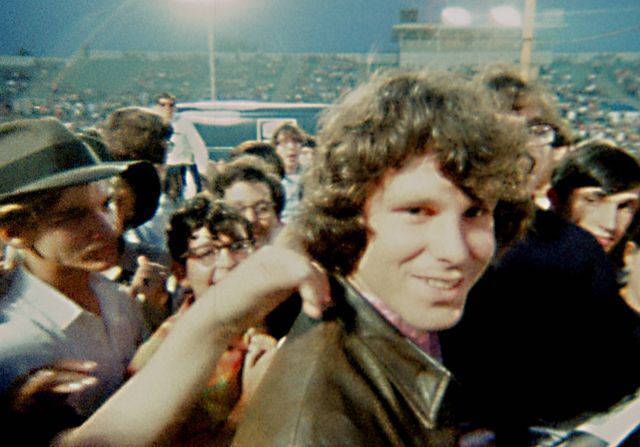 Morrison mingling with his fans. | Photo courtesy of the Sundance Film Festival
I wake up (or come to) at around 11 am. The dry air has turned my throat into chalk and a dull headache is throbbing in my head. This is going to be a great day! Since I'm in no condition to brave society (and would probably fall asleep if I tried to catch a movie), I decide to settle onto the couch for a long day of football. Both games turned out perfectly and, feeling better and a bit guilty, I brave the long, two shuttle bus journey to the Yarrow Theater to see the new Doors documentary directed by Tom DiCillo, When You're Strange.
As a long-time and fairly intense Doors fan, this is one of the films I highlighted when the festival roster was first announced. I'd hoped to see the actual premiere of the film which was attended by all three living members of the band, but had to settle for the press screening instead. I was not disappointed. While some early reviews of the film have carped that no new real information was divulged or uncovered by the documentary, I was thrilled by the sheer volume of previously unreleased footage of the band.
Ray Manzarek has complained for years about Oliver Stone's rendering of the band's history in his film, The Doors, feeling that Stone focused far too narrowly on the negative aspects of Jim Morrison's character and behavior. While When You're Strange doesn't shy away from discussing Morrison's alcoholism, it does offer a more complete portrait both of Morrison and the band. Morrison has been so shrouded in icon status for so many years, that it was great to peek behind that manufactured veil and see the man himself.
DiCillo (who also narrates the film from his own script) tells the story in a fairly linear fashion, from the band's early beginnings in Venice Beach to their meteoric rise to the top of the music world to Morrison's eventual death in Paris. One of the more whimsical departures from that narrative, however, is the utilization of material from the band's unreleased films, Highway and Feast of Friends to suggest the possibility that Morrison actually faked his death in Paris and took to the road.
When You're Strange is obviously required viewing for any Doors aficionado, but even casual fans will enjoy this tale of what is probably still the most successful American band in history (as the film notes, The Doors still sell a million albums every year). In between his clipped narration, DiCillo floods the screen with fascinating footage of the band and backs it with the constant thump of their music. Expect to see this documentary find its way into theaters and be sure to check it out.
Donald Trump was a fading TV presence when the WGA strike put a dent in network schedules.

Pickets are being held outside at movie and TV studios across the city

For some critics, this feels less like a momentous departure and more like a footnote.

Disneyland's famous "Fantasmic!" show came to a sudden end when its 45-foot animatronic dragon — Maleficent — burst into flames.

Leads Ali Wong and Steven Yeun issue a joint statement along with show creator Lee Sung Jin.

Every two years, Desert X presents site-specific outdoor installations throughout the Coachella Valley. Two Los Angeles artists have new work on display.