This is an archival story that predates current editorial management.
This archival content was written, edited, and published prior to LAist's acquisition by its current owner, Southern California Public Radio ("SCPR"). Content, such as language choice and subject matter, in archival articles therefore may not align with SCPR's current editorial standards. To learn more about those standards and why we make this distinction, please click here.
LA Design Events: March 2011 Wrap-Up!
Stories like these are only possible with your help!
You have the power to keep local news strong for the coming months. Your financial support today keeps our reporters ready to meet the needs of our city. Thank you for investing in your community.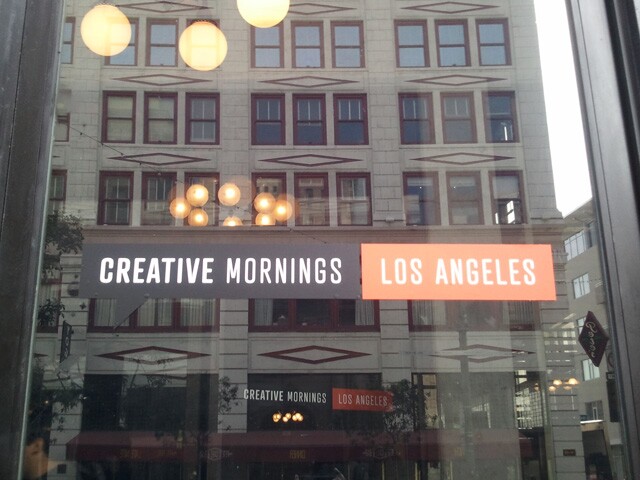 (photo: Diane Grajeda, used with permission)
Hey LA designers, get out and get social with some these great creative industry events for the second half of March! Below is my round-up for the next two weeks, but it is by no means exhaustive. If anyone has more to add, post them in the comments so we can all join in. For more happening at Art Center, check out their event calendar, most of which is open to the public.
Tuesday, March 22, 6:30 - 9pm
Adobe Illustrator Users Group LA: What is Flash Catalyst?
FREE! • rsvp on facebook

Adobe® Flash® Catalyst™ CS5 software is an approachable new interaction design tool. Transform Adobe Photoshop®, Illustrator®, and Fireworks® artwork into expressive, fully interactive projects without writing code, and leverage the reach and consistency of the Adobe Flash Platform. The event is free, and you are encouraged to RSVP on the AIUG/LA Facebook page.
Thursday, March 24, 7 - 9:30pm
Postmodern Suicide
FREE & open to the public
A special guest lecture and discussion on graphic design history focusing on the influence of designer Peter Saville and Factory Records on postmodern design, along with an examination of the music and ideas that made this design phenomenon possible. There is no cost and the event is open to the public. Limited seating due to a regularly scheduled Art Center design history class in attendance.
Saturday, March 26, 1:30 - 3:30pm
CaliFERnication.
FREE! • email to rsvp
(fer) studio, the architects behind Father's Office in Culver City and Zen Zoo in Hollywood are currently working on a revitalization plan for Inglewood's underutilized Market Street. Join us for a studio tour and talk with principals Christopher Mercier and Douglas Pierson on their most recent projects and proposal to redefine a neighborhood better known for gangsta rap than green energy. Learn more about their approach to architecture in Inglewood and beyond.
Thursday, March 31, 7 - 9pm
AIGA LA Studio Tour: Ferroconcrete
$10 AIGA members / $20 non-members • register with AIGA LA
Meet Ferroconcrete, the designers behind Pinkberry, echo beverages and Enclos Corp. Join us at the Ferroconcrete studio to meet the personalities that create the brands with personality. Founded in 2006, Ferroconcrete is a full service graphic design firm specializing in personalized branding and identity. Ferroconcrete's work ranges from identity, environmental and visual systems, to motion graphics, animation and websites. Ferroconcrete's clients include Pinkberry, echo beverages, Hustler Toys and Enclos Corp. 7pm, mix & mingle; 7:30pm, presentation & tour; 8:30, Q&A!
Thursday, March 31, 7pm
The Visual Language of Herbert Matter
FREE! • no rsvp required
A rare Southern California screening of the acclaimed documentary on a 20th Century design legend. "The Visual Language of Herbert Matter" is a revealing look at the fascinating life story of the highly influential mid-century modern design master. Known as a quintessential designer's designer, Swiss born Herbert Matter is largely credited with expanding the use of photography as a design tool and bringing the semantics of fine art into the realm of applied arts.
April Preview:
Friday, April 1
Emerge 2011
FREE! open to the public daily, 10am - 4pm
This annual exhibition features Graphic Design by students from colleges and universities in the greater Los Angeles area. It is organized and sponsored by the AIGA LA Education Committee and hosted by OTIS' Communication Arts Department and Ben Maltz Gallery. Participating institutions: Art Institute of California - Los Angeles, California Institute of the Arts, California State Polytechnic University Pomona, California State University Long Beach, California State University Los Angeles, California Sate University Northridge, Cerritos College, Loyola Marymount University, Otis College of Art and Design, UCLA Extension, University of Southern California, Westwood College, and Woodbury University.
Friday, April 1, 1-3:30pm
I Didn't Know Sh*t (Until I Started Working)
FREE! open to the public
The practice of design isn't something you learn in a book, or in four years of school, or in a talk from a visiting designer. Visiting designer Seth Johnson will, however, attempt to point you in the right direction when it comes to handling the steep learning curve that is faced by all emerging designers who are fresh out of school. Through case studies and anecdotes, Seth will share several life lessons that are essential for all design students to master, but are unlikely to learn in the classroom.