This is an archival story that predates current editorial management.
This archival content was written, edited, and published prior to LAist's acquisition by its current owner, Southern California Public Radio ("SCPR"). Content, such as language choice and subject matter, in archival articles therefore may not align with SCPR's current editorial standards. To learn more about those standards and why we make this distinction, please click here.
Video: The Meaning of 'Juneteenth'
Stories like these are only possible with your help!
You have the power to keep local news strong for the coming months. Your financial support today keeps our reporters ready to meet the needs of our city. Thank you for investing in your community.
We all know that Father's Day is celebrated on the third Sunday in June, but are you also aware that June 19 is America's other Independence Day? Juneteenth, as it's known, commemorates—and celebrates—the abolition of slavery in June 1865, a part of our nation's history that is often overlooked, if not ignored.
Although the Emancipation Proclamation officially went into effect in 1863, many slaves didn't know they were free—let alone receive their freedom—until two years later. Juneteenth, or June 19, 1865, is considered to mark the date when the last slaves in America were freed, according to scholar Dr. Charles Taylor. The name, as you might have deduced by now, is a portmanteau of June and nineteenth.
"Juneteenth," as Taylor writes, "has come to symbolize for many African-Americans what the fourth of July symbolizes for all Americans—freedom."
"Some say that slavery was abolished in 1863, but some folks can still make the case today that black bodies are still fighting for their freedom and we're trying to define that narrative, of what freedom really is. I think the best example I can prove is with the Black Lives Matter situation, when people like to say 'all lives matter.' When they say 'all lives matter,' they're taking the scope away from the black and brown people that's really being affected," activist Dieudonne Brou said in a YouTube video.
The video is part of a "Voices of Juneteenth" collection put together by Boost Mobile and 180LA. There could theoretically be some kvetching to be had about a corporate-ish Juneteenth video, but far too many Americans don't even know Juneteenth exists... And if every other holiday known to man can be co-opted (Veterans Day Groupons, for example) maybe it's about damn time Juneteenth had that kind of exposure. Plus, the videos are actually great.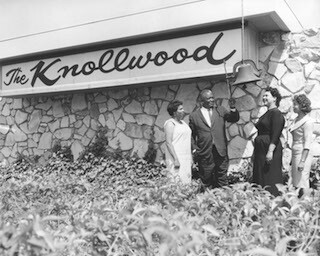 Members of Los Angeles' NAACP Valley Branch meet to plan Juneteenth festivities in June, 1964. (Photo courtesy of the Los Angeles Public Library Photo Collection)
"Ways that we go about celebrating Juneteenth [include] acknowledging each other, affirming who we are as an African people, and to continue to celebrate all the positive things that we've done and how far we've come," Brou continued.According to Smithsonian Magazine, Juneteenth first "took root in many African-American communities during the late 19th century," but then faded as "a largely forgotten vestige of the Civil War era." It has resurged in recent decades, and it is currently recognized in 47 of the 50 states.
Here in Los Angeles, Black Arts Los Angeleswill be holding their annual Juneteenth Heritage Festival for 2016 this weekend in Leimert Park, with festivities from 10 a.m. to 6 p.m. on June 18 and June 19. Los Angeles City Council President Herb Wesson is also a sponsor for the event.
Readers further afield can check out this Tumblr, which aggregates Juneteenth events around the country.
Update: [June 19, 2017] Here are some pictures and video from this year's 2017 Juneteenth festivities in Leimert Park, which took place on June 17 and June 18.