This is an archival story that predates current editorial management.
This archival content was written, edited, and published prior to LAist's acquisition by its current owner, Southern California Public Radio ("SCPR"). Content, such as language choice and subject matter, in archival articles therefore may not align with SCPR's current editorial standards. To learn more about those standards and why we make this distinction, please click here.
Interview with Jesse Harris
Before you read more...
Dear reader, we're asking you to help us keep local news available for all. Your financial support keeps our stories free to read, instead of hidden behind paywalls. We believe when reliable local reporting is widely available, the entire community benefits. Thank you for investing in your neighborhood.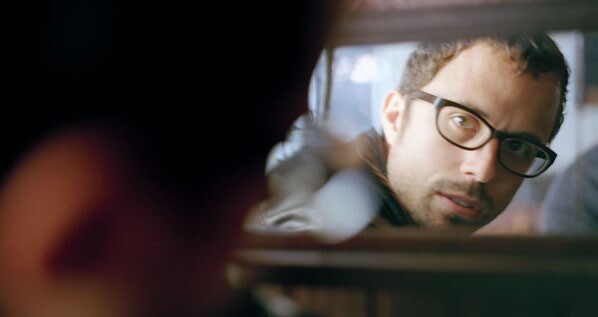 Jesse Harris, New York based singer/songwriter's new album Feel, definitely has one doing just that. Not only is Feel his 7th album to date, he just recently wrote and composed, but not performed the entire soundtrack to Ethan Hawke's film The Hottest State. While the soundtrack for the film has Harris performing just two of the songs and the likes of Willie Nelson, Emmylou Harris, M.Ward, Norah Jones and Cat Power taking hold of the others, Feel is entirely Harris from beginning to end, and that's a good thing.
A prolific artist, Harris has written masses of songs that fill each of his records and easily wrote 50+ songs for Hawke to choose from for The Hottest State.Feel is happy-go-lucky summer album that will take you on a road trip from LA to San Fran quicker than you thought possible (at least it did for me). Harris isn't about gloom and doom or emotional black holes but rather optimistic pop/folk tunes that sound different and unique from each other throughout the entire record. LAist interviewed Jesse about Feel, his Grammy, and his first ever concert.
How was playing at Hotel Cafe on 7/30?
It was a blast to be there with my usual band and have such a good crowd. Usually I've done duo gigs with Van Dyke Parks, which I've loved, but we always played really late on Sundays or Mondays due to last minute planning and people would always say to me "Too bad there weren't more people here."
What is your favorite hangout in Los Angeles?
Still figuring that out. I live in New York. Hotel Cafe is certainly one for music.
What are your favorite cities/venues to play at?
I love anytime I get to travel to a foreign place to play. It always feels like a free vacation. I've been to Japan, to Europe, and even to South America on tour, and I always have a good time.
How did the album Feel come about? Has anyone told you it has a Paul
Simonish quality?
The album came about from my wanting to record with the percussionist Mauro Refosco and combinging his playing with my rhythm section at the time. Lots of people say the result reminded them of Paul Simon. The truth is that Mauro and I did check out "Me and Julio Down By the Schoolyard" and loved how Simon used brazilian percussion for an American folk/pop song. However, in the studio we didn't think anymore about it and the rest is just a happy coincidence.
How would you describe Feel to someone who has never heard your music?
I would say its rythmic, combining folk, pop and jazz- and rock. Lord knows...
What is your song writing process like?
Usually write music first and then lyrics.
I know you've collaborated with some pretty great artists- whats it like to hear Emmylou Harris and Willie Nelson singing songs you've written?
Its thrilling. I feel so honored. One of the best things about writing songs is hearing them be interpreted by great artists.
If someone is being a dick to you or cuts you in line or something, do you ever just want to be like Fuck off! and hit them in the head with your Grammy? Where do you keep it?
No, I never think like that. Ha. I keep the Grammy in the closet, truth be told. Its not that I don't like it, but where I live it would always be visible if I had it out. I imagine one day I'll have it in my office, but I don't have an office now and I don't plan on getting one.
What are you listening to right now?
Just discovered a re-issue of a Jorge Ben album called "Forca Bruta" which is great and also a dub compilation from Studio One that that label Soul something-or-other released.
First concert ever?
The Bee Gees I think, at Madison Square Garden. I was young- maybe 7 or 8- and was a huge fan, but I thought it was really boring.
When did you get your first guitar and how did you convince your parents to let you be a musician? My mother moved away to California for several years while I was growing up and sublet her apartment. Upon returning, she discovered a guitar in the closet and gave it to me. I held onto it for another few years before I finally started to play it. I never had to convince my parents- they were always supportive.
Photo provided by jesseharrismusic