Interview: LA-Based Singer/Songwriter Hayley Taylor on Art, Acting and Her Debut Album
Stories like these are only possible with your help!
You have the power to keep local news strong for the coming months. Your financial support today keeps our reporters ready to meet the needs of our city. Thank you for investing in your community.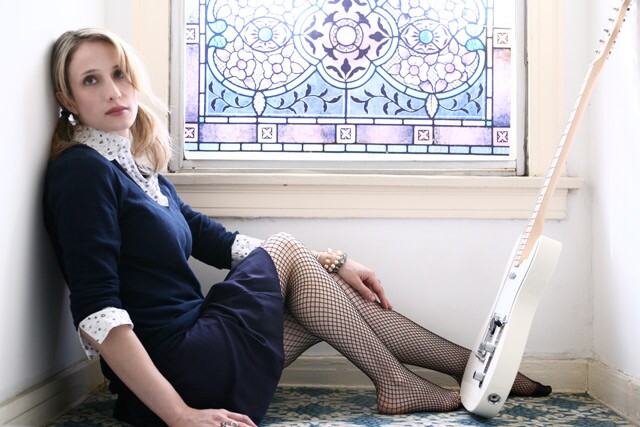 Hayley Taylor / Photo by Trevor Oswalt
Although Hayley Taylor released her debut full-length album yesterday, chances are you've already heard her music on shows such as How I Met Your Mother and Royal Pains. Taylor's tunes are the type that'd inspire a writer to craft a scene around one of her songs.
It all started with the release of her 2006 EP, Waking, which served up a taste of what was to come four years later. With the help of producers Dan Romer and Eric Robinson, Taylor's new record, One Foot in Front of the Other, is a bright, tender and saucy collection that'll keep you coming back for more.
In addition to her talents as a musician, Taylor has made her name for herself as a film and TV actress, as well as an artist who studied at the Sorbonne and Vassar College. But it's her music that's taking center stage now, and LAist caught up with Taylor last week to learn more about the new album, her early acting role opposite Barbra Streisand, and her record release show Thursday night at the Hotel Cafe.
LAist: "Felt Like Love" features some great instruments—such as the ukulele and trumpet. What's one of your favorite aspects of that upbeat track?
Hayley Taylor: The trumpet part means a lot—that's my uncle [Dr. Murray Postal] playing on the song. I'd always wanted my uncle to play on a song of mine, because he'd been a bandleader and had played the trumpet most of his life.
By the time I started recording, he was 89 and too ill to play the trumpet. But my aunt found this cassette of him playing in '76 and my producer was able to take that recording and change the key to make it work in the song. I was able to play it for him right before he died, and it was really special.
Hayley Taylor - "Felt Like Love"
You just filmed the video for "Felt Like Love." What's the concept behind it and when will it be released?
I was hoping it'd be done in time for the CD release at the Hotel Cafe, but it's looking more like it'll be ready in early September. We filmed some of it at the Natural History Museum in LA. I'd never been there before and it was so awesome. I especially loved the live butterfly exhibit; we had a blast filming in it.

Hayley Taylor and Erik Stocklin in Taylor's music video for "Felt Like Love."
The first track of this new album is called "Waking." The EP you released a few years ago was called Waking, but didn't have a song by that name on it. Did you write the song after you released your EP?
I did. Looking back, I realize it's confusing and ask myself why I did it. Everyone wanted me to change the name of the song, but by the time I was putting it on the album, I was already really attached to the name.
I think the idea and the theme of waking up was really important to me at the time I wrote the EP and the song. It's still important now, but at that point, I felt like I was going through a massive waking up in my life. Things were suddenly illuminated—like I had been in a deep sleep for a long time and was finally wide awake.
"Orange Tree" is the only song that's on both the EP and the full-length album. Was it hard picking which song to include on both?
Yes. At first, I wasn't going to redo any of those songs, but then a cello player [Adrienne Woods] joined my band, and she hadn't been with me when I recorded the EP. She plays this awesome part on "Orange Tree," so I really wanted to record and remix that song, because I felt like that gave it more life.
When did you realize that you wanted the cello to be a regular fixture in your band?
I've always loved the cello. I think it may be my favorite instrument because there's something soul-wrenching about it. Plus Damien Rice's music and his incorporation of cello definitely inspired me. I wanted something that went well with the acoustic singer/songwriter vibe, plus I love how with cello you can do a call-and-answer between vocals and cello.
"Pretty in the Dark" is such a strong song. Is that a fun one to get into when you're performing live?
Definitely. I love the bridge because I can totally rock out. The more upbeat songs like this one definitely come across well live and are fun to get into. It's a sorta tongue-in-cheek song about a girl who's been hurt by this guy. Although they didn't have a super-intense relationship in real life, in her mind they did.
Hayley Taylor - "Pretty in the Dark"
The song "Plans" tells an interesting story. Do you feel that it closely relates to the title of the album and the idea of taking things one step at a time?
It does. That song is a little bittersweet for me because I wrote the song with a certain friend in mind, and unfortunately, she passed away earlier this year. After that, it was definitely difficult to finish the album and keep going.
She died, my uncle died and my ex-boyfriend died all within the last year. It changed my life. One chapter ended, a new one began and there was no going back.

Don't miss Hayley Taylor and her band (Adrienne Woods, Ethan Schreiber and Chris Miller) Thursday night at the Hotel Cafe / Photo by Alex Prager
Did your art help to sustain you as you were going through all of that? It totally did—it grounded me and provided an outlet where I could process my feelings. I have a hard time letting go of people and things in my life. Writing a song sort of creates a photograph that preserves the feeling and the memory.
Do you ever feel like, if you're having a mental block with your music, you can turn to painting to work it out, and vice-versa?
Yeah, I always have to be doing something creative. I can't stop myself. This year I took a sewing class and made a quilt. I loved it, though my friends couldn't believe I was doing that. I also paint a lot, and lately I've been making wooden, vintage-y signs.
Getting back to the music a bit, in your bio you talk about your influences. How did artists such as Aimee Mann and Elliott Smith change your perspective on music-making?
Before getting into singer/songwriters, I was really into bands. Early on, I found myself in one. I loved it, but the guitar player really wanted to be in a jam band and everyone had a different agenda and it was a chaotic environment. I just wanted to play music.
At that point, I started getting into artists like Nick Drake, Jeff Buckley, Aimee Mann and Elliott Smith. There's just something about that music that hits me so deeply and means so much. I love the storytelling aspect of it.
Talking about that first band—Kindle—do you think that perhaps an executive from Amazon.com caught one of your early shows and got inspired by the name?
I really think so. (laughs) When the Kindle reader came out, I couldn't believe it. I'd spent so much time coming up with the perfect band name.
You and actress Amber Benson once formed a band called Rhodestar. What did that experience teach you about performing live?
I learned to let the songs carry you. Everyone seemed to really like our songs even though we had no clue what we were doing. We didn't know about song structure and we were recording on a four-track that Amber barely knew how to use. I could play two chords on guitar, and her sister could play four, so it was definitely minimal.
One time I played the recorder—like ones you'd play at school—on a track we were recording. It sounded awesome, but unfortunately that song was on a cassette tape that later disappeared. I'm upset I don't have a copy of that one, because it was hysterical.

Hayley Taylor / Photo by Alex Prager
You'll have to record a cover of it! I don't think I could ever repeat that performance on the recorder. I never paid attention in school when we were learning it, so it was definitely an improv performance. (laughs)
Your music has been used extensively on TV shows and in commercials. How do you relate to music on TV, and how has that impacted your career?
Years ago, I started noticing the trend of TV and music merging together, and that was really exciting. Up until then, I'd mostly associated music and TV with theme songs.
At some point, it was either on Felicity or The OC where I heard a song and immediately went to look it up. That became a huge avenue for me to find new music. One day, it clicked in my head that this was the best way to get people to hear my music. You always hope that the music is behind some beautiful scene that really captures the emotion. It makes a major impact when it's done right.
Sometimes you don't even need an emotional scene for that to happen. I read an article where a man had written to his local newspaper asking for information about the artist singing in a certain Vicks Dayquil commercial...
I know! It's so crazy. In my head, I initially imagined it would be this romantic love story. When I saw the final commercial, I thought, "This is interesting!" But I was really excited to be part of it, and it was funny that even with this guy hacking and coughing, the music carried through and a lot of people tracked down the song as a result.
In addition to singing for TV, you've also made a number of appearances as an actress. Would you share a memorable experience from your early acting days?
I worked with Barbra Streisand [on the film Nuts] when I was eight or nine years old, and I had no clue who she was. When I went in to interview, I sat with her and the film's director, Martin Ritt. They asked me, "Can you be strong?" And I said, "Hmm…sometimes." I guess that was the right answer because I ended up doing the film, and it was such an incredible experience.
Your singing career got a jump-start after you sang a Dar Williams song in an acting class. Which one was it?
It's called "Family" and it's such a beautiful song. My best friend's little sister once played it for me on guitar, and I thought it was one of the best songs ever. I just had to learn it.

Hayley Taylor's debut album
You've been on the LA music scene for a number of years. Which venues are your favorites? I love the Hotel Cafe. It's my favorite place because I've been playing there and seeing shows there since it first opened. A friend of mine—who's now in Maroon 5 but was in a different band at the time—took me there when it still had a pool table and a jukebox and no live music. When they started with the live music, my friends and I played some gigs.
Then I went away to New York for two years. While I was gone, they expanded the place and it became this whole other entity. Back in the day, it was this tiny hidden gem. Now it's a gem that people know about!
I also love Largo. I haven't been to the new one but the old one was one of my favorite places and I can't wait to go back.
Would you give us a preview of your CD release show at the Hotel Cafe this Thursday?
Sure! I'm really excited because we're going to have a full band—cello, drums, bass, electric guitar and ukulele. Plus I've just made up my first t-shirts for merch, so that's been really exciting.
Other than music venues, where else do you love to hang out in LA?
I love the beach—Venice and Santa Monica especially—and just feeling the ocean air.
In addition to that, I live in the Hollywood Hills and I love the area around Franklin. I go to La Poubelle and the Bourgeois Pig all the time.
Is there any part of LA you'd still like to explore?
This is really random, but I want to track down this summer camp I went to when I was eight. It was called Camp Hollywoodland and it's somewhere up in the canyon. My friend and I have been talking about trying to find it. It's probably five minutes from where I live, but at the time it felt really far away!
Thanks for speaking with LAist, Hayley!
Don't miss Hayley Taylor's CD release show Thursday night (8 p.m. on August 26) at the Hotel Cafe. Learn more about her music at www.hayleytaylor.com.