Finally, James Franco Weighs In On Shia LaBeouf's Art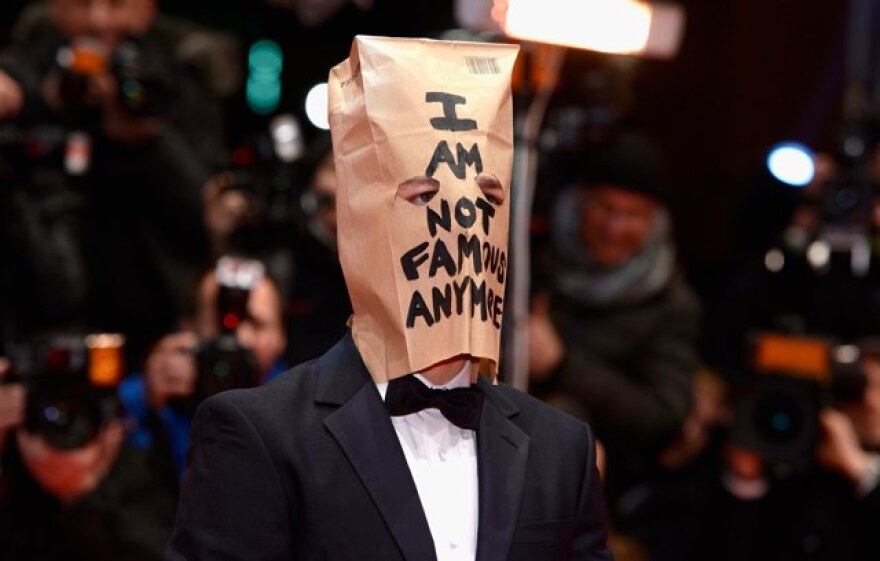 LAist relies on your reader support.
Your tax-deductible gift today powers our reporters and keeps us independent. We rely on you, our reader, not paywalls to stay funded because we believe important news and information should be freely accessible to all.
Last week, Shia LaBeouf extended his streak of apologies by doing performance art—#IAMSORRY—at a gallery on Beverly Boulevard. While he's been mocked by some, James Franco, whose life is sort of performance art, threw his support behind #IAMSORRY in a NY Times op-ed: "Though the wisdom of some of his actions may seem questionable, as an actor and artist I'm inclined to take an empathetic view of his conduct."
Franco writes that LaBeouf's recent behavior (like plagiarizing Daniel Clowes) "could be a sign of many things, from a nervous breakdown to mere youthful recklessness. For Mr. LaBeouf's sake I hope it is nothing serious. Indeed I hope — and, yes, I know that this idea has pretentious or just plain ridiculous overtones — that his actions are intended as a piece of performance art, one in which a young man in a very public profession tries to reclaim his public persona."
Then the Oscar-nominated actor reminds us all:
At times I have felt the need to dissociate myself from my work and public image. In 2009, when I joined the soap opera "General Hospital" at the same time as I was working on films that would receive Oscar nominations and other critical acclaim, my decision was in part an effort to jar expectations of what a film actor does and to undermine the tacit — or not so tacit — hierarchy of entertainment.
He continues:
Any artist, regardless of his field, can experience distance between his true self and his public persona. But because film actors typically experience fame in greater measure, our personas can feel at the mercy of forces far beyond our control. Our rebellion against the hand that feeds us can instigate a frenzy of commentary that sets in motion a feedback loop: acting out, followed by negative publicity, followed by acting out in response to that publicity, followed by more publicity, and so on. Participating in this call and response is a kind of critique, a way to show up the media by allowing their oversize responses to essentially trivial actions to reveal the emptiness of their raison d'être. Believe me, this game of peek-a-boo can be very addictive.


Finally, Franco points out, "Mr. LaBeouf has been acting since he was a child, and often an actor's need to tear down the public creation that constrains him occurs during the transition from young man to adult. I think Mr. LaBeouf's project, if it is a project, is a worthy one. I just hope that he is careful not to use up all the good will he has gained as an actor in order to show us that he is an artist."So, to recap: When LaBeouf
stormed out a Berlin Film Festival press conference
, it could have been because that's what we wanted.