This is an archival story that predates current editorial management.
This archival content was written, edited, and published prior to LAist's acquisition by its current owner, Southern California Public Radio ("SCPR"). Content, such as language choice and subject matter, in archival articles therefore may not align with SCPR's current editorial standards. To learn more about those standards and why we make this distinction, please click here.
DVD Tuesday: That's Incredible!
Before you read more...
Dear reader, we're asking you to help us keep local news available for all. Your tax-deductible financial support keeps our stories free to read, instead of hidden behind paywalls. We believe when reliable local reporting is widely available, the entire community benefits. Thank you for investing in your neighborhood.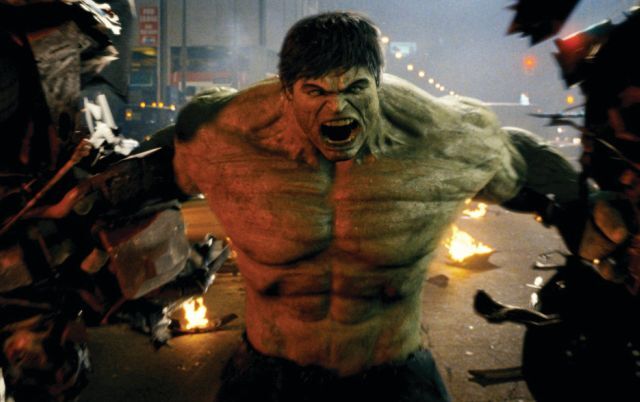 Anger management issues continue to vex Hulk. | Photo courtesy of Universal Pictures
I'll never understand why Ang Lee's The Hulk was so ruthlessly pilloried. While the end of the script had its issues, the comic-style visual presentation of the movie was brilliant. Ed Norton's re-boot of the franchise wasn't up to the earlier, high standard set by Iron Man, but it was still an excellent adaptation of the fearsome Marvel hero. The Strangers was a stagnant, mostly bloodless torture-porn variant. Avoid! I'm not sure that Kevin Smith is much of a filmmaker, but he is a brilliant, extemporaneous speaker. Even if you're not a fan of his films, check out Sold Out. Why can't Family Guy and South Park just get along?
The Incredible Hulk (Three-Disc Special Edition)
The Strangers
Expelled: No Intelligence Allowed
Family Guy - The Complete Collection (Stewie Head Packaging)
Sold Out: A Threevening With Kevin Smith
Missing - Criterion Collection
Flight of the Red Balloon
Six in Paris
The Man from U.N.C.L.E. - The Complete Series
Knight Rider: The Complete Series
There's great bass fishing in the Ninth Quarter. | Photo courtesy of via mikehipp via flickr
As the Obamapresidency looms, I'm starting to wonder how people plan to make fun of him. Anyone else getting a strong Calvin Coolidge vibe from him? I mean, he is one laconic motherfucker and laconic doesn't really feed comedy. I can see him saying, "I like to laugh as much as the next guy...but seriously, healthcare costs are spiraling out of control...people are having trouble...making ends meet--". Thankfully, our lame-duck president always provided plenty of material for the funny. I'll say it--the original Incredible Hulk series sucked balls. If you're going to be a busty college girl, you may as well be X-Posed!
Comedy Central Salutes George W. Bush
The Incredible Hulk: The Complete Series
The Other Boleyn Girl (2003 BBC Version)
Mondays in the Sun
To the Limit
Golden Age of Silent Films
High: The True Tale of American Marijuana
Trailer Park of Terror
Playboy TV: Around the World in 80 Babes
Busty College Girls: Totally X-Posed
But Yeoh is the first to publicly identify as Asian. We take a look at Oberon's complicated path in Hollywood.

His latest solo exhibition is titled "Flutterluster," showing at Los Angeles gallery Matter Studio. It features large works that incorporate what Huss describes as a "fluttering line" that he's been playing with ever since he was a child — going on 50 years.

It's set to open by mid-to-late February.

The new Orange County Museum of Art opens its doors to the public on Oct. 8.

Cosplayers will be holding court once again and taking photos with onlookers at the con.

Littlefeather recalls an "incensed" John Wayne having to be restrained from assaulting her and being threatened with arrest if she read the long speech Brando sent with her.