DVD Tuesday: That's Incredible!
Stories like these are only possible with your help!
Your donation today keeps LAist independent, ready to meet the needs of our city, and paywall free. Thank you for your partnership, we can't do this without you.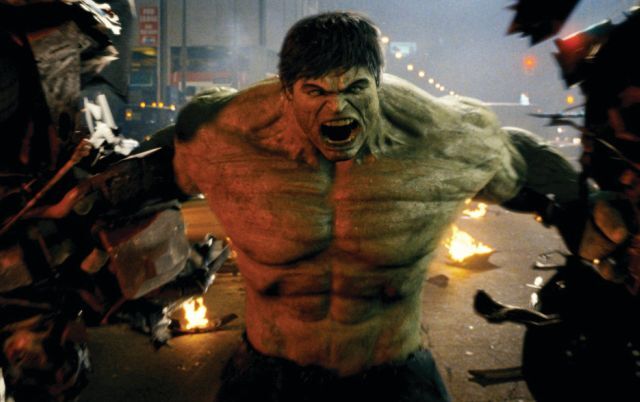 Anger management issues continue to vex Hulk. | Photo courtesy of Universal Pictures
I'll never understand why Ang Lee's The Hulk was so ruthlessly pilloried. While the end of the script had its issues, the comic-style visual presentation of the movie was brilliant. Ed Norton's re-boot of the franchise wasn't up to the earlier, high standard set by Iron Man, but it was still an excellent adaptation of the fearsome Marvel hero. The Strangers was a stagnant, mostly bloodless torture-porn variant. Avoid! I'm not sure that Kevin Smith is much of a filmmaker, but he is a brilliant, extemporaneous speaker. Even if you're not a fan of his films, check out Sold Out. Why can't Family Guy and South Park just get along?
The Incredible Hulk (Three-Disc Special Edition)
The Strangers
Expelled: No Intelligence Allowed
Family Guy - The Complete Collection (Stewie Head Packaging)
Sold Out: A Threevening With Kevin Smith
Missing - Criterion Collection
Flight of the Red Balloon
Six in Paris
The Man from U.N.C.L.E. - The Complete Series
Knight Rider: The Complete Series
There's great bass fishing in the Ninth Quarter. | Photo courtesy of via mikehipp via flickr
As the Obamapresidency looms, I'm starting to wonder how people plan to make fun of him. Anyone else getting a strong Calvin Coolidge vibe from him? I mean, he is one laconic motherfucker and laconic doesn't really feed comedy. I can see him saying, "I like to laugh as much as the next guy...but seriously, healthcare costs are spiraling out of control...people are having trouble...making ends meet--". Thankfully, our lame-duck president always provided plenty of material for the funny. I'll say it--the original Incredible Hulk series sucked balls. If you're going to be a busty college girl, you may as well be X-Posed!
Comedy Central Salutes George W. Bush
The Incredible Hulk: The Complete Series
The Other Boleyn Girl (2003 BBC Version)
Mondays in the Sun
To the Limit
Golden Age of Silent Films
High: The True Tale of American Marijuana
Trailer Park of Terror
Playboy TV: Around the World in 80 Babes
Busty College Girls: Totally X-Posed