Dental Records Needed To Identify Paul Walker's Body, Memorial Goes Up At Crash Site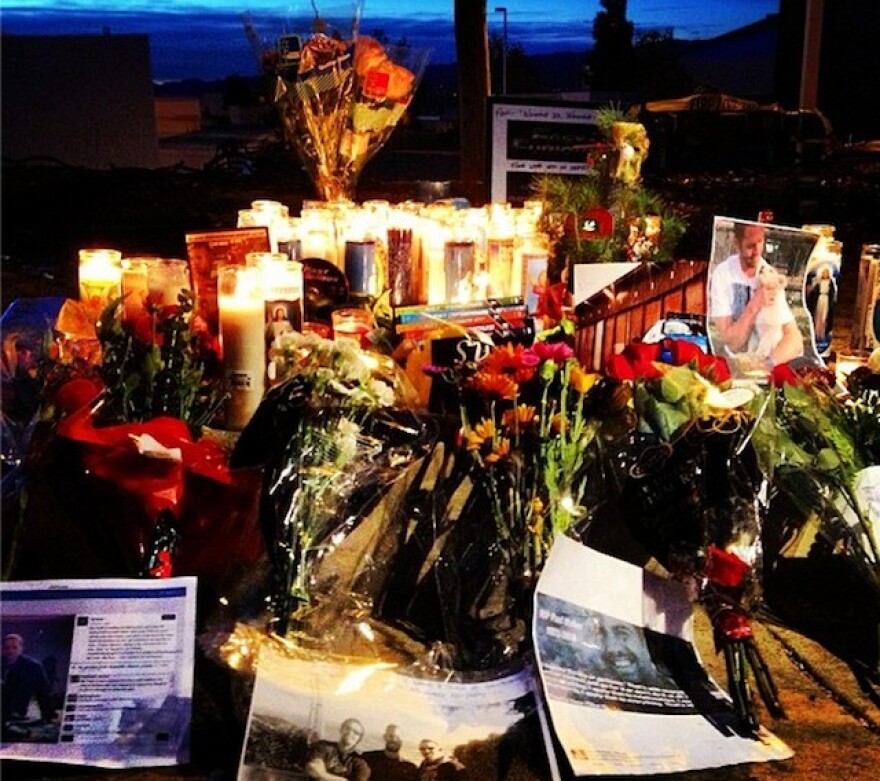 LAist relies on your reader support.
Your tax-deductible gift today powers our reporters and keeps us independent. We rely on you, our reader, not paywalls to stay funded because we believe important news and information should be freely accessible to all.
The makeshift memorial at the crash site early this morning (via Joy Benedict on Instagram)
Yesterday afternoon actor Paul Walker, best known for his role in the Fast and the Furious movies, died in a car crash just outside of Los Angeles. His friend, Roger Rodas, was driving the 2005 Porsche Carrera GT at the time of the collision. The two had been taking part in the "Reach Out World Wide" Foundation charity event, and were reportedly departing when the crash occurred—TMZ has obtained video of Walker posing with the car just thirty minutes before his death. The site also reports that their bodies were so badly burned that the autopsies have been delayed, and dental records will be needed to officially identify them. The cause of the crash is under investigation, but Sgt. Brian Allen of the Santa Clarita Valley Sheriff's stations told SignalSCV, "We don't know much about the cause of the collision other than that we know speed was at least a contributing factor."
Fellow colleagues in the entertainment industry have been reacting to Walker's untimely death on Twitter, and some fans have set up a makeshift memorial at the crash site—the 28300 block of Rye Canyon Loop.
TMZ also spoke with first responders, including friends, who tried to pull Walker from the burning car.
- Watch More
or
SubscribeWalker was 40-years-old, and he leaves behind a 15-year-old daughter, Meadow Rain Walker, who he had with a former girlfriend. Meadow had reportedly moved to California a few years ago to be closer to her dad.