Daily Blarrrgh: Andre 3000 is the New Sammy Davis Jr.
Stories like these are only possible with your help!
You have the power to keep local news strong for the coming months. Your financial support today keeps our reporters ready to meet the needs of our city. Thank you for investing in your community.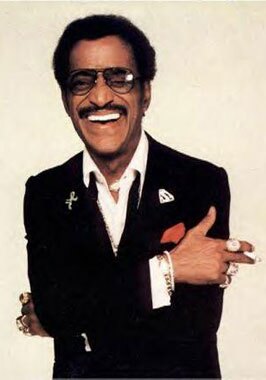 Singer/dancer/menswear icon Andre 3000 of Outkast will play singer/dancer/comedian Sammy Davis Jr. in a new biopic about the entertainer's romance with screen siren Kim Novak.
Back in the mid-50s when quaint terms like "anti-miscegenation" were used to sugarcoat racist laws, Davis was an up-and-coming singer with a couple of albums under his belt, while Novak was a rising actress grinding her way through Columbia Studios' starlet machine. He had yet to join the Rat Pack, she had yet to star in Hitchock's Vertigo. He was a small, wiry, black man. She was big, buxom blonde. The thought of the two of them together apparently sent such a shiver of fear through white America's collective soul, studio head Harry Cohn had one of his mob pals "gently persuade" Davis to end the relationship. And you thought getting dumped by IM was bad.
The imaginatively titled Sammy & Kim (simplicity is a virtue; besides, it's probably just a working title) will soft-shoe into production who-knows-when, but Andre already faces stiff competition trying to fill Davis' shoes.
According to Starpulse, Denzel Washington is working on a film about Davis called In Black and White, and two other films, both named Yes, I Can after Davis' autobiography of the same name, are also in the works.
Question: how is it possible that I have written an entire article about Sammy Davis Jr. biopics WITH NO MENTION OF DON CHEADLE?! Mr. 3000 cuts a suave figure and is a dead-ringer for Davis, but when it comes to acting chops, Don Cheadle's got him beat.
As for the casting of the ersatz Kim Novak, it won't be easy to fill her tight sweaters and missile bras, but here are a few suggestions…
Katherine Heigl - cuz she'd be great in the role.
Gwen Stefani - just to piss off people.
Sophie Dahl - big & British, but maybe she can do an American accent.
Kristy Swanson - if you're going for low-rent and trashy.