This is an archival story that predates current editorial management.
This archival content was written, edited, and published prior to LAist's acquisition by its current owner, Southern California Public Radio ("SCPR"). Content, such as language choice and subject matter, in archival articles therefore may not align with SCPR's current editorial standards. To learn more about those standards and why we make this distinction, please click here.
Concert Review: British Sea Power -- Never Go See Them Live
Our June member drive is live: protect this resource!
Right now, we need your help during our short June member drive to keep the local news you read here every day going. This has been a challenging year, but with your help, we can get one step closer to closing our budget gap. Today, put a dollar value on the trustworthy reporting you rely on all year long. We can't hold those in power accountable and uplift voices from the community without your partnership.
Spaceland, Thursday, Feb 28 (With a Pause to mention their Echo show on the 27th.)
I really wanted to write a positive review. I walked into the Echo on Wednesday, February 27th, firmly intending to come out again 3 hours later with a gloriously sycophantic description of the show. I was planning on pure hagiography, with illuminations and everything depicting the sure-to-be brilliant performance. It came then as a depressing shock when the band utterly failed to deliver one.
To be fair, it wasn't entirely their fault. The Echo is a great venue, (and one of my favorite places to catch a show in LA,) but I always feel kind of sorry for the headlining act. It's a poorly ventilated space and the air conditioning is barely effective. Add a hundred or so people talking, breathing and yelling "Woooooo!" for several hours and it feels more like Tulsa in July than Los Angeles in February. Unless the band is just [expletive] amazing, with portable AC units strapped to the ceiling above them, the energy is sucked out of the room faster than you can say "wanna go outside and make out?" and at best, you get sluggish earnestness.
There are also frequent technical problems. Mics go out, amps lose sound and you'll go from not being able to hear the vocals to ear-bleeding feedback in the blink of an eye. The Band suffered all of these afflictions, but they were also preceded by the absolutely incredible Colourmusic (a review of whom is forthcoming.) Enduring that kind of nonsense, and especially doing so after an amazing opening act, can derail even the most dedicated musicians and it inclined me to be merciful. I felt so bad for them in fact that I decided to attend their Spaceland show the next night, just to make sure they got a fair review.
I've now seen them twice. And my fair review?
British Sea Power are not very good live.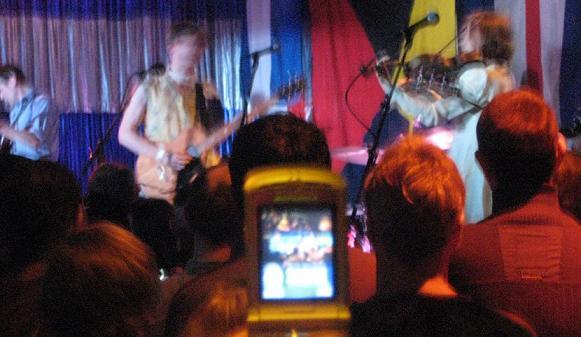 I admit they aren't the most unique band in the world, but I like them anyway. Their music has always been dominated by their influences and overshadowed by less derivative contemporaries like Franz Ferdinand and Art Brut, but they write catchy, stuck in your head songs and they're solid, fun and smart. Their first record, 2003's The Decline Of was a noisy mess that lacked somewhat in memorable songs, but was still extremely endearing, (probably because I immediately thought of the H.M.S. Pinafore*.)
They essentially built on the formulae with 2005's likeable but otherwise unremarkable Open Season. However on their latest, Do You like Rock Music?, the noise has been subdued to the pursuit of quality songwriting and they seem to have finally struck a balance between their influences and their own sound. Songs like No Lucifer, Waving Flags and the wonderful Lights Out For Darker Skies are dreamy, sad and beautiful little melodies that finally equal the band's lyrics. It's definitely their best and most accessible record, and will probably end up on a lot of 2008 top ten lists.
They have a textured, almost tactile sound with enough attitude and wit to make the lack of complexity or apparent originality enjoyable, even compelling, and they can play very well, in the purest, technical sense. Dressed collectively in a kind of boarding-school-in-the-gutter-aesthetic, (think Brett Easton Ellis meets the Buzzcocks), they delivered a solid kind of preppie precision one normally only sees in crew team. They're tight and very practiced. They should have been able to put on a good show. They're professionals, after all. But if being a competant musician and not making rookie mistakes were the only measures of a good show, I'd be lining up for boring crap like John Mayer and Amy Winehouse. Since I'm not in the habit of raping my ears, that's not fucking likely, ya heard?
So what the hell went wrong?
To put it simply, in an era when you can call your parents, watch videos, browse the internet and listen to music on a device smaller than an original Game Boy, to say that British Sea Power simply phoned in their concert is a tremendous insult to the capabilities of modern telephones. It would also imply some kind of conscious action on their part. This was more like sending a telegraph. While Sleepwalking. After being roofied.
I've heard that they're enthusiastic recreational druggies, which would account for their spacey eyed glazes. But it's not like there aren't something like 4 gazillion bands with notorious appetites for drugs and booze, and they manage to at least look like they're enjoying themselves on stage. Hell, after 3 Courvoisiers at Brass Monkey, I morph into the Edith Fucking Piaf of Karaoke, so being jacked up and performing can't be that difficult, right? Aside from their hilarious guitarist, Noble, who laughed off their Echo related tech difficulties and gave interacting with the crowd the old college try, BSP treated the audiance to the British hipster version of the thousand yard stare.
They appeared positively disinterested, almost annoyed at having to be there. It was like a piano recital exclusively featuring performances by children who only took lessons in the first place because their parents threatened to ground them: They looked impatient and filled with ennui (that most pretentious version of boredom.) After 30 minutes or so, the feeling was clearly mutual - In both venues, the band came out to a packed crowd of fans that thinned out considerably as spectators politely moved outside or to the smoking area.
Worst of all, they played their music with almost no variation from the recorded versions. Now I'm not some obsessive advocate for jamming or dubious, unlistenable experimenting around with songs, but there's a difference between a live show and a recording session. While I want the performance to be good, I also want it to be a different experience than the mp3. Sure, they know their shit and they know how to play it almost exactly like you've heard on their albums. But at the very least, I expect a band I like to deliver more than cover versions of their own songs. British Sea power couldn't even do that.
Now it's possible I caught them on a bad run of nights (though friends who've seen other shows on this tour assure me my experience was not unique.) And perhaps I was expecting something they just don't deliver. Ultimately it's up to you to decide for yourself if you like having something you really enjoy tainted by boredom. You want my advice? Buy their albums, enjoy the hell out of them, and skip the live show. Your opinion of the band will thank you for it.
British Sea Power are currently on tour, and will be at SXSW.
*Which I hardly ever do.
All Photos by Becky Lips, for LAist.
Donald Trump was a fading TV presence when the WGA strike put a dent in network schedules.

Pickets are being held outside at movie and TV studios across the city

For some critics, this feels less like a momentous departure and more like a footnote.

Disneyland's famous "Fantasmic!" show came to a sudden end when its 45-foot animatronic dragon — Maleficent — burst into flames.

Leads Ali Wong and Steven Yeun issue a joint statement along with show creator Lee Sung Jin.

Every two years, Desert X presents site-specific outdoor installations throughout the Coachella Valley. Two Los Angeles artists have new work on display.