Robin Thicke & Pharrell Owe $7.3 Million For Ripping Off Marvin Gaye With 'Blurred Lines'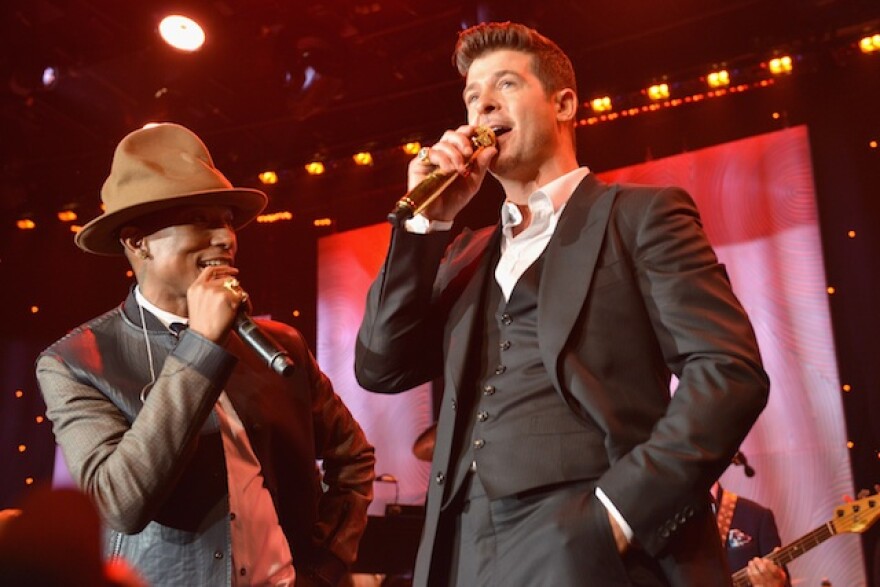 LAist relies on your reader support.
Your tax-deductible gift today powers our reporters and keeps us independent. We rely on you, our reader, not paywalls to stay funded because we believe important news and information should be freely accessible to all.
The verdict is in on the "Blurred Lines" case, and a jury found today that Robin Thicke and Pharrell Williams ripped off Marvin Gaye's track, "Got to Give Up." The musicians will have to pony up $7.3 million to the Gaye family.
The family sued Thicke, Williams and T.I. (a.k.a. Clifford Harris Jr.) for copying their father's 1977 song in their 2013 mega-hit, "Blurred Lines." They'll have to shell out $4 million in copyright damages, in addition to the profits they made from stealing the song, which was $1.8 million for Thicke and $1.6 million for Williams, according to The Hollywood Reporter.
"Blurred Lines" was a profitable song that sold more than 7.3 million copies and made more than $16 million in profits. The Gaye family originally sued for $25 million.
Williams was credited for writing most of "Blurred Lines," according to ABC News. He recorded it with Thicke and later added a rap part from T.I. Thicke said in court that although he received credit for the song, he wasn't actually there when Williams wrote it.
Jurors listened to the two tracks side by side and to eight days' worth of testimonies. Williams testified in court that he tried to recreate the "'70s feeling" from Gaye's music, and that the feel isn't the same as infringement.
According to Variety, when Williams had to listen to the bass lines from the two songs, he said, "It sounds like you're playing the same thing."
Gaye's daughter, Nona Gaye, said after the verdict: "Right now, I feel free. Free from ... Pharrell Williams and Robin Thicke's chains and what they tried to keep on us and the lies that were told."
Here's a comparison of the two songs on YouTube: